Malaysia may be the undisputed regional leader for Islamic fintech; leading the Global Islamic Economy Indicator for the eighth consecutive year thanks to its strong Islamic finance initiatives and ecosystem. At the forefront of this burgeoning sector is pioneering Islamic fintech startup Ethis Group. Here's a deeper dive into how Malaysia became an Islamic fintech hub.
Despite a tumultuous year, the COVID-19 pandemic has unexpectedly served as the fuel behind digital transformation and, hence, the accelerated growth of the global Islamic fintech ecosystem.
According to the 2021 Global Islamic Fintech Report, the estimated 2020 Islamic fintech transaction volume within the Organisation of Islamic Cooperation countries is US$49 billion.
This figure represents 0.7% of the global fintech transaction volume, and Islamic fintechs are projected to grow to US$128 billion by 2025 at a 21% compound annual growth rate (CAGR)—a higher growth projection compared to conventional fintechs projected at 15% CAGR for the same period.
Malaysia is leading the global Islamic fintech boom
From the $49 billion figure, Saudi Arabia, Iran, the UAE, Malaysia and Indonesia have the largest estimated transaction volume.
But Malaysia ranks first in the GIFT Index of 64 countries—a composite index of 32 indicators covering five categories: Islamic fintech market & ecosystem, talent, regulation, infrastructure & capital. Essentially, the GIFT Index measures the potential of a country as an Islamic fintech hub.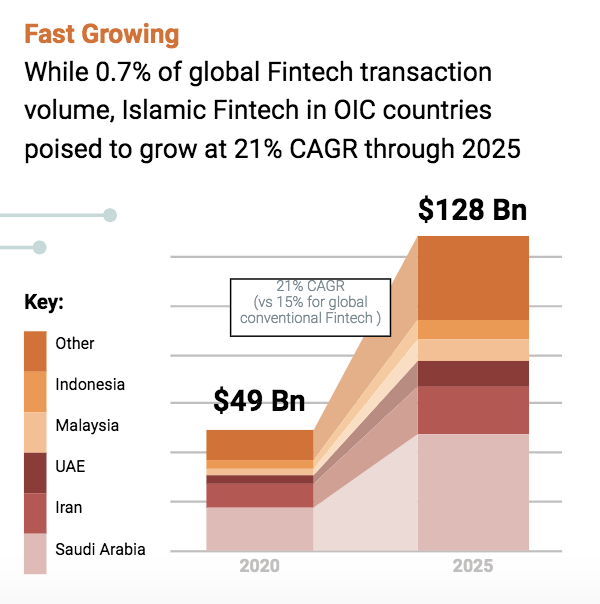 The global Islamic fintech ecosystem is expected to grow to US$128 billion by 2025, and Malaysia is expected to own a fair share of that growth. (Source: 2021 Global Islamic Fintech Report)
Not only that, but Malaysia also leads the Fintech Hubs Maturity Matrix, a measure of fintech growth based on market size against ecosystem conduciveness. This means Malaysia is the leading country when it comes to high growth and high conduciveness for Islamic fintechs, while Saudi Arabia, Pakistan, Indonesia, Qatar, and Kuwait, are other exciting hubs that should be on investors' horizons.
Finally, Malaysia also maintained its position as a top sukuk market. According to RAM, the sukuk market continues to be dominated by Malaysia with a market share of 39.2%, followed by Saudi Arabia (20.4%) and Indonesia (17.5%). Collectively, these markets contributed 77.1% of total global sukuk issuance. Malaysia also has one of the best halal standards globally.
All in all, it's clear that Malaysia is a hub spot for Islamic fintech and finance and will only continue to grow further in the coming years.
At the forefront of Islamic fintech in Malaysia is Ethis, which operates regulated Shariah-compliant investment crowdfunding platforms in Indonesia and Malaysia and social finance platform GlobalSadaqah.
This Malaysian-headquartered Islamic fintech company focuses on sustainable and impact-focused crowd-investments, financing and donations. It operates regulated platforms in Malaysia and Indonesia and has also secured regulatory approvals in Dubai and Qatar.
We will dive deeper into Ethis and its business offerings later in this piece.
Related: 4 Things People Love About Islamic Fintech
Breaking down the global Islamic fintech landscape
According to the Global Islamic Fintech Report by IFN Fintech, more than 240 Islamic fintechs currently operate globally, covering a wide range of customers and financial needs via several emerging technologies.
Raising funds, deposits and lending, wealth management, payments, and alternative finance are leading categories accounting for 77% of Islamic fintech firms.
Payments, deposits & lending and raising funds are expected to be the top growth segments in 2021, according to respondents of the Global Islamic Fintech Report.
Confidence in Islamic fintech appears to be so high that more than half, or 56% to be exact, of the surveyed Islamic fintechs from the Global Islamic Fintech Report, say they expect to raise an equity funding round of at least $5 million.
The growth of Islamic fintechs is so rapid that even traditional financial institutions have to either transform or team up with emerging technology companies to gain access to new markets and products and to garner greater efficiencies.
Despite this, there remain three core challenges facing the global Islamic fintech industry: lack of capital, consumer education, and finding talent.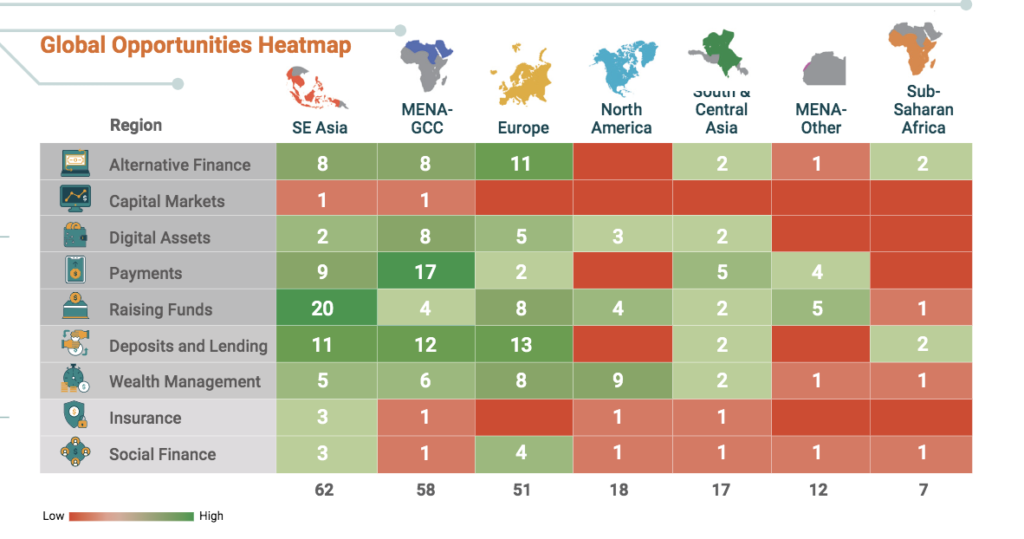 Closer to home, Malaysia itself houses many Islamic fintechs. Based on Malaysia Digital Economy Corporation's (MDEC) Islamic Fintech Report published last February, a total of 26 Islamic fintech providers were operating in Malaysia in 2019, higher than the UK (19), United Arab Emirates (16), Indonesia (12) and the US (10).
From a geographical distribution perspective, Asia dominated the scene with 41% of the ecosystem, followed by Europe (25%), Middle East (20.6%), the Americas (10.3%) and Africa (2.9%).
Two things are clear at this point—the global Islamic fintech scene is rapidly growing in both transaction volume and entities; hundreds of Islamic fintech startups now operate across the globe and many more may follow suit soon. Secondly, Malaysia is a clear leader in this industry; the country is home to at least 20 of these Islamic fintech startups.
Related: Blockchain in Islamic Finance
What is driving the growth of Islamic fintechs in Malaysia?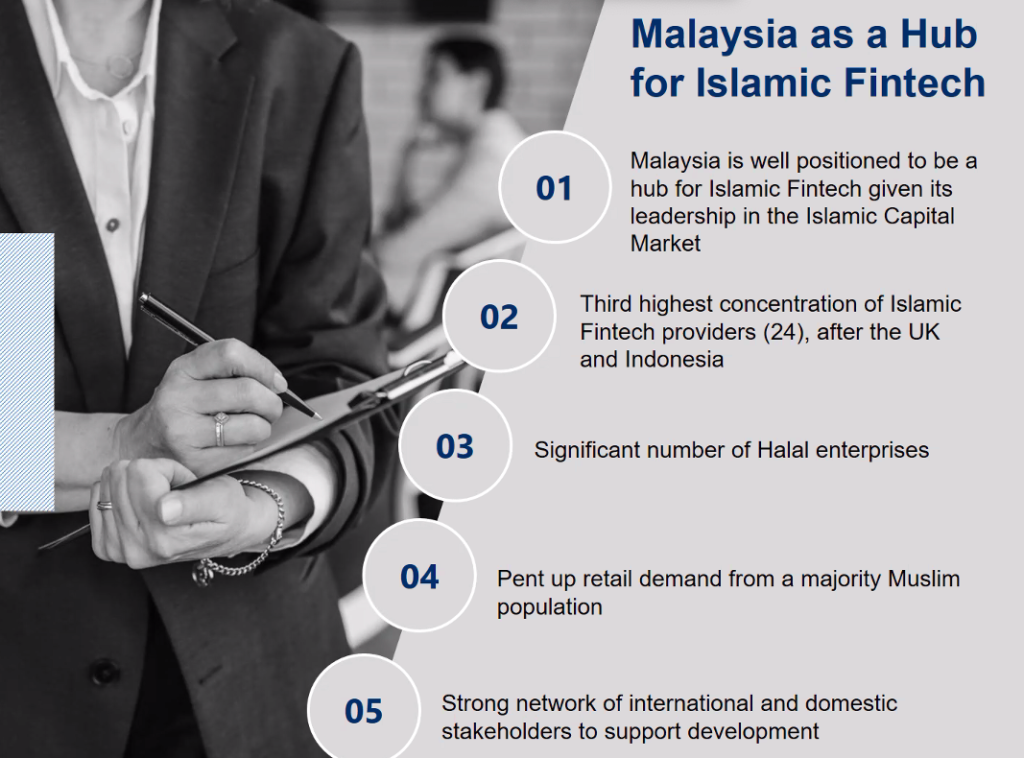 The biggest contributor to the accelerated growth of Islamic fintechs in Malaysia is the country's existing status as an Islamic finance hub.
The country was recognised by Thomson Reuters as the most developed Islamic finance market globally for five consecutive years back in 2017, with their industry total assets reaching US$ 204.4 billion.
As MDEC points out, the country's Islamic finance leadership is globally recognized—it houses a sophisticated legal and regulatory infrastructure and diverse community extending beyond "traditional" financial incumbents, including Islamic organizations such as zakat, Hajj and Islamic co-operatives (co-ops).
Furthermore, backed by a strong Islamic Digital Economy, Malaysia has the unique and competitive advantage to lead the regional and global Islamic digital marketplace.
A growing Muslim population in the ASEAN region has also led to increasing demand for the development of Islamic fintech in terms of Shariah-compliant investment-related products in Malaysia.
Related: Islamic Fintech – A Threat for Islamic Banks or an Opportunity?
Strong government support for the digital economy
Without a solid backbone or base, it would be challenging for any government or economy to develop or establish an industrial framework.
Malaysia's robust regulatory environment, comprehensive fintech landscape, the supportive Islamic finance community and the government's commitment to champion the Islamic economy, has paved the way for Malaysia to be a global Islamic fintech hub, according to INCEIF's Islamic Fintech in Malaysia Reality & Outlook report.
Now, regulators can easily set comprehensive regulatory guidelines and requirements needed for fintech players to operate their businesses, which will help startups that need to make investment decisions quickly and decisively as they scale up.
The presence of an already mature Islamic finance ecosystem also helped draw Islamic fintech players to Malaysia. Unlike in other markets, local fintech players can depend on various Shariah advisory firms to vet their products and services to ensure it is ultimately shariah-compliant. Similarly, Islamic banks can also provide these fintech players with comprehensive Islamic banking and finance services.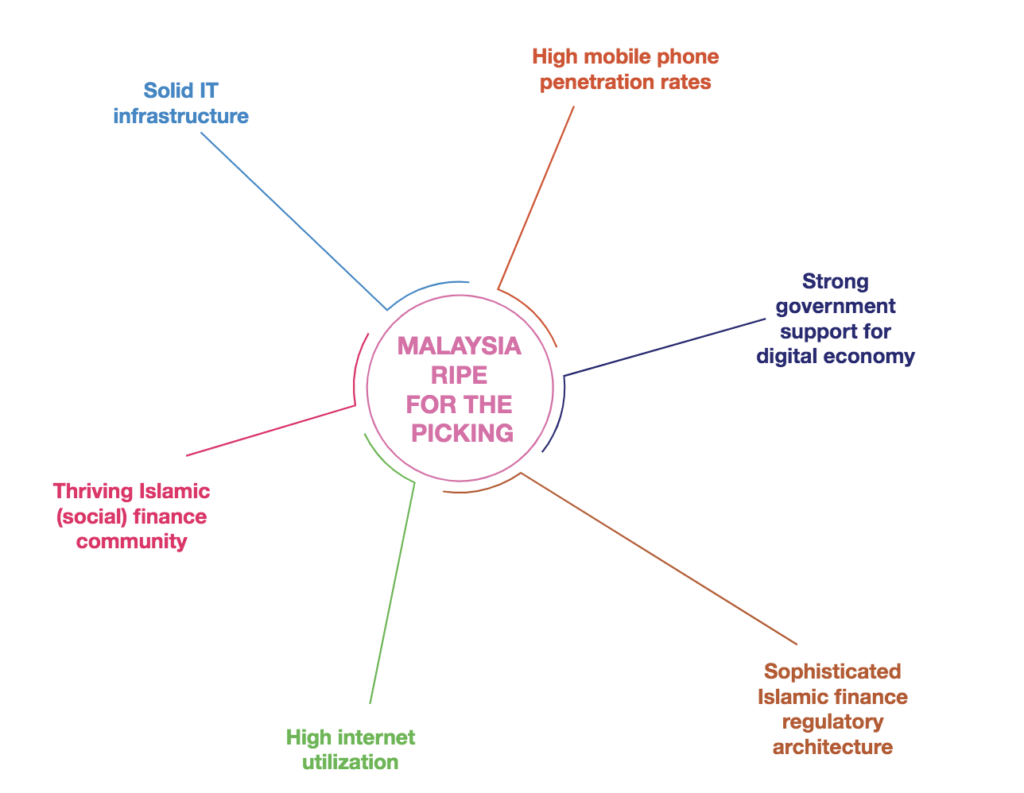 The Malaysia Digital Economy Corporation's (MDEC) leading role in pushing the digital economy agenda has directly created a conducive ecosystem for which Islamic fintech can thrive.
"With our strong digital economy ecosystem within the Organisation of Islamic Cooperation (OIC) member nations, we have a comparative advantage over others in providing Shariah-compliant Islamic finance and Fintech services globally," said Surina Shukri, CEO of the Malaysia Digital Economy Corporation (MDEC).
"Malaysia offers the perfect platform for Islamic Fintech companies to roll out their product offerings before tapping into other Muslim-majority countries," she added.
On a macro level, the government of Malaysia has selected Islamic finance and the Islamic digital economy as Key Economic Growth Activities (KEGA) for the country. This further accelerates the digital economy agenda and helps increase investor confidence in supporting and funding local startups.
The digital economy's contribution to Malaysia's GDP has reached 20% in 2020, increasing from 19.1% or RM289 billion in 2019, according to Department Statistics of Malaysia.
Related: Islamic Fintech: Bubble or Boom?
Expanding the digital economy in Malaysia
But beyond a mature and supportive ecosystem for Islamic finance, the general rapid growth of fintech, which has entered the local mainstream financial sector, is also fueling the growth of Islamic fintech.
Naturally, analyzing how both Islamic and conventional fintechs synergize gives a clearer and more comprehensive view of the ecosystem.
A growing middle class in Malaysia is one of the biggest contributors to the fintech boom—77% of Malaysia's population are urbanized and are growing in affluence. This leads to high mobile phone penetration rates, according to an International Monetary Fund analysis.
IMF states that it's not uncommon today to see mobile wallets and electronic payments, crowdfunding and insurtech technologies appear among Malaysian businesses and are accepted by their consumers who appear increasingly ready to embrace the technology.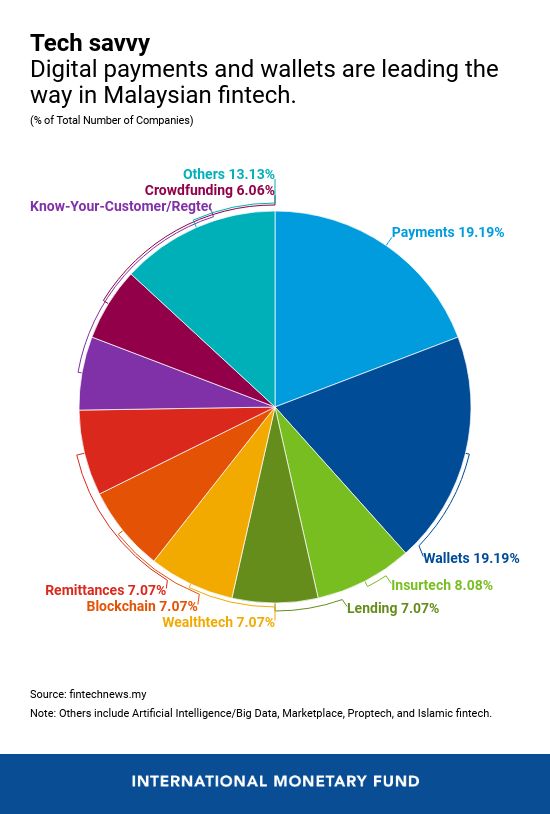 Malaysia's growing Internet banking scene has also helped make fintech more operational, says IMF. Internet banking in the country has quadrupled in the last decade, topping a 90% usage rate in 2018.
The boom of mobile banking is another contributor to Islamic fintech; Malaysia is seeing a near-universal 4G network coverage, a rise in affordable data, and 5G is in the works soon. Malaysia was even ranked high among the 139 countries surveyed—ahead of Italy, China, and Chile—and first among countries in emerging and developing Asia in the World Economic Forum's 2019 Network Readiness Index.
What's next for Islamic fintechs in Malaysia?
The Islamic fintech ecosystem is still in its infancy in Malaysia, according to the same INCEIF report; and it still has great potential for rapid growth.
Multiple reports say that with strong support, continued high potential, and growing market demand, Islamic fintech startups in Malaysia are well-positioned to secure long-term growth prospects and to scale up exponentially to serve the global Islamic economy, which consists of almost 1.8 billion people around the world.
Furthermore, MDEC states Malaysia is strategically placed to serve as an Islamic fintech gateway to the wider ASEAN market, due to its conducive and cost-effective business environment as well as affordable living standards.
It's not surprising to see financial technology or fintech in general, as it's popularly known, gets the attention and support to flourish as a sector in Malaysia.
Due to its extraordinary potential to change lives and change economies, this new sector has the potential to uplift ordinary people and communities, especially those from the underserved markets, by giving them access to basic financial products securely and efficiently.
While the numbers appear bright and seem to position Malaysia as a global leader for Islamic fintech, much work still needs to be done to achieve these goals.
According to MDEC's Islamic Fintech Report, Shariah technopreneurs have noted that other jurisdictions are more successful in attracting new Islamic fintech start-ups due to several factors: more welcoming regulatory environment, active engagement by regulators and government agencies to anchor operations in their respective markets, the availability of funding, ease and support in setting up operations.
By improving its fintech offerings for Islamic Finance, Malaysia could come much closer to its goal of becoming a higher-income nation: as roughly 19.5 million of Malaysia's approximately 30.5 million people are Muslim, the vast majority of which own a cell phone, and two-thirds of which are unbanked.
Malaysia's developed Shariah-compliant finance infrastructure and ecosystem give it the advantage to host and develop Islamic fintech startups and initiatives, as well as become a well-rounded regional hub that offers both conventional and Islamic fintech support.
Related: Fintech: A force towards sustainable innovation?
Only time will tell if Malaysia lives up to its potential.
Ethis—leading Malaysia's growth in Islamic fintech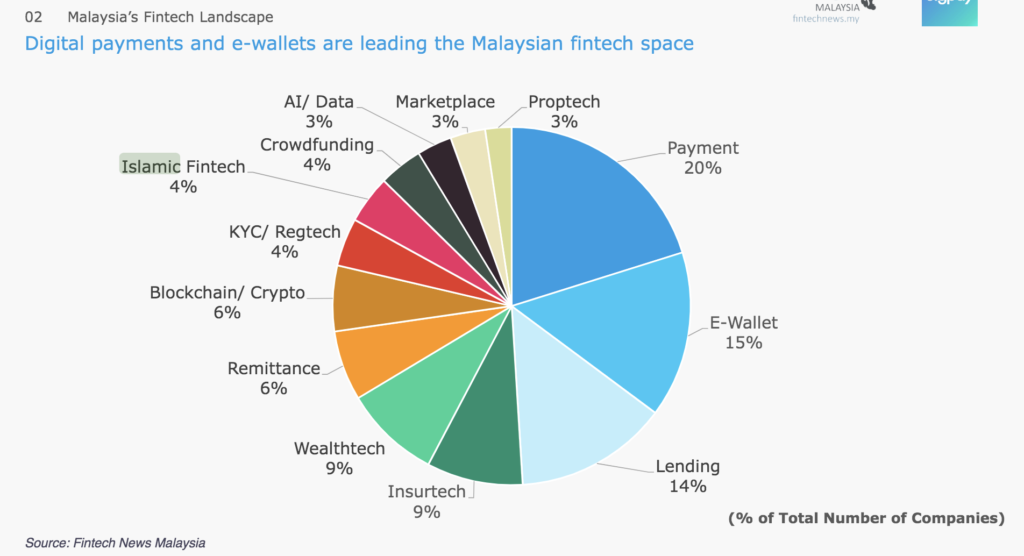 Ethis is widely recognized as a pioneer in the field, having won numerous awards and accolades over the past few years. Founded as a private investment club in Singapore in 2014 before shifting to Malaysia, Ethis just recently—in late 2020—was awarded Malaysia's first Shariah-compliant Equity Crowdfunding licence by Securities Commission Malaysia.
The majority of the group's business is in Indonesia, where it obtained the much-coveted P2P financing registration approval from the Financial Services Authority in 2019. Ethis has been present in Indonesia since 2015 and has matched retail investors from more than 50 countries into impact-investment campaigns, initially focused on property development for social housing and more recently fundraising for highly popular SME supply-chain projects.
Ethis Group currently operates ethical and Islamic crowdfunding platforms both in Malaysia and Indonesia and soon in other countries. The group currently consists of Ethis Malaysia, Ethis Indonesia and GlobalSadaqah.
Ethis currently runs:
(i) Ethis Malaysia: A regulated equity crowdfunding platform that focuses on funding businesses and projects in the agriculture, property, social enterprise and waqf sectors (Malaysia)
As an equity crowdfunding platform, Ethis matches issuers (Malaysian companies) and investors. It charges Malaysian companies that raise funding on its platform a fee equivalent to 6%-10% of capital raised. Other miscellaneous fees apply for services such as registration, onboarding, and post-investment updates.
(ii) Ethis Indonesia: A regulated P2P platform, that provides SMEs with funding for short-term projects with healthy profit margins. In the past, it provided Shariah-compliant funding for property projects in Indonesia with social impact.
(iii) GlobalSadaqah: A charity, zakat and waqf platform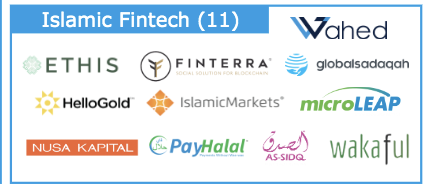 Driven by its mission to drive effective and impactful circulation of capital into the real economy, as well as its vision to uplift humanity through financial technology, the startup has crowdfunded an impressive more than 1910 investments into Indonesia and Malaysia from 47 countries.
Related: Fintech in Indonesia: An Islamic Outlook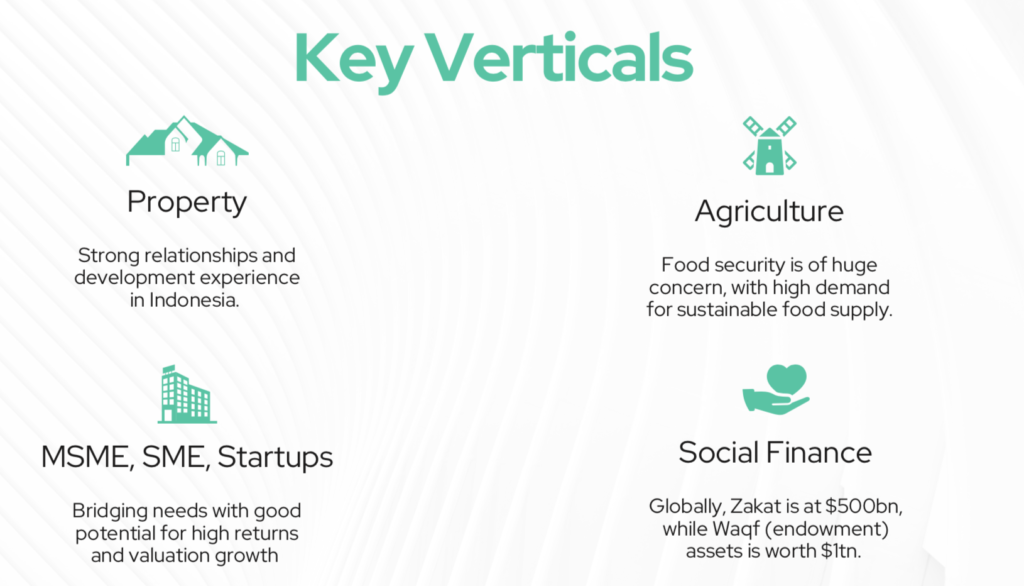 Some of their noteworthy achievements include successfully raising RM4.6 million for an SME project in less than a day through Ethis Indonesia; averaging a crowdfunding volume of RM3 million each month; and building the world's first Masjid using cryptos through their charity arm, GlobalSadaqah.
From 2016 to 2019, Ethis had raised $18million as bridging funds to build 9,700 houses worth a total of $146.3 million, benefitting 38,800 people as part of its focus on affordable social housing. Today the company mainly focuses on raising funds for SMEs.
In total, Ethis has crowdfunded 1910+ investments into Indonesia and Malaysia from 47 countries as well as facilitated 14k+ donations from 84 countries as part of its charity crowdfunding platform.
Our numbers tell a clearer story of our footprint so far. Join us on this journey to #CirculateGood