Introduction:
Fintech in Indonesia is an untapped market opportunity. The vast geography of the lands, considerable middle-class growth and poor penetration of financial products altogether combine to create a formidable market for the development of fintech in Indonesia. With only 36% of the population having a bank account, fintech in Indonesia holds the promise of delivering accessible financial services to the underbanked population in the country. It is noteworthy to highlight that platforms of fintech in Indonesia grow by leaps and bounds from year 2015 to end of 2017. Through this period, the number of fintech platforms escalated to reach a total value of USD 18.646 billion as at end of 2017.Moving forward, fintech (all sectors) are projected to be valued at USD 37.146 billion by 2021.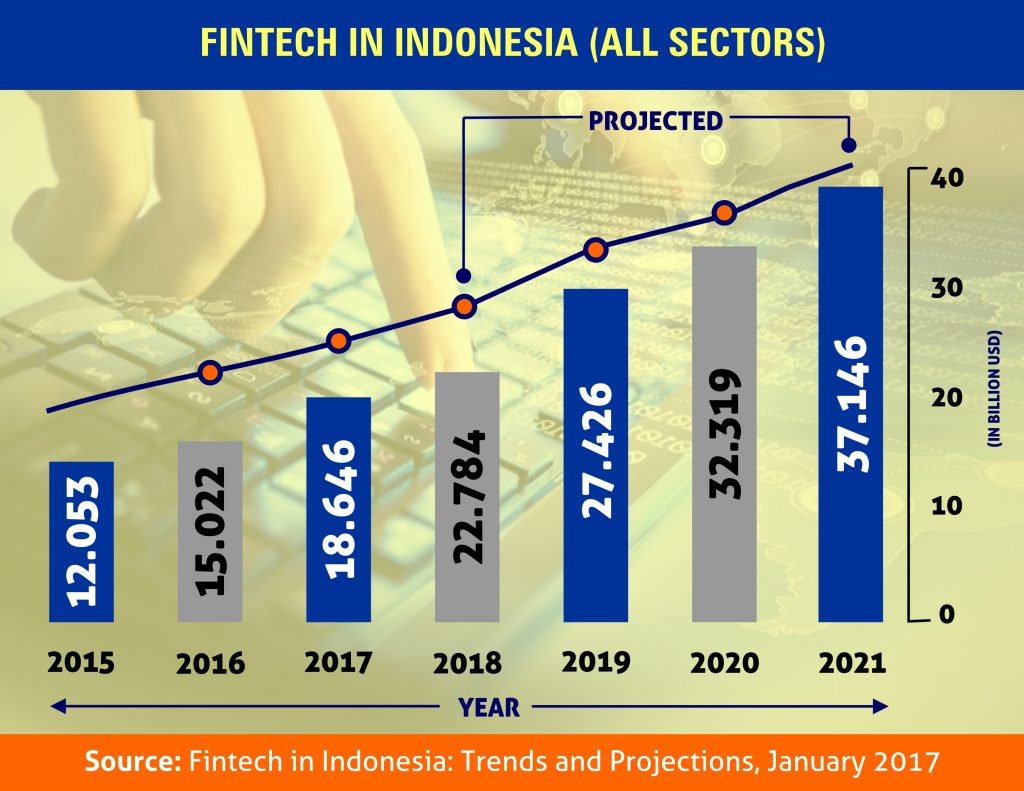 It is noteworthy to point out that there are several categories that fall under the fintech landscape in Indonesia, namely personal finance, investment, payment, POS (postal service), lending, accounting, comparison, crowdfunding and cryptocurrency.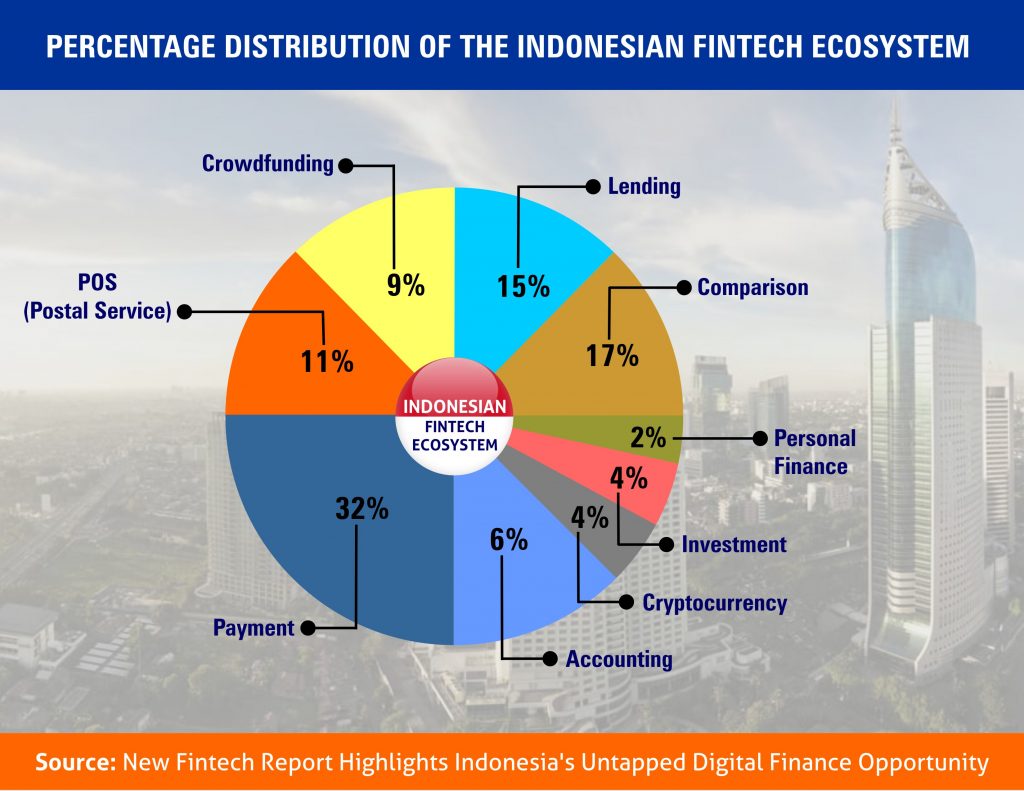 Moreover, being aggressive users of the internet, the majority of which (70 percent) use their mobile phones to access the web, this has led to fintech platforms facilitating financial transactions over a mobile device. Of more importance, unlike formal financial institutions, most fintech startups in Indonesia are born out of social needs. For example, local small and medium enterprises (SMEs), whose unproven track record and lack of collaterals has deterred formal financial institutions from providing necessary financing services have now resorted to fintech platforms for financing. The social angle commonly inherent in fintech has helped to ensure that whatever funds distributed will go to helping Indonesian communities.
Examples of Islamic Fintech Platforms in Indonesia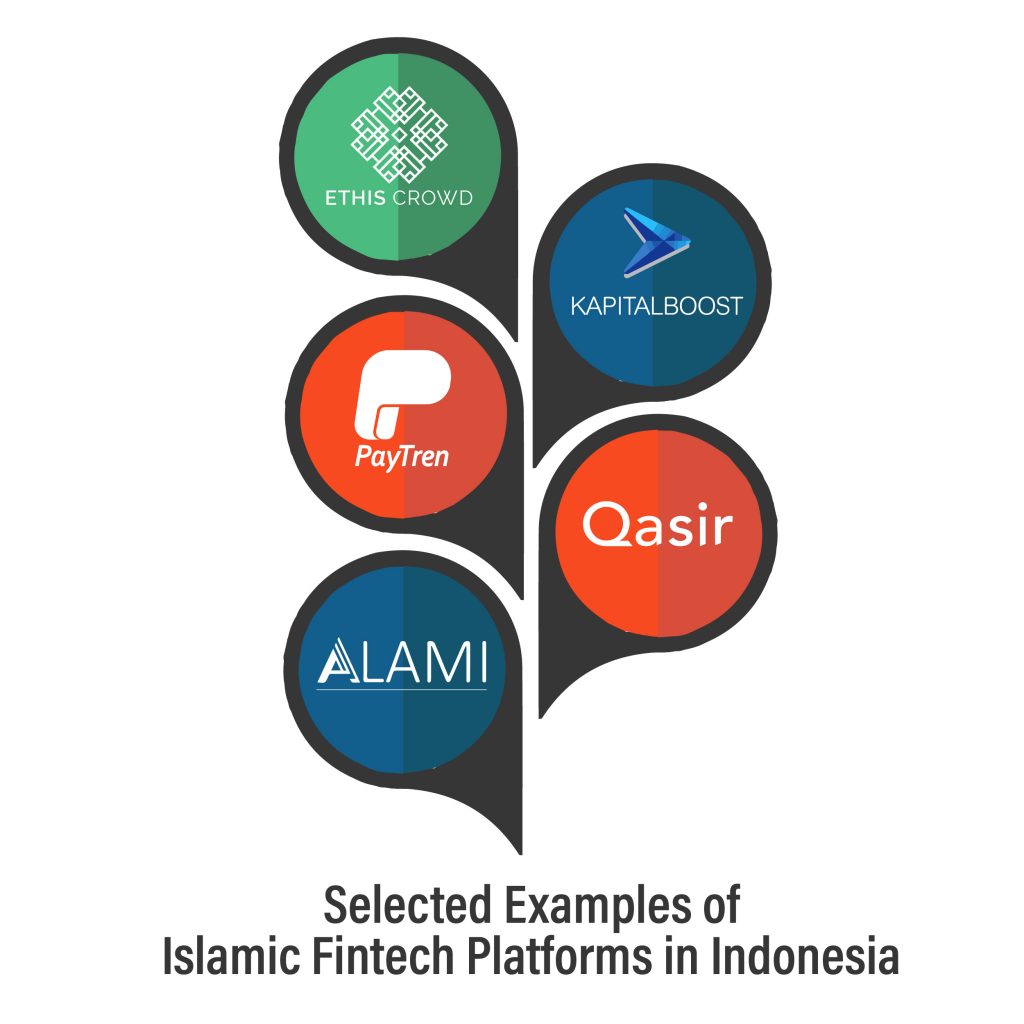 As the world's most populous Muslim nation, the prospects for Islamic fintech seem very bright. For instance, Islamic Crowdfunding platforms such as KapitalBoost.com and EthisCrowd.com serve the largely Muslim Indonesian population. Singapore-based Kapital Boost has clients from broad range of industries, from halal candy shops to telecommunication companies, operating mainly in Indonesia. Through its crowdfunding platform, Kapital Boost investors are expected to generate annual returns of 15 percent to 24 percent per annum. Moving to Ethis Crowd, the world's first real estate Islamic crowdfunding platform, it provides funding for social housing development projects in Indonesia. As at end-2017, it has built almost 1000 affordable houses, and approximately a total of 5000 houses will be built within the next few years.
Apart from KapitalBoost.com and EthisCrowd.com, another established Islamic fintech platform that serves the majority Indonesian Muslim population is ALAMI Sharia. It is a technology company that aims to facilitate small businesses to obtain Islamic financing from banks. It will accomodate Shariah financing, filter and provide accurate ratings for prospective borrowers and facilitate communication between banks and prospective borrowers. The company hoped that through the technological advancement it offers, it will help Shariah banking to process financing faster by at least 50 percent. Another Islamic fintech start-up in Indonesia is Qasir. It is a trading system (commonly known as online cashier system) aimed at assisting SMEs in running a business by providing recording and reporting of business conditions needed for business expansion. Qasir systems run on sophisticated cloud servers that can process data quickly.
Presently, the most prominent Islamic Fintech startup in Indonesia is Paytren, a payment app that allows Indonesians to make payments for utilities, mobile topups and even donate to charity. Paytren is reported to process 700,000 transactions daily from its 1.7 million users. It is headed by Religious Preacher Ustaz Yusuf Mansor, who himself is a huge brand in Indonesia, with close to 10 million followers on social media. Paytren went viral and spread rapidly on social media and implements a successful underlying affiliate marketing system which has parallels with online multi-level marketing programs. Paytren was also forced to cease some of its activities in October 2017 by Indonesia's central bank, in a sweeping move by the regulator to better organise the licensing regime of e-payments. This seems to be a temporary setback, and Paytren is currently processing the requisite licenses to be back in full gear. Nonetheless a payment app is just the starting point, and moving forward Paytren has ambitious plans to expand both its reach as well as its offerings. Just recently in early December 2017, Paytren completed an acquisition for Cellum, an established mobile-payments tech company from Bulgaria. This is just one of 11 companies targeted by Paytren to enhance its fintech capabilities. A significant milestone for Paytren and the Islamic finance industry in general is the recent license approval for PT Paytren Asset Management, touted to be the first fully Shariah-compliant Investment Management Company in Indonesia.
Advantages of Fintech in Indonesia and Challenges Ahead
Overall, fintech in Indonesia has huge and great potential as it can provide solutions for pressing needs which traditional financial institutions are not able to provide. Moreover, an explosion in mobile penetration (70 percent use mobile phones to access the web) in the country has created a fertile ground for fintech's rapid rise. The advantages that fintech has will help to serve the diverse and unique Indonesian population including having nimble models and decision-making, and strong data-management to automate and enhance financial screening and business targeting.
In the case of swift decision-making, with the use of Big Data, online processes and algorithms, decisions may be made in seconds. Fintech users usually fill out forms online using user-friendly interfaces and financing applications can be processed without face-to-face meetings. This is especially important in Indonesia, where almost 20,000 islands separate rural communities from physical financial infrastructure.
Furthermore, fintech is able to provide financial solutions to users who do not have financial access to formal financial institutions. With simpler and more efficient operations and technologies, fintech is able to offer better and smaller loans than formal financial institutions. This is because with large operational costs, formal financial institutions are largely limited in terms of the minimum amount of loans and the return period on them. For example, an online vendor in Jakarta may offer US$110 to US$117 to be returned in 10 to 30 days. Finally, one of fintech's main strength is data management. The utilization of Big Data ensures the decision-making process to become faster, more accurate and cost-effective as the process is run automatically with little intervention.
Amidst the advantages associated with fintech in Indonesia, there are several challenges ahead. One of the main challenges is the absence of proper regulation for fintech players. Proper regulation is vital as it will guarantee the delivery of consumer protection and a robust financial system. However it is currently not in place as it is a fairly new trend. This is clearly evident when 61 percent of the overall fintech players in Indonesia feel that regulation in Indonesia is slightly ambiguous and 49 percent feel that the current regulatory process is slow (Survey conducted by Deloitte Consulting and Asosiasi in Year 2016).
Concluding Remarks and Suggestions
Overall, fintech services in Indonesia bring a lot of positive impact to the country as it holds the promise of delivering affordable financial services to the underbanked segment of the society. Although there are regulation limitations in Indonesia for the segment of fintech, this can somehow be addressed when Indonesia's Financial Services Authority (OJK) draft new rules and regulations to foster financial innovation. Moving forward to further strengthen the growth of fintech players in the country, there should be more collaboration between fintech companies and formal financial institutions so that their functions can optimally reach the people in various secluded areas of the country. Finally, the Indonesian economy is leveraging on fintech towards achieving higher financial inclusion and literacy in Indonesia.