Introduction:
Of late, the global sukuk market has witnessed a commendable degree of innovations as it continues to gain traction in the current markets and further expansion to new markets. It is noteworthy to highlight that several reasons have led to sukuk market innovations, but one of the main reason is the escalating call for Islamic finance to embrace the true objectives of Shariah. This includes among others the incorporation of environment, social and governance (ESG) principles so as to reach a wider segment of society. One such sukuk market innovation is the recent introduction of Sustainable and Responsible Investment (SRI) sukuk. Furthermore, to further reiterate its sustainable values towards the environment and society, some of the SRI sukuk has utilised the potential of crowdfunding as one of its fundraising methods.
SRI Sukuk and Crowdfunding
In 2014, Malaysia being a global leading provider in sukuk announced in its country's Budget that it aspires to become a home for SRI. Following to that, Securities Commission of Malaysia (SC) revised its sukuk guideline by incorporating new requirements for the issuance of SRI sukuk. It is notable to highlight that the SRI sukuk framework is an extension of the existing sukuk framework and thus, all the other requirements in the sukuk guideline continue to prevail. The additional areas addressed in the framework for the issuance of SRI sukuk include utilisation of proceeds, eligible SRI projects, disclosure requirement, appointment of independent party and reporting requirement. Further details of the additional requirements for the SRI sukuk are set out in the revised sukuk guideline.
Diagram 1: Additional Areas Included in the SRI Sukuk Framework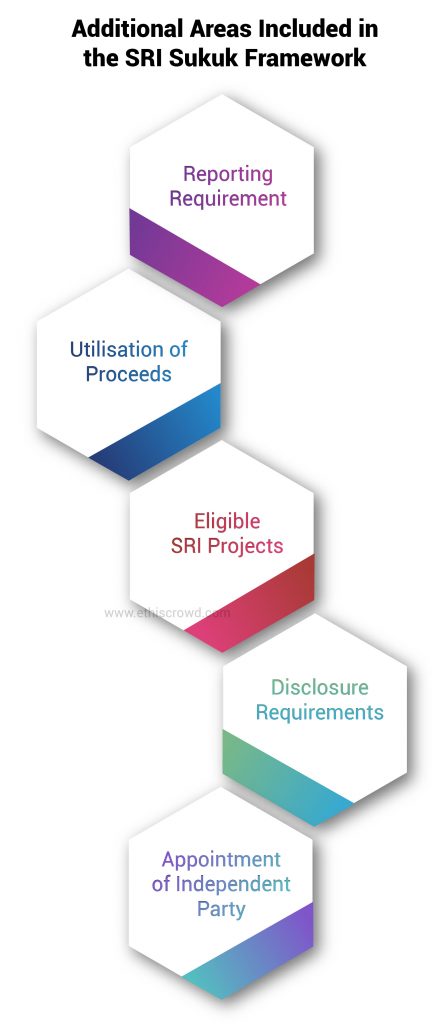 Source: https://www.sc.com.my/legislation-guidelines/sukuk/
Below are some examples of sukuk that witnessed together the amalgamation of both Islamic finance and SRI.
Table 1: IFFIm Sukuk Key Transaction Summary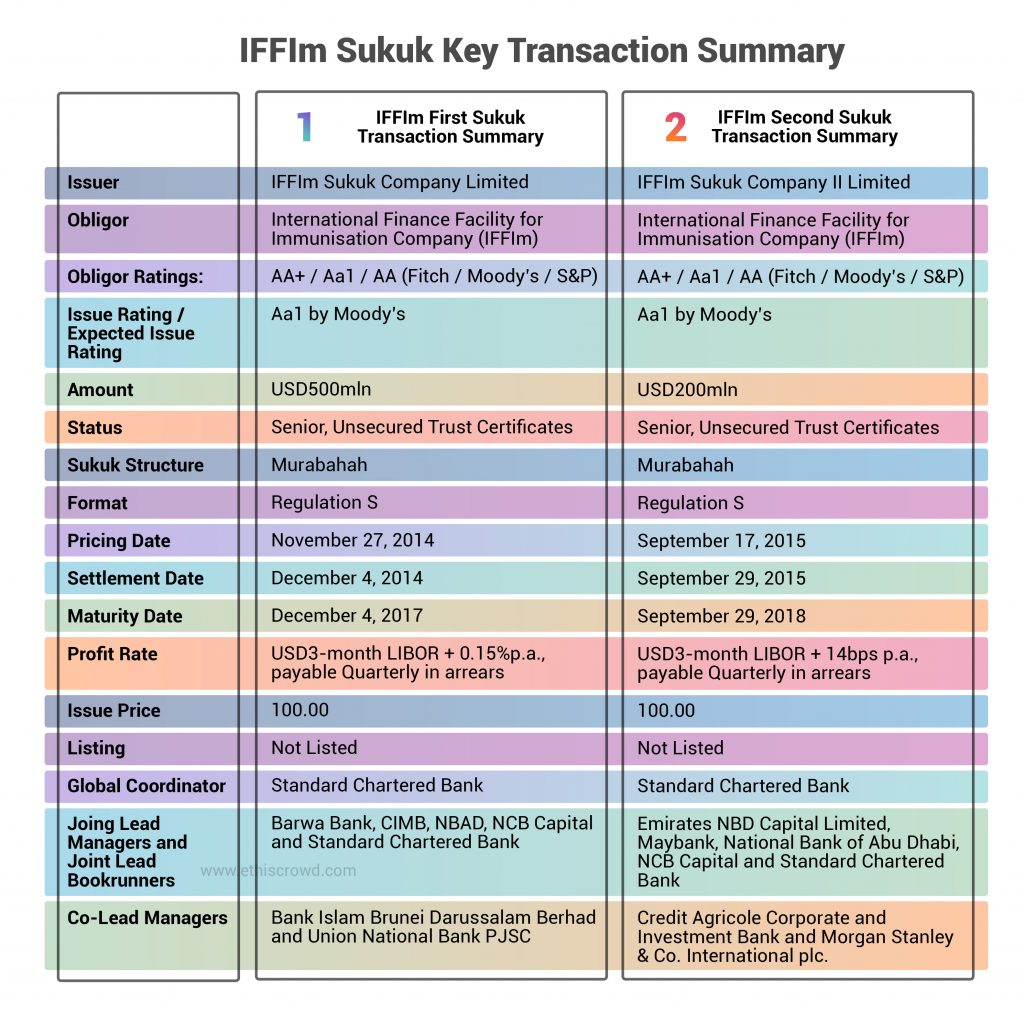 Source: http://www.iffim.org
Table 2: Ihsan Sukuk Berhad Key Transaction Summary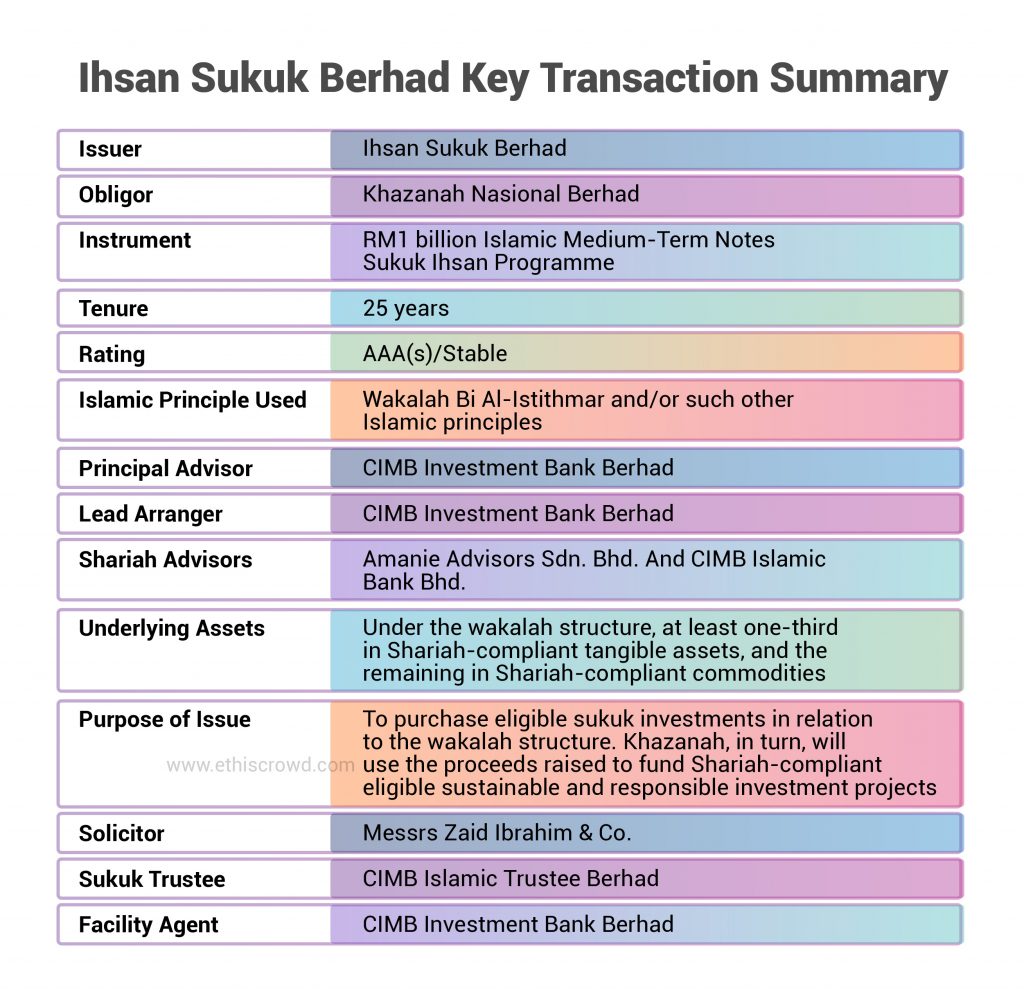 Source: Landmark Deal Report, April 2015
SRI Sukuk – International Finance Facility for Immunisation (IFFIm) Sukuk Murabahah and Khazanah Nasional Berhad Sukuk Ihsan
It is notable to inform that the first SRI sukuk in the world is the International Finance Facility for Immunisation (IFFIm) sukuk murabahah issued by the World Bank. Through this SRI sukuk, it provides institutional investors with a noble cause of helping to protect millions of children against preventable diseases. Significantly, the sukuk was so successful that the first sukuk transaction was oversubscribed by 1.4 times, whilst the second sukuk transaction was oversubscribed by 1.6 times. This serves as clear evident on how the international sukuk market can mobilise funds to assist the poverty-stricken society. Likewise, the remarkable success of the IFFIm sukuk has led to the development of the SRI Sukuk framework by SC in 2014, which eventually led to the issuance of the first SRI sukuk in Malaysia the following year.
Sukuk Ihsan issued by Khazanah Nasional Berhad is Malaysia's first SRI sukuk which was exclusively offered to institutional investors. The proceeds were channelled to Yayasan AMIR, a non-profit organisation incorporated in 2010 mainly to improve the accessibility of quality education in Malaysia. Positively, due to the success of the first tranche of sukuk ihsan, this led to the issuance of the second tranche of sukuk ihsan. However, the main point of departure between the two tranches is that unlike the former, the latter has a retail portion which mainly creates opportunity for individual Malaysians to invest in a noble cause – the Yayasan AMIR Trust Schools Programme.
Diagram 2: Sukuk Ihsan Retail Offering Schedule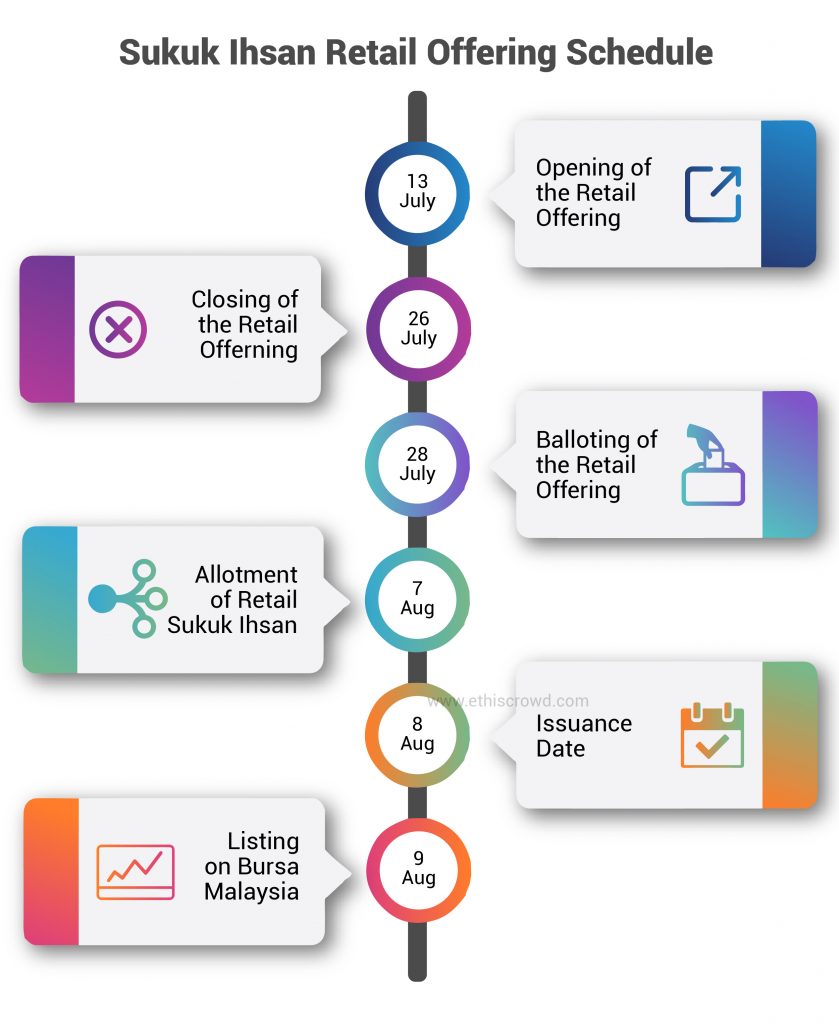 Source: http://www.khazanah.com.my/About-Khazanah/Our-Case-Studies/Khazanah-360/Sukuk-Ihsan-Sustainable-and-Responsible-Investme
Finally and of more importance, apart from sustainable values towards the environment and society found in sukuk ihsan, this SRI sukuk is further embedded with additional societal values. This is because it further promotes the services of crowdfunding platforms as one of its fundraising methods. For example, two local equity-crowdfunding (ECF) platforms Ata Plus and pitchIN are used to reach out to individuals who want to contribute to the programme as low as RM10 and subsequently RM20, RM100 and RM200. It is noteworthy to highlight that presently in Malaysia, there are altogether six (6) registered ECF platforms under SC – Alix Global, Ata Plus, Crowdonomic, Eureeca, pitchIN and Propeller Crowd+.
Equity-Crowdfunding (ECF) is a new form of fundraising that allows start-up or other smaller enterprises to obtain capital through small equity investments from relatively large number of investors, using online portals to publicise and facilitate such offers to crowd investors. Under the Guidelines on Regulation of Markets under Sec 34 of the Capital Market and Services Act 2007 (CMSA), an eligible issuer can raise up to RM3 million within a 12-month period. Issuers can tap on investments from retail, sophisticated as well as angel investors, subject to the investment limits as provided in the Guidelines.
Source: Bi-annual Bulletin on the Malaysian Islamic Capital Market (ICM) by the Securities Commission Malaysia, Jan-June 2015, Vol. 10, No. 1
Concluding Remarks
Innovation is integral in the growth of sukuk. For example, with innovations, sukuk have now expanded beyond the traditional vanilla instruments to include SRI sukuk, green sukuk etc. This is proven when the SRI assets have globally soared from USD13 tln to USD20 tln in the past years. Nonetheless, even though the SRI sukuk phenomena is gaining traction, the market development is still at crossroads. Therefore to ensure continued progress in these areas, continuous innovations and new ways of thinking are required. One such innovation is the utilisation of crowdfunding as one of the fundraising options of the SRI sukuk. Finally, with the establishment of a comprehensive legal, regulatory and governance framework coupled with financial technology (Fintech) revolution such as crowdfunding etc., this will act as catalyst in promoting the overall growth of the Islamic finance sector.
Read more on Sukuk – The Process of Issuing Islamic Bonds