Sadaqah is a voluntary charity which can be performed at any time of year along with any amount. Furthermore, Sadaqah is an act of kindness that brings along a huge sense of satisfaction and fulfilment and it especially reaches an all new level when donation is provided for poverty-stricken children. This is because unfortunately poverty is robbing children of their future and children face many obstacles while growing up.  For example, poverty-stricken children who do not get the nutrition that they need will be at risk for a lifelong disability when they reach the stage of toddlerhood. Nevertheless, you might be surprised to learn that, ultimately it might be you who can make the positive change in the lives of poverty-stricken children. Our children are our future. Here are five positive effects of giving sadaqah to children in poverty.
5 Positive Effects of Sadaqah for Poverty-Stricken Children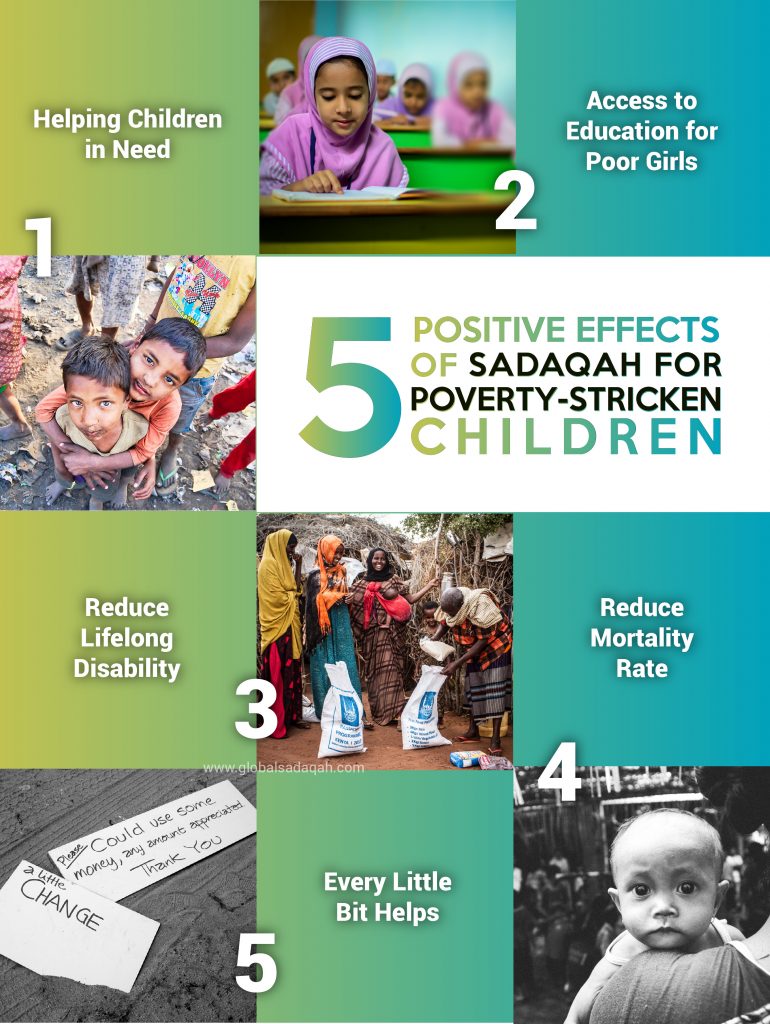 Source: Author's Own
Helping Children in Need
5 out of 10 people living in extreme poverty are children – there are always children out there in need of help. There's never going to be a perfect time to give but the reality is that when you donate your money to poor children, you are helping to lift them out of poverty.
2. Access to Education for Poor Girls
Girls are 7 out of 10 times more likely than boys to drop out of school when poverty arises. When we donate money to those in need, this will provide opportunities for the girls to pursue their education. It is noteworthy to highlight that every year a girl who stays in school will have her earning power increases up to 25%. Moreover these girls will eventually grow up to be mothers and it has been reported that more than 90% of the money a mother earns gets invested in her family's future.
3. Reduce Lifelong Disability
Due to poverty, many poor and needy children do not get sufficient nutrients for physical growth. This can cause lifelong disability as sufficient nutrient during the new born period till toddler hood is essential for the overall growth and development of a child. Our donation can therefore make the positive change in the overall health of poverty-stricken children.  
4. Reduce Mortality Rate
121 out of 1000 children die before their 5th birthday, and this is largely due to extreme poverty. Therefore it might be you who can provide the opportunity for a child to live beyond their 5th birthday.
5. Every Little Bit Helps
Do remember that we do not need to make large donations to make a difference to the lives of these children. Just a few dollars could result in a week's worth of meals for a starving child, much-needed medical attention, and even improved education. Those few dollars can make a huge difference to the life of a starving child.



Global Sadaqah – Helping Out the Poverty-Stricken Children
Ethis Ventures is delighted to share our latest noble initiative named 'Global Sadaqah', an Ethis Ventures Islamic crowdfunding platform that matches high-impact charity campaigns to discerning global donors. One of its essential charity campaigns is to provide financial help to poor and needy children from various places.  The main point of departure between 'Global Sadaqah' and our usual cash giving is mainly transparency and accountability. Through 'Global Sadaqah', funds are given directly to the best charities and organisations for the overall benefit of the poor children, as opposed to personal direct-cash giving to the poor families, where the money may likely be misused for other needs that may be prioritised above the education of children.
Here are selected ongoing campaigns by 'Global Sadaqah' for the poor and needy children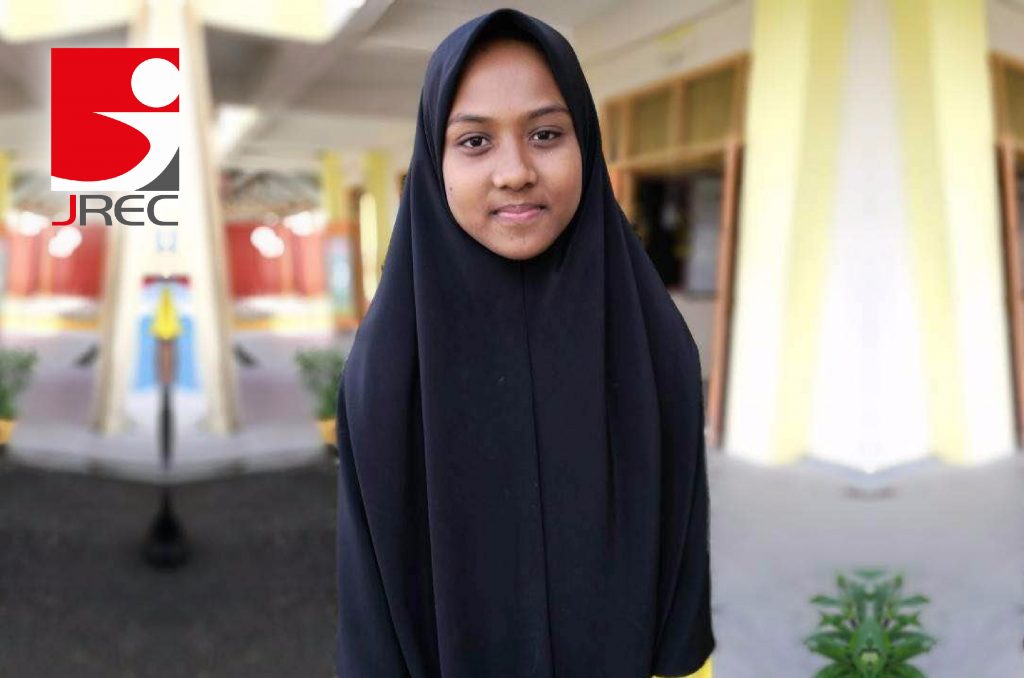 Intan Hafizah, a 12 year-old Rohingya refugee is currently enrolled in a boarding school named Sekolah Menengah Islam Ad-Diniah located in Pulau Pinang. She has been described as a passionate learner of Islam, in both Quran and Aqeedah (faith). Intan is very intelligent and performed very well academically. Her father is a hard-working construction labourer and her mother is a housewife. However, after her father has recently become unwell, they are now in need of more financial support for the continuation of Intan's education. Unfortunately, her family's meagre income is insufficient to meet the continued expenses for Intan's long-term education. She aspires to be a teacher one day so she can enlighten and inspire the minds of future generations.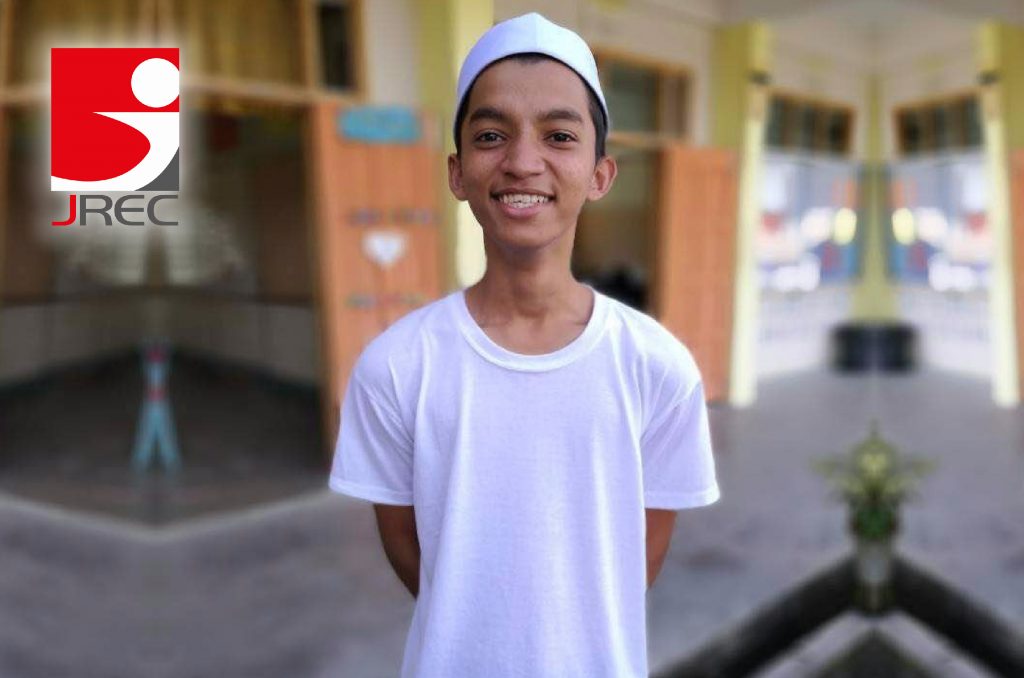 Khalil Ahmad, a 14 year old Rohingya refugee is currently enrolled in a boarding school named Sekolah Menengah Islam Ad-Diniah located in Pulau Pinang. Originally hailed from Yangon, Myanmar, Khalil's parents Habi and Junaida passed away leaving him orphaned and in need of support. He came to Malaysia in 2015 and despite all difficulties; his smile of gratitude never left his face. In class, he is known as "The Innovator" as classmates sought him out for guidance on any creative oriented projects, both in class and in free time! In addition to his creativity, he is also applauded by his teachers for being a hardworking student that performs well in his academic subjects. He looks up to the famous inventor of the light bulb, Thomas Edison and aspires to establish a career as an "Electronics Inventor Engineer" in the future. With that, he sincerely requests for your financial support to help him in his journey! 
Conclusion
While it has been generally agreed that monetary assistance is not the only form of Sadaqah, it is accepted that giving money to the poor can help to change their lives positively. There are several great benefits of giving out sadaqah to poverty-stricken children. Apart from the ones highlighted above, we will also become world change-maker as we are positively changing the future of our children. At 'Global Sadaqah', with just a click away, we can now achieve the best form of investments with our Creator and finally may we give as much Sadaqah as humanly possible for the betterment of the overall Ummah.