1) Be a Responsible Muslim
Blink. Blink. Blink. It's already the second month of 2018. Time flies really quickly. Questions to ponder – what social responsibilities have we accomplished? And if we haven't, then what are we waiting for? As human beings, we have to ask ourselves what types of worldly activities we should participate in to ensure that all the gates of paradise open for us after we die. My dear brothers and sisters, it is none other than Sadaqah! It is known that acts of Sadaqah can lead to inner personal satisfaction for human beings. Of more importance, it will benefit us not just in this world, but also on the Day of Resurrection.
Here are 5 inspiring secrets of Sadaqah: –
(1) Best investments with our Creator
(2) Results in huge rewards
(3) Provide shade on the day of resurrection
(4) Protects from tragedies
(5) Attain pleasure of our Creator.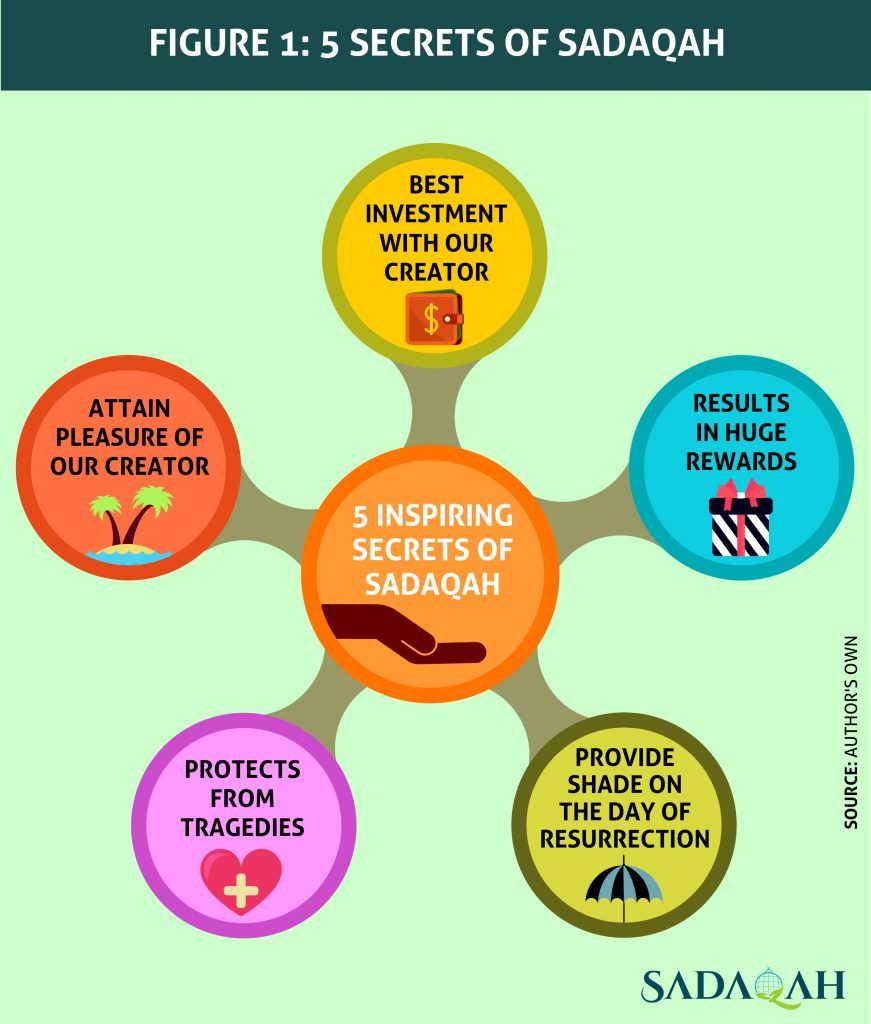 Source: Author's Own
2) Types of Sadaqah and its Benefits
It is noteworthy to highlight that one of the essential ingredients in achieving the 5 inspiring secrets of Sadaqah is helping out the poor and others in a state of need.
"Every Muslim has to give in sadaqah (charity)." The people asked, "O Allah's Messenger (PBUH)! If someone has nothing to give, what will he do?" He (PBUH) said, "He should work with his hands and benefit himself and also give in charity (from what he earns)." The people further asked, "If he cannot do even that?" He (PBUH) replied, "Then he should help the needy who appeal for help." Then the people asked, "If he cannot do that?" He (PBUH) replied, "Then he should perform all that is good and keep away from all that is evil and this will be regarded as charitable deeds." (Bukhari)
Apart from the above, other aspects of Sadaqah include dhikr (remembrance) of our Creator, smiling, embracing righteousness and preventing wickedness, guiding other people, removing harmful objects from passageway, pouring water for other human beings and helping a blind human being.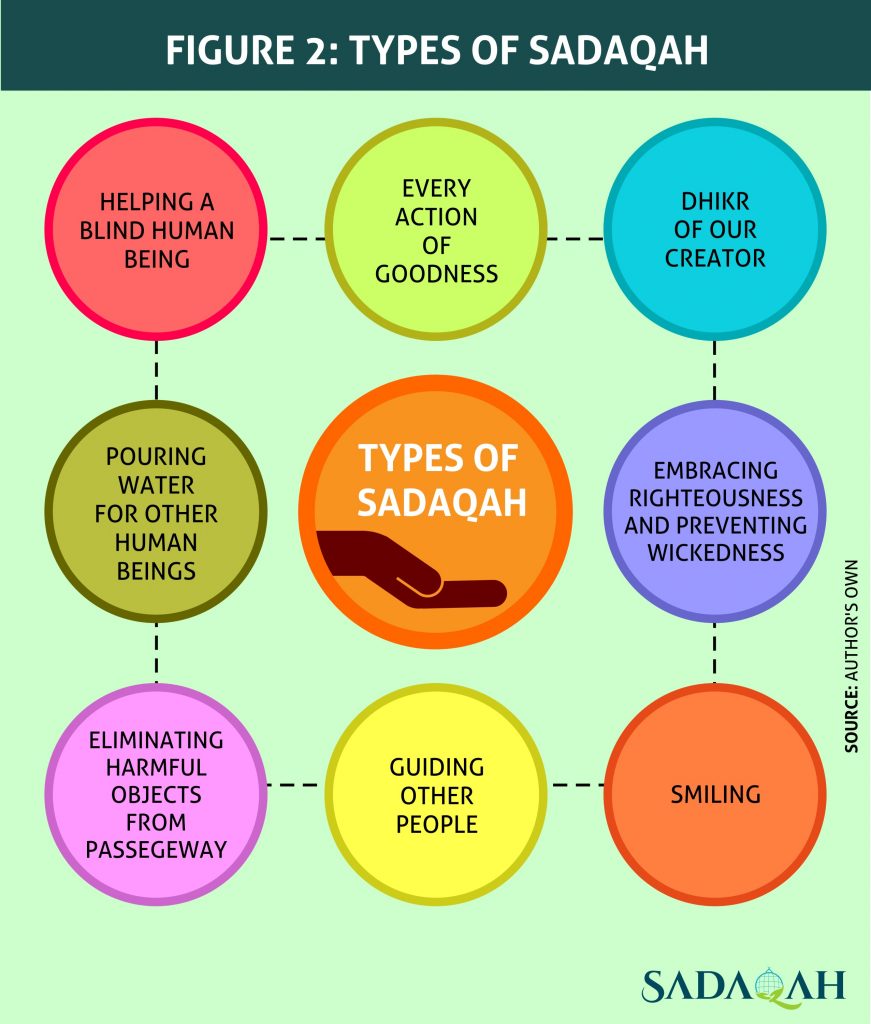 Source: Author's Own
Sadaqah is also hugely emphasized in other religions. Although they may have their own interpretations of Sadaqah, eventually it all lead to one ultimate goal: to help people in need. On a more positive note, equality will be achieved and society's social welfare will be taken care of through acts of Sadaqah. In addition, Sadaqah serves to purify one's wealth and helps to establish a flow of wealth in the society. Overall, with appropriate distribution of wealth, economic stability will be achieved.
3) Global Sadaqah – Helping out the Poor and Others in a State of Need
As at December 2017, the world's population was estimated to have reached 7.6 billion. But unfortunately, nearly 1/2 of the world's population (more than 3 billion people) live on less than $2.50 a day, and more than 1.3 billion people live in extreme poverty at less than $1.25 a day. More upsettingly, 1 billion children worldwide are currently living in poverty, and in accordance to UNICEF, 22,000 children die each day due to poverty. It is noted that billions of people in different parts of the world are presently suffering because of circumstances beyond their control.
With that in mind, Ethis Ventures is delighted to share our latest noble initiative named 'Global Sadaqah'. It is an Ethis Ventures Islamic crowdfunding platform that matches high-impact charity campaigns to savvy donors. Just like its name, through Global Sadaqah, charity will be distributed globally without any forms of restrictions, barriers etc. Areas of charity are segregated into mainly four (4) sections namely general charity, zakat, waqf and others. Fascinatingly, with Global Sadaqah, donations can be right at our fingertips! Also, we are able to donate to various bodies/organisations located in different parts of the world which we never even think of in the first place! Subhanallah!
Some of the selected charity campaigns of Global Sadaqah include building the musolla (prayer facility) of Baytuna Residence (subsidized housing project by Ethis Ventures located in the capital of Banten province, Serang); educating Rohingya children in Malaysia; providing fish drying cabin to fishermen's' community of Kampung Tanjung Dawai, Kedah; funding health financial aid to assist the surgery/procedure costs of needy children heart patients of Institut Jantung Negara (IJN); rebuilding suspension bridge in Kampung Bugarin Rosok, Sabah to improve the villagers safety and economic activities; providing solar system to the Orang Asli community in State of Johor; building a transportation boat for school children in Sungai Tangkarason, Sabah etc.
4) Concluding Remarks
While it was generally agreed that monetary assistance is not the only form of Sadaqah, it is accepted that giving money to the poor can help to change their lives positively. Furthermore, with the accepted era of lazy generosity that we are all part of, Global Sadaqah is seen as an effective platform to help us achieve all of the 5 inspiring secrets of Sadaqah. With just a click away, we can achieve the best form of investments with our Creator, huge rewards from our Creator, provision of shade on the day of resurrection, protection from tragedies and finally to attain ultimate pleasure of our Creator. Lastly, may we give as much Sadaqah as humanly possible for the betterment of the overall Ummah.