Sukuk: Taking Indonesia by Storm
Indonesia: A Brief Snapshot
In the search for new Islamic finance markets and prospects, Indonesia remains a region with relatively untapped potential. The country has a population estimated at 266.79 million, and an important source of several essential commodities. Looking ahead, Indonesia is expected to be the 7th largest economy in the world by 2030, where the country's economic growth will be supported by the increasing ties to the global economy, through both trade and financial channels. While structural demographic and economic prospects for Indonesia are bright, several key enablers need to be in place to support continued sustainable growth. Currently, one of the most notable issues for Indonesia is the need for infrastructure, in particular transportation, electricity, energy (oil and gas), information, technology, telecommunication, public basic facilities etc. This has become one of the priority sectors in the national development.
Infrastructure Issues in Indonesia: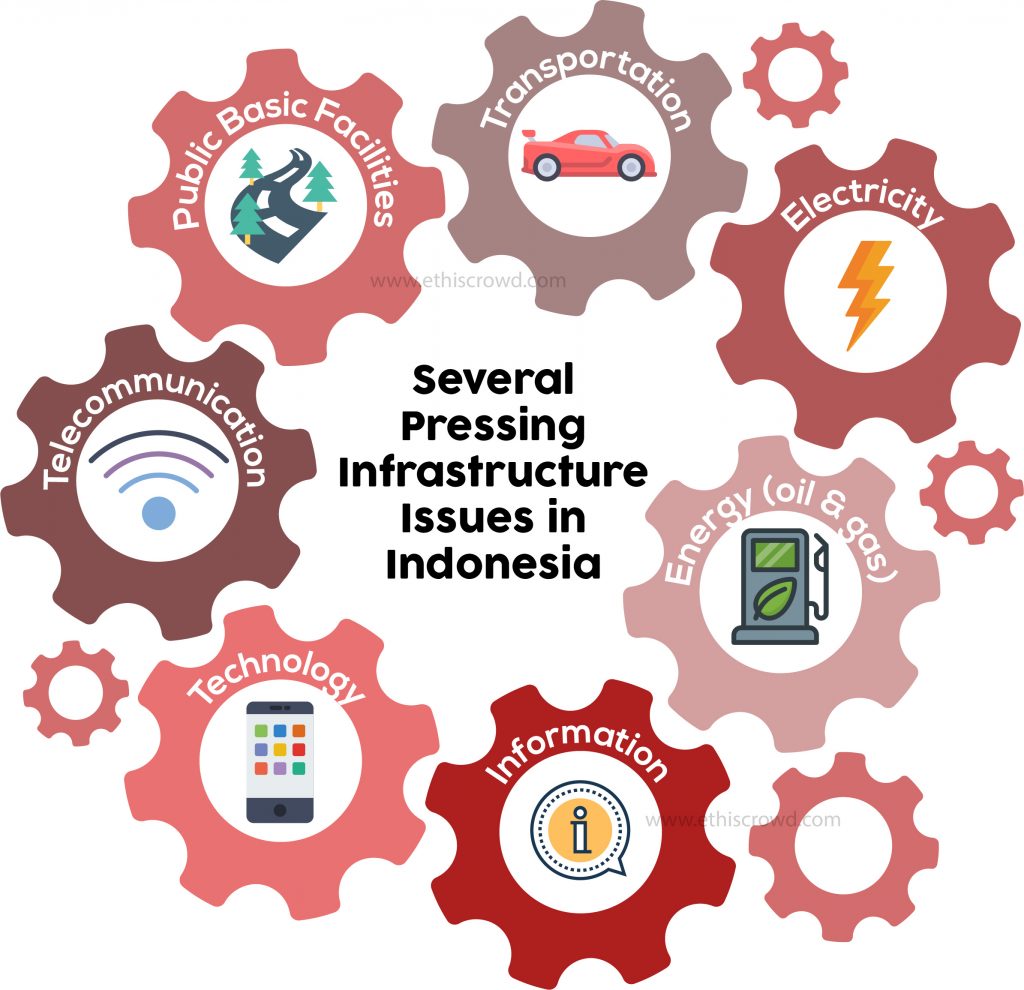 Infrastructure Budget Indonesia: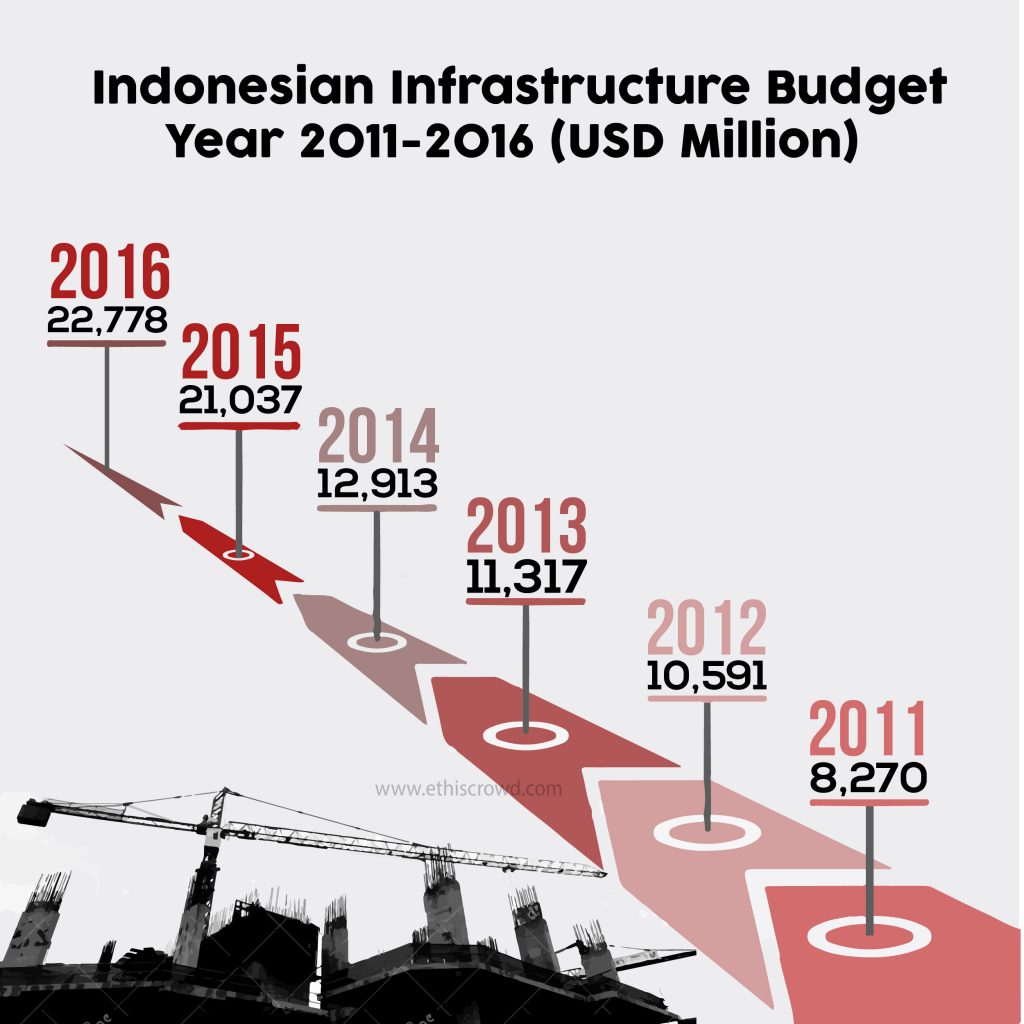 With present infrastructure financing limitations faced by the government, there has been growing recognition that Islamic finance can offer an alternative source of financing to help support the country's overall infrastructure development. Sukuk, which is an integral part of Islamic finance, can be an important pillar to support and partly shoulder the infrastructure financing needs given the nature of infrastructure projects that normally require large-scale and long-term financing which is suitable with the methods of raising funds through sukuk.
Indonesia Sukuk: A Success Story
It is noteworthy to point out that effective and proper infrastructure development is essential for Indonesia to achieve a sustainable economic growth. Thus far, sukuk has provided a large portion of the infrastructure sector development around the globe, evident in both Muslim and non-Muslim countries. In the case of Indonesia, ever since its inaugural sukuk debut in the international market in year 2009, Indonesia has become the largest sukuk issuer globally in terms of USD outstanding amount, further highlighting the important standing of sukuk and Islamic finance in the country (Sukuk for Infrastructure Development: Indonesia Experience, 1st Annual Islamic Finance Conference: Sukuk for Infrastructure Financing and Financial Inclusion Strategy, Jakarta, 17 May 2016).
Sovereign Sukuk in International Market: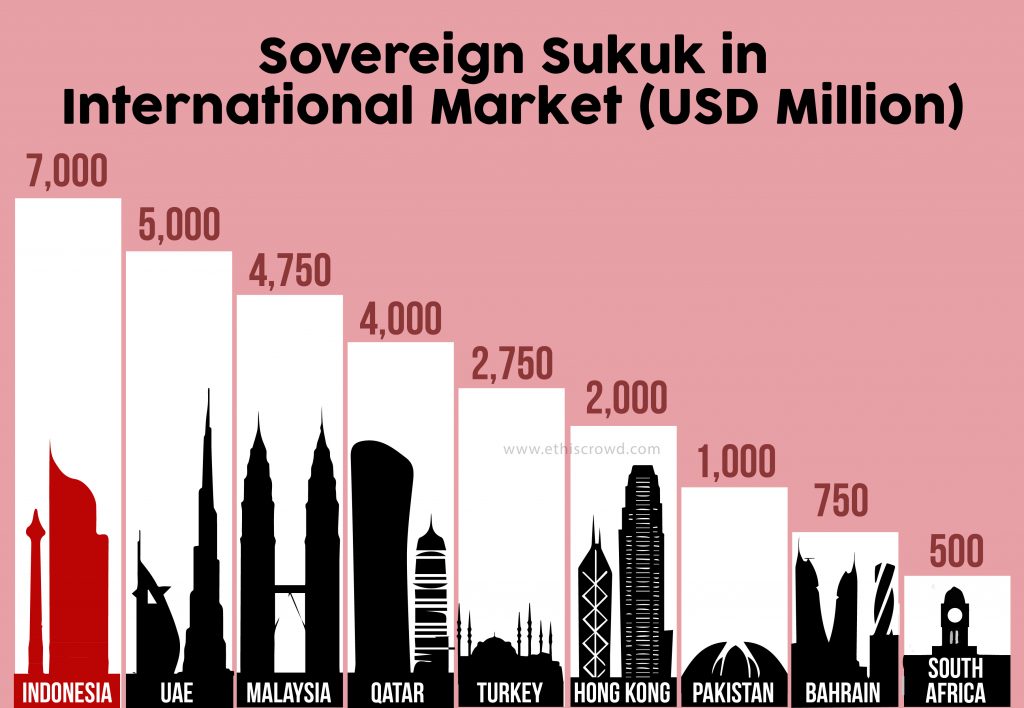 Of importance, in line with the RPJMN (National Long Term Development) 2015-2019 plans, there have been several successful project financing government sukuk for the year 2013 till 2016 which focused on infrastructure development such as energy, telecommunications, transportation, agriculture, manufacturing, housing etc.
Project Financing Government Sukuk: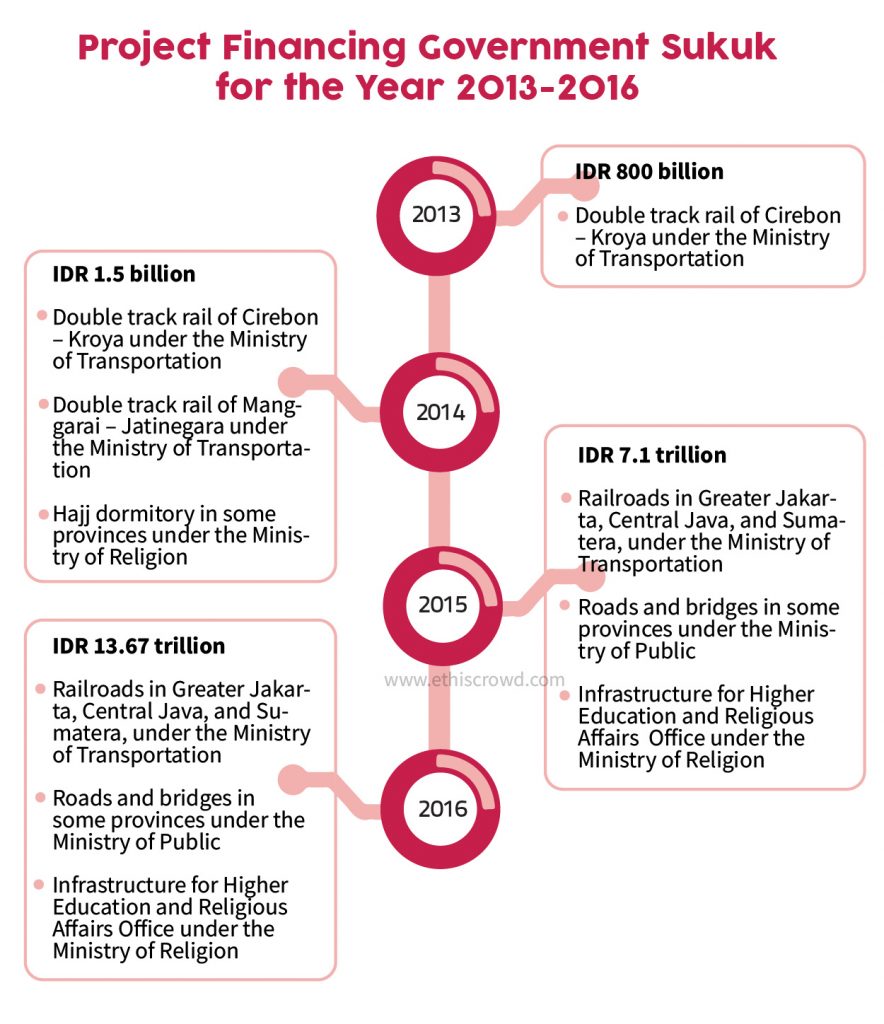 The above further reaffirmed the suitability of sukuk towards infrastructure financing in Indonesia. Furthermore, from the year 2002 till 2015, the issuance of domestic corporate sukuk is at its highest in 2015, valued at IDR 3,172 billion with a total number of 15 issuances. This further reinstates the success of both sukuk and Islamic finance towards promoting an effective and proper infrastructure development in the country.
Development of Domestic Corporate Sukuk: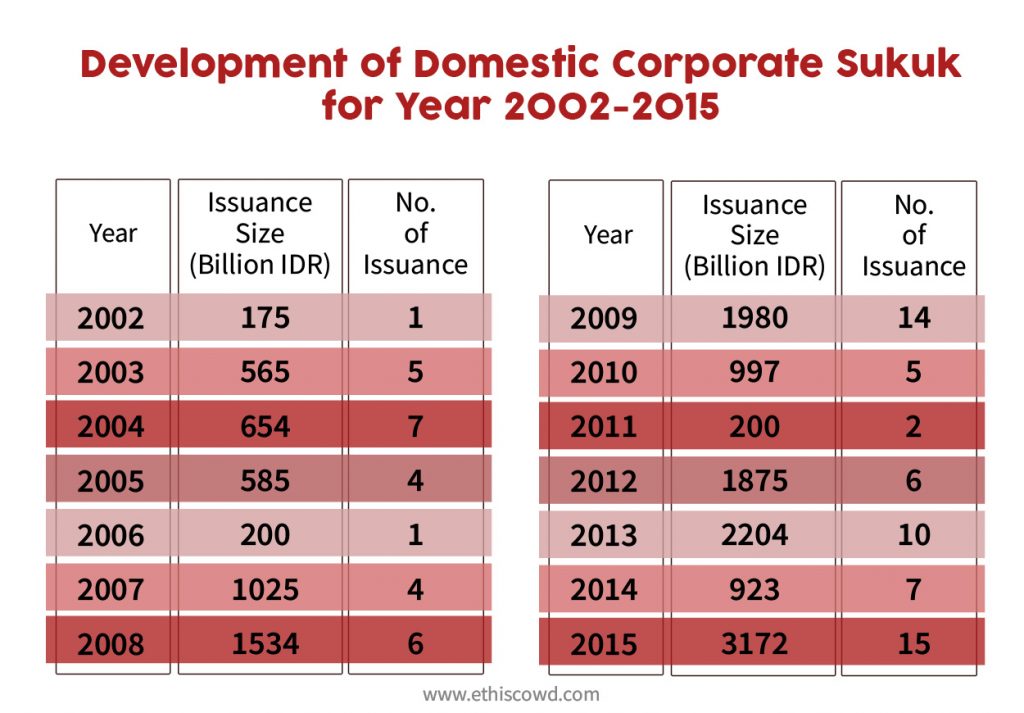 Concluding Remarks
Today, Indonesia accounts for more than 4.8% of global Islamic banking assets (1Q2016) and total Islamic banking assets in the country is valued at USD21, 492 million (Asian Financial Leaders Program, "Developing Islamic Financial Centers in Indonesia and Opportunity & Challenges of Islamic Banking). Moreover, in the Islamic capital market industry, sukuk has proven to be successful in playing a key role in the overall infrastructure development of the country. In addition, apart from key role of sukuk towards the overall infrastructure development of the country, Indonesia has also witnessed successful collaborations with various Islamic finance multilateral bodies. For example, Jeddah-based Islamic Development Bank (IDB) and the Government of Indonesia have together launched projects in the areas of higher education, urban development and energy valued at USD488 million.
Finally moving forward, Indonesia is expected to attract more Islamic finance players in light of its robust economic prospects and rising consumer base. Islamic banking in Indonesia is likely to benefit all parties especially considering that the country falls within the top-10 Muslim countries that are conducive for Islamic finance development (Asian Financial Leaders Program, "Developing Islamic Financial Centers in Indonesia and Opportunity & Challenges of Islamic Banking). Meanwhile as part of the positive Islamic finance prospects, sukuk issuances by both infrastructure and corporates may continue to escalate to further support the country's infrastructure and market needs. And that summarises the recent sukuk storm coming from Indonesia.
Read more on Sukuk – The Process of Issuing Islamic Bonds