Islamic finance is making waves as a rapidly-growing industry within global finance. This article is an overview of the basics of Islamic finance.
Islam is an all-encompassing religion that governs every aspect of life, detailing the conduct of all human activities in a wholesome manner. For Muslims, balancing religious considerations with the modern financial economy is a tough act. The cornerstone of modern finance is usury, which Islam vehemently prohibits. In order to address the need for Muslims globally, it is only natural that an alternative system to conventional finance is conceived. That alternative is Islamic Finance. (See also: Can Islamic Finance Serve 2 Billion Muslims?)
The Islamic finance industry has been growing at a blistering pace, with almost double-digit growth annually. Shariah-compliant assets under Islamic finance institutions is currently estimated to be in excess of a staggering $2 trillion! But pushing its sterling growth aside, the question we should be asking is: Why is Islamic finance fast becoming a credible alternative to the conventional system?
"Islamic finance has proven successful in poverty alleviation and promoting sustainable growth in many countries"
Ethical, socially responsible, sustainable and environmentally-friendly. These are principles which Islamic finance personifies, and that which is constantly pursued. Since its establishment, Islamic finance has emerged as a pivotal medium for financing development globally. Numerous analysis has shown that Islamic finance possesses the power to aid in the alleviation of poverty and enhance shared prosperity. Let's take a closer look at what constitutes Islamic finance.
What is Islamic Finance?
Islamic finance represents a financial system that operates based on the principles of Islamic law, (or in Arabic, Shariah), derived from the Islamic Holy Text (Qur'an) and prophetic traditions (Sunnah). The basic tenets of the Islamic financial system are the enforcement of justice and equity in all dealings and transactions. This is manifested through the prohibition of three fundamental prohibitions: usury, uncertainty and speculation.
1. Usury


Usury refers to all forms of interest that provide a predetermined, fixed rate of return to the lender. The reasoning behind prohibiting usury is that it is an inherently destructive mechanism that promotes injustice and exploitation. In fact, a shared commonality amongst all major religions – Christianity, Judaism, Hinduism and Buddhism – is the prohibition of the practice of usury. Yes, you read that right. Approximately 73% of the world's population subscribe to a religion that recognises the detrimental effects of usury! Yet, it is ironic that interest occupies a fundamental role in not only the economy but our lives as well. Think of the home mortgages, car loans, student debt, credit cards that we assume in one form or the other. Why is usury harmful?
A. Economic Exploitation
Interest-based transactions allow the lender to generate a fixed rate of return effortlessly, without expanding any effort, resource or time. This is the exact opposite of trade, whereby there is an exchange of real value. Essentially, the lender bears no risks due to the fixed-nature of loans. This imbalance, therefore, leads to a greater concentration of wealth by the rich, who can then yield considerable economic and social power over the masses.
B. Increasing Indebtedness
It is a common trend for many to acquire a huge amount of debt to finance their lifestyle. It is enslaving for us to outstretch our financial capabilities and be sucked into a vicious cycle of debt. This is the reality for most of us. Ironically, the fuel of our banking system (which represents the main pillar of our economy) is debt. Incidentally, banks are incentivized to create more debt by lending money to the masses since it increases their profitability. The most recent example of the real consequences of debt was the 2008 global financial crisis. Millions of people lost their homes, wealth, assets and jobs due to acquiring an unsustainable level of debt.
C. Wealth Inequality
This refers to income distributed in an uneven manner throughout society. The disparity between the rich and the poor is getting wider with time, and this is a worrisome trend. Wealth inequality thus leads to a host of negative consequences which includes an unacceptable degree of control by the wealthy. This could, therefore, lead to undermining the integrity of political institutions and the economic system.
2. Ambiguity


All transactions which possess elements of ambiguity, uncertainty and hazard are prohibited. In Islam, there are strict rules that govern transactions to eliminate excessive ambiguity. For instance, a sale with uncertainty over the exact price or the subject matter is considered invalid. There have to be clear specifications on every element pertaining to the transaction. This ensures the protection of parties from deception and injustice. The presence of excessive uncertainty is the main reason for the prohibition of various financial instruments such as derivatives (e.g.futures and options).
Risk vs Ambiguity
Although these two terms might seem similar, they are in fact fundamentally different. Risk refers to the probability of damage or loss, after factoring in clear-cut goals and transparent information. On the other hand, ambiguity is the probability of a future outcome without any clear sense of information or direction. Islam encourages risk-taking to facilitate trade and entrepreneurship. On the other hand, the prohibition of ambiguity stands as it hinders productivity and poses as a destructive hazard.
3. Speculation


Speculation refers to an act on the basis of guessing, without complete and adequate information. It is similarly akin to gambling or a game of chance, where the winner gains wealth at the expense of a loser. In the financial markets, this is called a "zero-sum game". Islam explicitly prohibits speculation as it represents a form of immoral inducement. This is because the acquisition of wealth is through chance rather than effort. This is another reason for the prohibition of derivatives in finance. These instruments main use is for betting on price movements without any positive contribution to real output.
How is Islamic Finance Different?
Islamic banks perform essentially the same function as conventional banks, with the main difference being the way it operates. In a bid to avoid usury and other prohibited elements, Islamic institutions presently utilise various equity-based and asset-backed arrangements with the aim of promoting risk-sharing. The reason for this is to align the interests of all parties in a manner that is equitable and fair. The logic behind this is simple: If all parties in a venture or a transaction share the risks, they will be incentivised to work together and contribute the necessary resources needed to ensure its success.
On the basic level, the numerous arrangements used in Islamic finance include: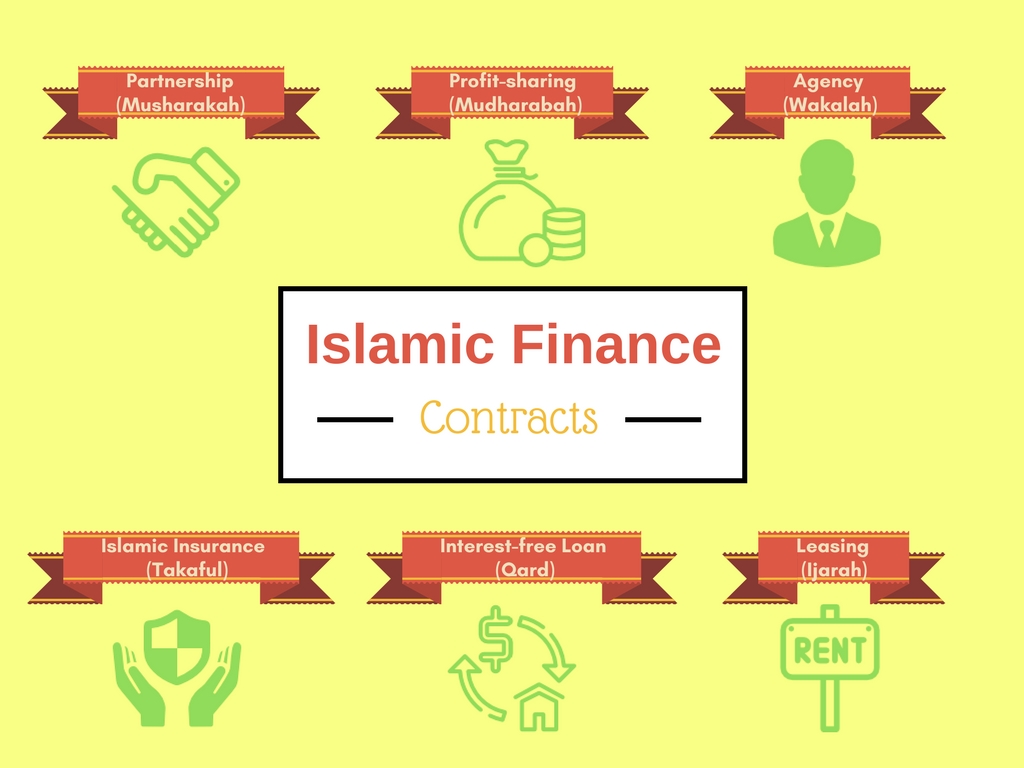 For an introduction to Islamic finance contracts, read Islamic Finance Contract: Mudharabah.
Islamic Banks: Safer and More Resilient?
Shariah-compliant institutions are inherently less risky and more sturdy. Remember the 2008 financial crisis? Well, it was one of the worst recession that the world has ever faced since the Great Depression in the 1930s. As a matter of fact, banks closed down, homes were foreclosed, millions lost their jobs and savings. In a state of global chaos and destruction, ironically, Islamic banks stood out amongst its counterparts as being more resilient. An analysis by the IMF revealed that Islamic banks grew more than double during the crisis, attributed to higher solvency and stronger financial health. Not only that, they were also more profitable than their conventional counterparts before the crisis. These achievements are a testament to the potential of Islamic finance in enhancing economic and financial stability.
Is Islamic Finance just for Muslims?
A common misconception is that Islamic finance is only for Muslims and thus it excludes non-Muslims from partaking in it. However, it is important to state that the Islamic values and principles underlying Islamic finance apply to all of humanity regardless of religion, race or ethnicity. Therefore, Islamic finance represents a credible alternative to the conventional financial system. For this reason, anyone that understands the weaknesses of conventional finance would naturally be attracted to the nature of Islamic finance and its wholesome objectives. With a proven track record of profitability, resilience and prudence, non-Muslims are fast gravitating towards Islamic finance. Above all, a huge differentiation is the emergence of the industry as the torchbearer for ethical finance. Islamic finance consequently connects the financial sector with the real economy and emphasises financial inclusion and social welfare.
For more information on the developments in Islamic finance, check out What is Islamic Crowdfunding?
Subscribe to our blog to receive the latest articles. Be part of our strong community now!
EthisCrowd.com is the world's first Real Estate Islamic Crowdfunding Platform and is at the forefront of the Fintech revolution. Our international community of 20,000 private investors crowdfunds investments in entrepreneurial, business, trade and Real Estate activities in Emerging Asia.
Read more on What Is Islamic Crowdfunding?