Editor's Note: This post was originally published in November 2017 and has been edited and updated for relevancy and comprehensiveness.
What is Crowdfunding?
Crowdfunding is a method of raising capital through the collective effort of friends, family, customers, and individual investors (or donors). This approach taps into the collective efforts of a large pool of individuals—primarily online via social media and forums—and leverages their networks for greater reach and exposure. Increasingly, larger investors including financial institutions, fund houses, family offices and high-net-worth individuals are also participating in Crowdfunding platforms, resulting in the larger platforms becoming bonafide funding marketplaces, where different fund sources are aggregated to finance projects together.
Crowdfunding is a very useful tool for start-ups that may have innovative money-making and job-creating ideas through new businesses and eventually help to create a better community. In the past, to apply for a loan from banks, start-ups and micro and medium-sized enterprises (MMEs) will need to have a strong business plan and financial history. These applications will typically be rejected as they are deemed to be too risky when viewed through the lens of the banks' credit and risk assessment. Fortunately, through innovative delivery models such as online crowdfunding platforms, startups, SMEs & MMEs can now have access to a huge base of investors online. When these same startups are featured on crowdfunding platforms, thousands of micro and large investors and supporters may decide to rally behind the startups and support it. For example in 2009, only USD10 million was raised globally through nine major crowdfunding platforms. However the figures escalated dramatically to over USD767 million in 2016 with backers from over 200 countries. This has facilitated the growth of entrepreneurs by providing finance to about 1.3 million crowdfunding projects. Additionally, apart from start-ups, SMEs & MMEs, crowdfunding can also be used as a platform to get donations for the under served segment of the society.
Crowdfunding vs. Islamic Crowdfunding
The main point of departure between crowdfunding and Islamic crowdfunding is the application of Islamic principles in the latter. At a glance, in Islamic crowdfunding, financing is raised from a collective effort of friends, family, customers, and individual investors (or donors) – primarily online via Shariah-compliant (in accordance with the Islamic principles) platforms. In addition, to further ensure its Shariah compliance, Islamic crowdfunding must avoid the promotion of forbidden substances such as gambling, alcohol, pork and any other items that are prohibited in Islam. The term is also more loosely used to refer to Muslim-focused platforms and Muslim-owned platforms that may not have obtained formal endorsement of Shariah-compliance.
Types of Islamic Crowdfunding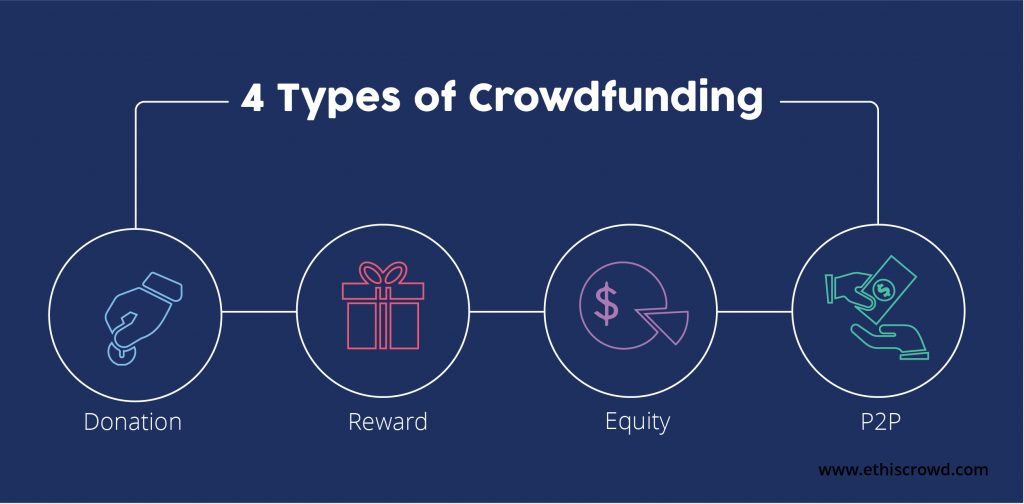 There are 4 types of crowdfunding, namely donation crowdfunding, reward crowdfunding, equity crowdfunding and crowdfunding for projects and term-based financing, typically referred to as peer-to-peer financing or P2P financing. In donation crowdfunding, donors donate to Shariah-compliant non-profit projects, social-development initiatives etc. While in reward crowdfunding, donors contribute money for a reward such as a gift or the final product from the project owner. It is noteworthy to point out for both equity and debt crowdfunding, they may be placed under a wider category of 'investment crowdfunding' since Islamic finance investment models may be hybrids of what is typically categorized as P2P or equity. In equity crowdfunding, investors contribute a substantial amount of cash and will become shareholders of the crowdfunding, sharing both profit and loss. Finally, in P2P crowdfunding, investors will expect in return principal repayment with profits.
Selected Examples of Islamic and Muslim-Focused Crowdfunding Platforms in Malaysia
Here are some of the Islamic and Muslim-focused crowdfunding platforms in Malaysia, and a brief snapshot on what they do.

Ethis was founded as a private investment club in Singapore in 2014 before shifting to Malaysia, and just recently in late 2020 was awarded Malaysia's first Shariah-compliant Equity Crowdfunding licence by Securities Commission Malaysia.
Ethis is a widely recognised pioneer in the field, having won numerous awards and accolades over the past few years.
The majority of the group's business is in Indonesia, where it obtained the much-coveted P2P financing registration approval from the Financial Services Authority in 2019. Ethis has been present in Indonesia since 2015 and has matched retail investors from more than 50 countries into impact-investment campaigns, initially focused on property development for social housing and more recently fundraising for highly popular SME supply-chain projects.
Ethis Group operates ethical and Islamic crowdfunding platforms both in Malaysia and Indonesia and soon in other countries. These platforms include Ethis Malaysia, Ethis Indonesia and GlobalSadaqah.com.
Global Sadaqah focuses on Islamic social finance. It helps to match charity funds for sadaqah, zakat (a form of wealth tax) and waqf (a form of endowment made for religious purposes) from both the public as well as financial institutions such as Islamic Banks. Donations are made to high-impact charity campaigns.

LaunchGood.com is the world's largest donations and reward Islamic crowdfunding platform, based in the United States. As of March 2018, it has raised US$35 million in over 102 countries and funded 3,274 campaigns, with a large emphasis on personal fundraising campaigns, while also raising funds for disaster relief and humanitarian aid in conflict zones.
Recently, it also established its representative office in Malaysia.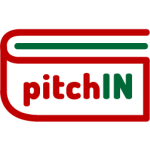 PitchIN is widely recognised as Malaysia's national crowdfunding platform. Since its inception in 2012, the pitchIN rewards venture has become the most successful rewards crowdfunding platform in South East Asia, evident through its successful groundbreaking crowdfunding projects such as the first-ever Indie festival in Penang, TAPAUfest and TeeSomethingNice, a tee-shirt project in celebration of Hari Malaysia and Merdeka 2014.
In addition, PitchIN also helped to secure a permanent place for Wok It, a Malaysian mobile kitchen that serves quick and customised meals to raise finances to build their kitchen and to set up a permanent home. Apart from being a rewards-based crowdfunding platform, PitchIN also operates as an equity crowdfunding platform.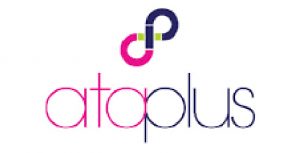 ATA PLUS Sdn Bhd's equity crowdfunding platform known as Ata-Plus aims to democratise financial inclusion by matching capital with exciting businesses.
Investors can leverage the comprehensive networks in the ATA PLUS ecosystem to manage risk in supporting sustainable business. Although ATA PLUS is not formally Shariah-compliant, it can be regarded as a type of Muslim-focused crowdfunding platform.
Bottom line: It is an attractive form of alternative financing
Finally, Islamic crowdfunding platforms can be deemed as an integral component of the present Islamic financial industry as it helps to fulfill the inherent characteristics and principles of Islamic finance.
In addition, it will also create a win-win situation for all the relevant stakeholders. Moving forward, if properly implemented and exercised, Islamic crowdfunding platforms in Malaysia can be the next game-changer of the Islamic financial industry.