Startups are typically concerned with one thing – the needed influx of funds to actualize their vision. Financing is often required for hiring, product development, expansion, covering marketing costs and many other necessary expenses. The fact of the matter is that businesses with great potential do not necessarily meet great success in the end. Most of the time, this is due to a lack of capital and resources. According to Jessie Hagen of the U.S. Bank, 82% of new businesses fail due to poor cash flow management and 79% fail for starting out with too little money. Previous generations of entrepreneurs have had to endure seeing their aspirations towards financial stability conclude unattained. "Ideas don't pay bills," this statement seems to quite reflect a common reality.
Traditionally, businesses sought for investors from close relations or bank loans. Investors didn't have it easy as well, as usually only accredited investors – those who had a net worth of more than $1M or those making over $200K on an annual basis – had the ability to invest in venture funds that invest in startups, or to participate in private equity funds. For this reason for quite some time now, only the wealthy had access to substantial avenues of wealth creation, further amplifying a capitalist culture and leading to a lack of financial inclusion in the economy.
Equity Crowdfunding (ECF)
In times like these, one can only praise technology, which has enabled alternatives that can change this reality. Crowdfunding and emerging fintech model, has allowed funding to flow into companies with great efficiency ease, and most importantly made available to ordinary middle-income investors due to small minimum investment sizes. It may well be the solution that could balance capital distribution, actualize a lot of potential and save a lot of heartache in the process. Equity crowdfunding assists startups and Small & Medium Enterprises (SMEs) or Businesses to raise capital from anyone who wishes to invest in their company. This investment is usually through the subscription of shares or securities by the crowd. Investors can browse crowdfunding platforms and discover the different equity crowdfunding campaigns and issuances available.
Malaysia's Adoption of Equity Crowdfunding
Securities Commission (SC) Malaysia was among the first in Southeast Asia to give equity crowdfunding a regulatory framework and formally endorse it as part of the recognized capital market. This introduced digital platforms providing financing as 'Regulated Market Operators', in an effort to expand the availability of capital for startups and SMEs, and to provide the Malaysian public with opportunities for a more diverse investment portfolio. Since its inception, equity crowdfunding has received positive response from the general public, with over half the investors being retail investors and most of the ages below 35 years old, signaling a tech-savvy and financially comfortable demographic. As of September 2019, equity crowdfunding has provided capital to the tune of RM65.35 million to 69 Successful issuers.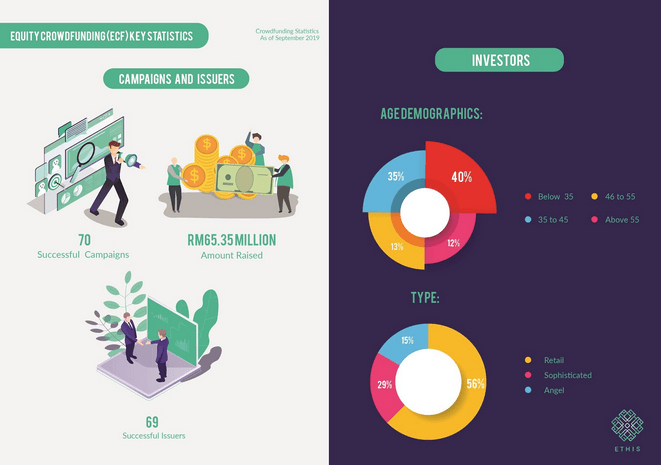 Source: Securities Commission (SC) Malaysia- Crowdfunding Statistics [September 2019]
While the conventional platforms that fill the Malaysian market space are led by 7 players that are Ata Plus, Crowdo, FundedByMe, Crowdplus, Eureeca, PitchIN, and Fundnel, in the Islamic space, Ethis Malaysia stands out with the first equity crowdfunding license from Securities Commission (SC) Malaysia as a shariah-compliant or Islamic platform.
Ethis, best known for crowdfunding impact investments for social housing projects in Indonesia, targets to operate its equity crowdfunding platform in Malaysia in early 2020. The platform aims to open a new asset class to all levels and types of investors while assisting SMEs and start-ups seeking Shariah-compliant alternatives to fundraising. Although Malaysia's Islamic finance industry is considered among the most mature globally, it provides few options for SMEs and startups. In Malaysia, Muslims and non-Muslims alike are highly conscious of Islamic finance, with Islamic financial serving people of all faiths and backgrounds.
Policies Regulating Equity Crowdfunding in Malaysia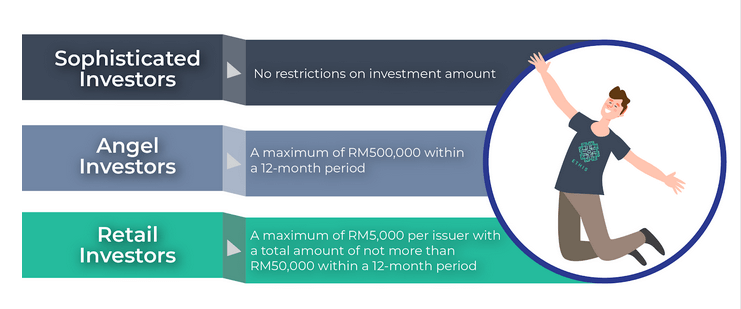 To protect the integrity of the Malaysian capital markets and to ensure adequate protection for retail investors, the Securities Commission has imposed a regulatory framework for equity crowdfunding platforms. It is the first country in Southeast Asia with distinct regulations for equity crowdfunding and P2P financing platforms. Through these regulations, equity crowdfunding platforms adhere to registration requirements, clear and defined terms, and conditions as well as platform obligations that must be upheld as approved Regulated Market Operators. Additionally, SC set fundraising limits, platform status review, matters of compliance, termination or cancellation matters and reporting and transparency standards. Equity crowdfunding operators are allowed by Securities Commission Malaysia to charge a percentage on the raised funds as platform fees. Additionally, investors are put into three categories – sophisticated, angel and retail investors, each carrying investment limits and required to self-declare the category that they belong to prior to investing accordingly.
How Can Malaysia Leverage on Equity Crowdfunding?
Equity crowdfunding can undeniably fill the gap that is still underserved by early-stage Venture Capital (VCs), Angel Investors, Government Grants, and informal investors. For startups and SMEs, equity crowdfunding provides wide reach to investors willing to support the vision and a means to directly engage with them. For investors, it serves as a matchmaker and facilitator for their investment journey and sets forth a layer of transparency and accountability. Through this function, equity crowdfunding in Malaysia can only be expected to drive these important segments of the economy and create more opportunities for investors and capital markets alike.
Read more about Equity Crowdfunding