When we first think about property investments, our mind would probably picture high net-worth individuals such as billionaire investor, Warren Buffett and his mentor, Benjamin Graham.
Today however, having deep pockets is no longer a prerequisite to becoming a property investor. This post lists down 10 points for you about how to invest in property with little money. But first, let us get a brief low-down on some property basics and get their definitions out of the way.
Basically, property investing can be briefly described as investments involving the purchase, sale, or management of property, for the purpose of earning a profit rather than turning the property into a place of residence. Taking advantage of the ever growing Internet audience, investors and property developers alike are starting to look at online crowdfunding platforms as a means to pursue investment opportunities in the property market. Crowdfunding collectively gather resources, monetary or otherwise, from many individuals and institutions to fund opportunities or causes.
Now, onto the 10 facts:
1) YOU TOO can own a piece of prime-time property in downtown New York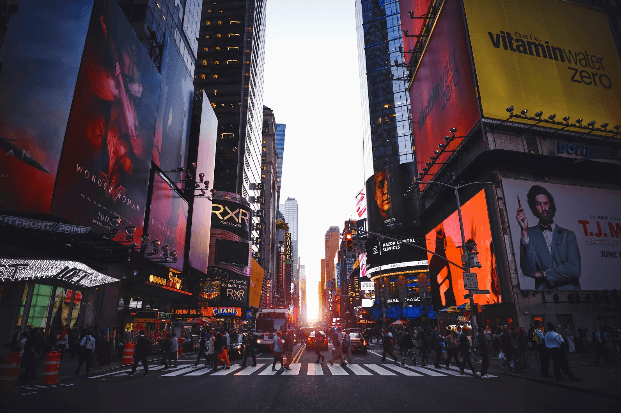 The archaic notion of property investing used to be confined to the rich, especially when it comes to investing in properties that are in prime and exclusive locations. However, owning prime property can be perplexing to would-be investors especially if they are located overseas. Investors have to contend with finding a good agent, seeking out for potential tenants, servicing high cost of ownership or loan, navigating and ensuring compliance to taxation laws, and the intricacies related to the sales of such properties.
Definitely, there may be many different types of property businesses and properties that investors may dabble in, but prime property investments are no longer that discriminating anymore. property crowdfunding allows investors to make investments in major cities of the world where the demand and the typical return on property is high due to the high probability of such properties appreciating over time. Incontrovertibly, crowdfunding property paves the way toward democratising property markets. Ergo, this allows for more investors, even those not blessed with much cash, to collectively own profitable and attractive properties across the globe.
2) The crowdfunding industry is projected to reach a valuation of more than $300 billion by 2025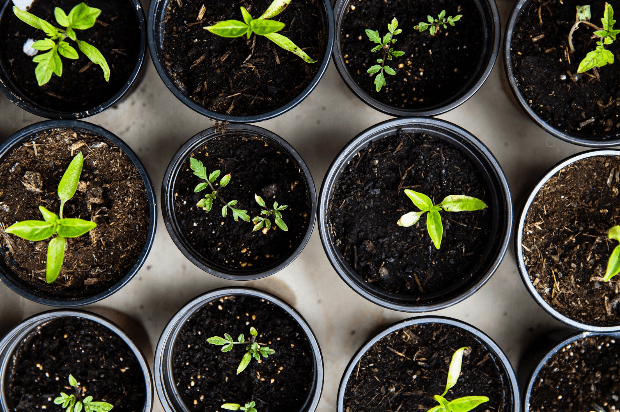 With such an explosive growth in value from USD3.5 billion in 2016 to an anticipated upwards of USD300 billion [1] bodes well for property crowdfunding. In order to accelerate such growth, property crowdfunding platforms are also making a shift - while retaining investments made by retail investors, they are increasing their pitches to institutional investors from commercial property investment groups in order to capitalise on their larger ticket sizes. Through this, the platform is able to escalate their growth by offering partnerships (in terms of resources and knowledge) with experienced property investment groups to the retail investors and institutional investors coming from backgrounds other than property.
3) Property crowdfunding platforms lower the barriers to entry
Further to point number 1, property crowdfunding brings greater democratisation to the USD7 trillion commercial property market in the U.S. Without the typical commitments entailed to property investment trusts and its likes, crowdfunding generates consistent cash flows, albeit without its ownership. This allows for more risk-averse investors and investors with less cash to invest in the property market.
4) The rich earned their wealth through property
Did you know that a large number of millionaires – estimated to be 9 out of 10 to be exact – earned their wealth not through stocks or gold, but property investments? So, what are you waiting for? It's time to start on your million-dollar dream by making your first property investment.
5) Property crowdfunding platforms are catering to niche investment markets
The lower barriers to entry afforded by crowdfunding is creating niches within the property investment markets. With evolving property regulations unfurling across the world over the past few years, crowdfunding platforms are churning out property investment ideas that are able to cater to different types of property investment strategies. For instance, Roofstock, a crowdfunding platform, specifically focuses on investing in property rentals while Small Change focuses on redevelopment and community rejuvenation projects.
6) The two types of property crowdfunding investments: Equity crowdfunding and Debt crowdfunding
Returns can come in the form of ownership in a stake proportioned according to the investment amount made in either the property or portfolio, or, quarterly or monthly dividends from its underlying mortgage and payment receipts. This can be done through two typical types of property investments via such crowdfunding platforms: They can either be equity or P2P (debt) based investments on a property project or portfolio.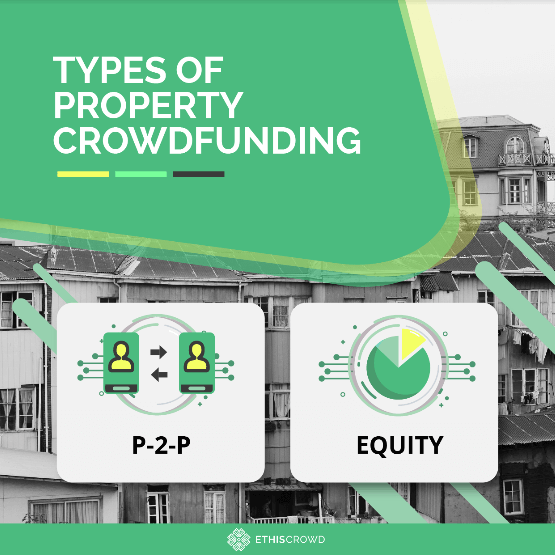 Equity crowdfunding

– Dividends usually consist of rental income. Investors will own a portion of his or her share on a property or portfolio and earn profits based on its rental income as well as when a property is sold.
P2P crowdfunding

– Dividends is paid out based on income earned off of a property or a portfolio's home financing payments. Investors do not own a proportional share of the property and may earn additional income when it is sold.
7) The key differences between equity crowdfunding and P2P crowdfunding
When making comparison between equity crowdfunding and debt crowdfunding, it is recommended that one examine these two categories from 2 key aspects, as one normally would with bonds and stocks:
Duration: P2P crowdfunding tend to be for shorter durations as compared to Equity crowdfunding. Equity investments can last several years and may be dependant on a sale or a refinancing of the property for the investor to be able to realise its principle amount back.
Liquidity: As such, P2P crowdfunding is more liquid than Equity crowdfunding. On the other hand, Equity crowdfunding has the potential of having a higher rate of returns.
Deciding on which crowdfunding strategy to go for depends on the investor's appetite toward risk and liquidity.
However, do exercise precaution and due diligence when investing on property crowdfunding projects as only you know your risk tolerance. The risks that apply to commercial property investment channels – market risk, interest risk and liquidity risk – similarly apply to those on crowdfunding platforms.
8) It does not take much to invest on a property crowdfunding platform
Investing possibly as low as $500, one could make his or her first investment on a property crowdfunding platform. The Internet has enabled the pooling of financial resources online and this lowers the barriers to entry for retail investors who may not be flushed with cash. Essentially, property crowdfunding enables small-time investors to participate in funding big projects or support large portfolio of investments.
9) Property is a very stable investment
In comparison to other investment classes, property is generally regarded as a stable investment. Despite it being cyclical in nature and may bring again the same horrors engulfing the global markets in 2008 subprime mortgage crisis, property investments do bring in returns with less volatility and a greater measure of predictability when compared to investing in stocks. That aside, the regulatory landscape post-2008 crisis has evolved and it is highly unlikely that a meltdown of such scale will occur in this generation. Still, investing in property is an inherently risky venture. It is advised that you do your due diligence and suss out projects and investment portfolios that excites you after you have worked out your risk tolerance profile.
10) Sustainability of property crowdfunding
When it comes to property projects, many would picture mega developments in posh districts. However, the matter of the fact is that many aspiring developers have trouble raising the initial $1million to $5 million, as it is an amount that is too small for a private equity fund and too large for a single investor to undertake. Coupled with this fact is the huge growth potential for property crowdfunding; investors could see that such platforms and means of funding property properties grow to be more sustainable in due course.
Property Crowdfunding is here to stay, and currently one of the fastest-growing verticals of the booming crowdfunding scene globally. Property crowdfunding is a nimble model that is already implemented in various types of real estate activities, and it's role and impact in the real estate industry is expected to continue to grow in years to come. Savvy investors need to be well informed and actively participating in Property crowdfunding to understand it well. Our own campaigns on EthisCrowd.com have given excellent returns that work out to 10 to 15% on an annualised calculation. Do browse our open campaigns!