Introduction
The misconception among many people with regards to women in Islamic finance is somehow addressed with the publication of WOMANi. Yes! It is through recognition like this that women in Islamic finance can shatter the industry's glass ceiling to become visible for their contributions to the industry. Besides, WOMANi will serve as a motivational platform for a new generation of talented women in Islamic finance.
Unfortunately indeed, the product of culture and historical background does hinder women in some countries to work outside their homes; however it is noteworthy to highlight that Islamic teachings have never restricted women from engaging in economic activities. This is proven with the best example set by the First Lady of Islam, Saiyyidatina Khadija bint Khuwailid, who proved the capability of women in the field of economics, trade, finance, business, entrepreneurship, leadership and management.
What is WOMANi?
WOMANi is the first systematically delineated ranking of women in Islamic finance by Cambridge IFA (Cambridge IF Analytica). Cambridge IFA is a financial services intelligence house that specialises in developing and utilising powerful cutting edge analytical tools to evaluate business data, assess macroeconomic indicators and understand market trends, leadership positioning and brand development relevant to the development of the financial services industry globally. Cambridge IFA is a member of HD-Edbiz Group of Companies that publishes the well-known Islamic finance magazine ISFIRE (Islamic Finance Review).
Cambridge IFA canvassed a wide range of market opinions and has conducted extensive data mining exercise before drawing up a definitive list of the 100 most influential women in Islamic banking and finance (IBF), assessing their influence and leadership over their company and market sector, as well as career and performance to date. According to ISFIRE, the WOMANi list is stringently drawn to ensure that only credible persons feature in it, as there are quite a few false claimants to the expertise and experience in IBF.
WOMANi100
Even though women are almost as many as men, and almost similar proportion applies for the global Muslim population; unfortunately Muslim women have thus far played a less significant role than men in finance. As highlighted above, this is not because of Islamic teachings, but largely due to the socio-economic legacy in the countries comprising the Organisation of Islamic Cooperation (OIC). Therefore, it is hoped that through Islamic finance, despite its shortcomings, can provide an excellent platform to improve the visibility of women in the workforce and more importantly provide much safer working environments for women by addressing issues like sexual harassment and discrimination.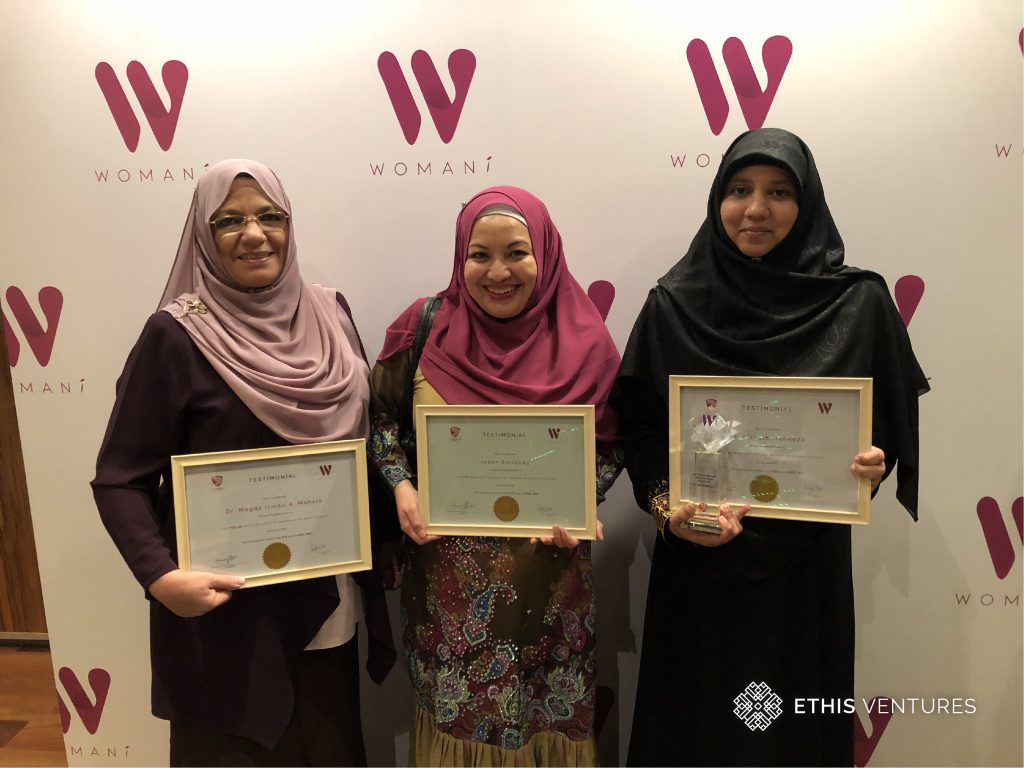 Recognising the effort and hard work of women is evident through the recent celebration of WOMANi100, where it proudly acknowledges the top 100 women who are part of a new generation of icons, game changers and driving change across the Islamic financial services industry. Their achievements are not by virtue of their family backgrounds, marital relationships or other default positions; but rather because of their sheer hard work, relentless efforts to pursue professional careers, and commitment to the cause of IBF. To further recognise their hard work and efforts, their contributions were further acknowledged and rewarded at the inaugural WOMANi Awards Ceremony & Gala Dinner held on April 4, 2018 in Kuala Lumpur, Malaysia, where it was well-received by all attendees.
It is notable to highlight that the top 10 winners are women from various parts of the world (2 from United Kingdom, 5 from Malaysia, 1 from Indonesia, 1 from Pakistan and 1 from Nigeria), further highlighting the international standing of IBF.
Ethis Ventures is delighted and proud to share that 3 of the 100 most influential women in Islamic finance are part of the Ethis family. Dr. Shamsiah Abdul Karim, Chief Executive Officer (CEO) of Albukhary Foundation who is recognised as the top 20 most influential women in Islamic finance is also an advisor for Ethis Ventures for social finance. Ms. Shabana Hasan, described by the Executive Chairman of Cambridge IFA as future star of Islamic finance stands at number 48. She serves as a consultant editor for Ethis Ventures. And finally Ms. Joann Enriquez the Chief Operations Officer (COO) of Ethis Ventures is the 62nd most influential woman in Islamic finance.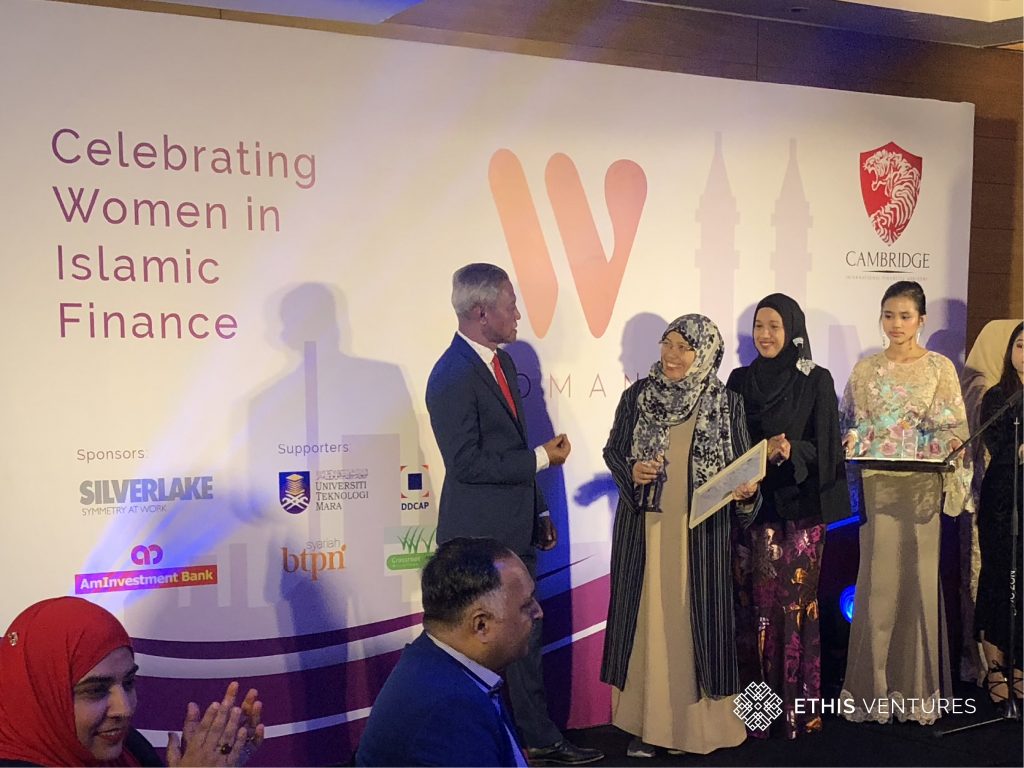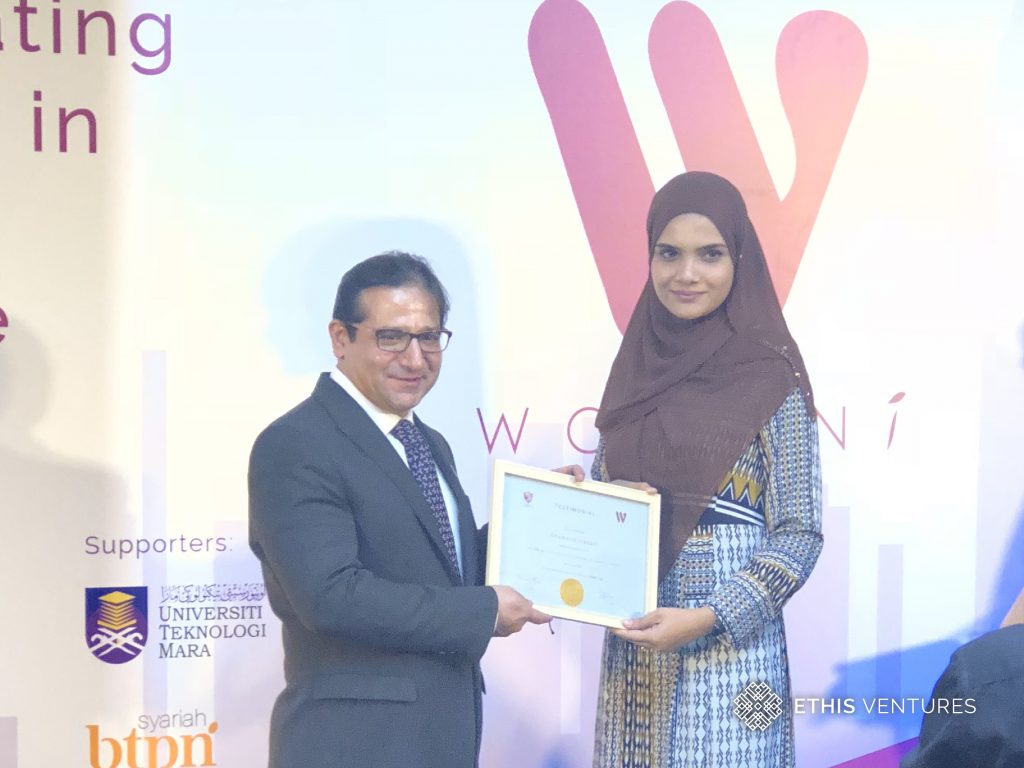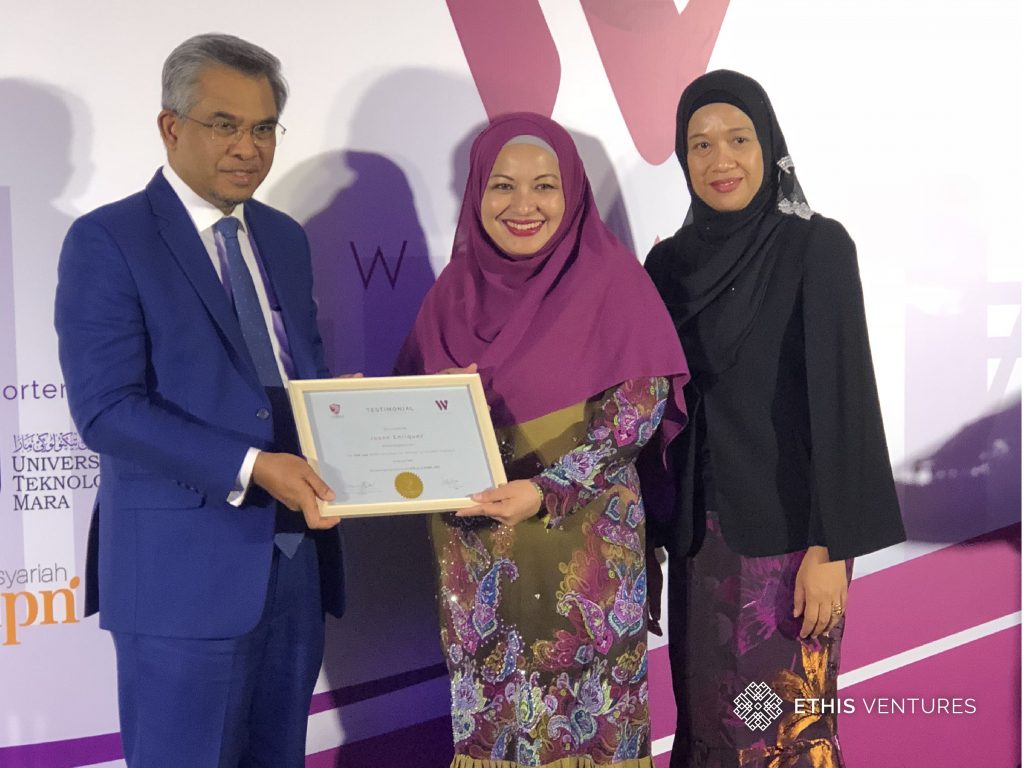 Concluding Remarks
Finally, with the continuous progress, demand and warm recognition of IBF, women are now more keen and encouraged to play a more active and influential role in the IBF market. Despite the difficulties of breaking into the male-dominated society, women are slowly having their presence further felt, especially through WOMANi. Moving forward, more of such initiatives are encouraged and welcomed to further acknowledge and celebrate the valuable contributions of women to Islamic finance.