Editor's Note: This post was originally published in January 2021 and has been edited and updated for relevancy and comprehensiveness.
What is angel investment
The term angel investment is fairly common in the world of investment today. It was first used to refer to investors who would fund Broadway theatre plays that would otherwise be shut down without said funding. Today, angel investors are mostly high net worth individuals that partake in equity investments in new companies or start-ups, or directly fund entrepreneurs. Equity investment means that the investor will own equity in the company; the investor's contribution could be a one time fund injection or a series of funding to assist the company in its earlier stages after formation.
What professions qualify for angel investing? The answer is simple really: all of them. Doctors, engineers, lawyers, accountants, corporate executives, entrepreneurs, etc are all eligible for angel investing as long as they meet the wealth standard set. For Malaysia, the main criteria that all angel investors have in common is that they all must be a tax resident in Malaysia. Additionally, they should possess one of the three following criteria:
Total net individual assets exceeding RM3 million or its equivalent in foreign currencies.
Gross total annual income of no less than RM180,000 or its equivalent in foreign currencies in the preceding 12 months.
A joint gross total annual income (with spouse) of RM250,000 or its equivalent in foreign currencies in the preceding 12 months.
Types of angel investments
Though angel investors may seem similar to venture capitals, they differ in a few ways; namely that their process of investment is quicker, they display more flexibility than VCs, they support companies of smaller values than VCs and often approach them online and directly, and their ventures are typically riskier than VCs investments which tend be approached more diligently and structurally. As angel investing develops and increasingly comes into prominence, various types of angel investors are appearing depending on their approach and reasons of investing, among them are Domain Angels, Family Angels and Super angels. A new category of angel investing is also shaping that fosters the Ethical Angel; this new type of investors, in addition to other criteria, prioritize the social impact and alignment of their investments with Islamic guidelines. Ethical and Shariah compliant investments are progressively growing due to the materialization of ethical and Shariah-compliant bodies and platforms in finance.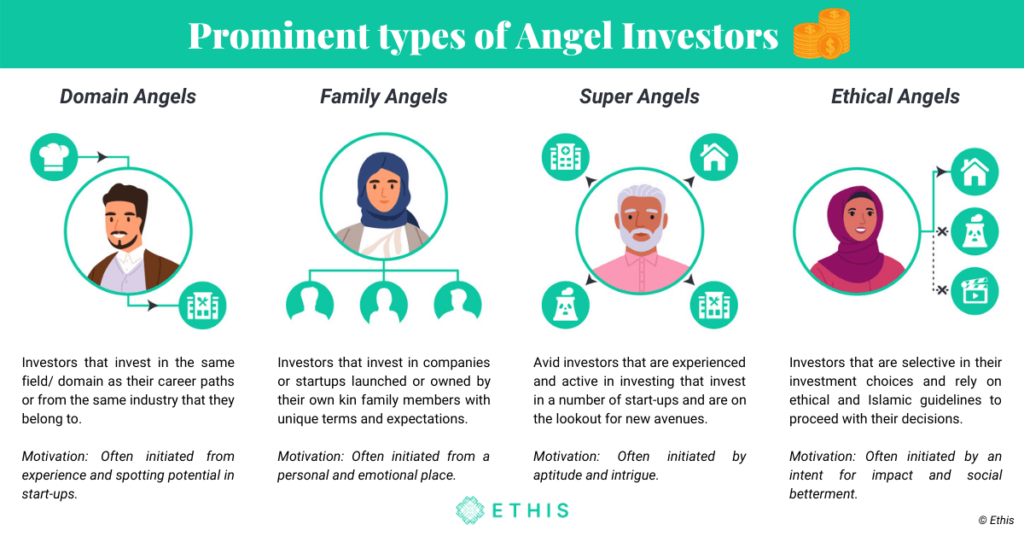 Angel investors can be either affiliated with their investment and have direct connection to it whether it be a professional link like investing in the field of their profession or personal like, investing with family, friends, or acquaintances. They can also be non-affiliated with the investment which occurs when they have no direct connection to the entrepreneurs that they are investing with.
Invest in promising early-middle stage startups in Southeast Asia from the comfort of your own home. Avail yourself to exciting perks including early access, exclusivity, diversification, progress reports, and a personalized helpdesk, while subscribing to the idea of investing Ethically in tech-driven business solutions that are shaping the future. Invest a minimum of US$50,000 in up to 10 different startups, or more of your choice now!
So how can one go about becoming an angel investor in a lifetime? Here are five simplified steps:
1) Define your motivations
Investing is typically initiated for financial gains. However, angel investing tends to be more personal than just wanting to grow money. Interest in angel investing is often piqued by a new idea or concept, a motivation to be an active contributor to the economy or give back to society, and even helping an acquaintance, family member, or a friend. Accordingly, before you embark towards investing, make sure you are completely aware of your motives and by result your expectations. Motivations are typically what drive the entire investment experience and without them your goal is undefined, so in order to avoid an anxious journey, define your goal and what signals its achievement.
2) Understanding the scope
Despite the fact that angel investing seems quite lucrative and uncomplicated for accredited investors, it is known to come with a great deal of risk. So do your due diligence, make sure you comprehend the risks involved, be clear that you are eligible for such investment, and consult angel investors that you may know. Becoming an angel investor may involve a large amount of funds. If you are new to this type of investing and you're investing in a company that is not in your immediate circle, it is important to understand the trends that are relevant to the contemporary time or have potential for the future. Three main things come into this: the viability of the companies which would denote its ability to succeed, the commitment and motivation of the entrepreneur which will drive the company, and the timing of the company which will predict its position in the market.
3) Preferably invest in what you know
If you want to get into angel investing quickly and minimize your risks, it would be preferable for you to invest in a company that is in the same field that you have worked in. This way you possess a clearer vision for the potential of the company and skip out on researching. For example, if your career is in the field of I.T, then your odds of spotting new tech startups with potential are better compared to a doctor. This is not limited to your career only, but rather extends to particular fields that you are not actively a part of but have closely inspected over time. An example of this would be actors investing in production companies; despite not having produced before, from the experiences that they have developed over time working with different productions, actors are likely to have first hand knowledge of movie production based on their observations and personal experience.
4) Be Proactive
As an angel investor, you will be presented with a range of viable options for investment. This usually happens through start-ups pitching their companies to you occasionally. Typically, once the start-up representatives' pitches are done, your understanding of the company is only as good as their presentation skills and their structuring. It is important to not let a bad presentation throw you off but rather voice your opinions as well as ask for feedback on the things that are important but might have been overlooked. Asking and checking up is the best way for you to fully understand what the company is about and get a full and comprehensive view of all its important details, so make sure you employ that adequately to help you in choosing and maintaining your investment.
5) Taking a leap of faith
Being an angel investor is quite an independent endeavour; you are not necessarily surrounded by financial advisors nor are you expected to be highly involved in the business industry to be an angel investor. Accordingly, most of the decisions that you make rely highly on your own perception, interest and belief in the investment, and your own intuition. So once you have done your research and have deliberated your selected company for investment, then comes the time to make a decision. This moment is the make it or break it moment and it's just as important to know when to back out as it is to realize when you need to take that leap of faith
The importance of angel investment
These are simply five general steps to help give you an overview of angel investing. If you do decide to take up angel investing, you must take into consideration the risks and the pros and always remember that the great risk it carries, brings about equal great reward. The reward is not limited only to profits, angel investing can be extremely rewarding; as an angel investor, you are mentoring and contributing to the growth of startups and actualizing the vision that might otherwise be unaccomplished. Angel investing is a contributor to capital markets and to social development as it often resembles impact investing and comprises passion-driven companies. For an investor it represents a unique experience and a great way to highlight our presence in the investment community.