High risk; high returns – The oft-quoted maxim in the investment circle rings true in the minds of many brave souls. Whenever the topic of investing comes about, it is inevitable that risk versus returns remains a bone of contention for aspiring investors. This article will look into two different types of investment – Fixed Deposit and Crowdfunding and uncover the myths and facts about them.
Fixed Deposits (also known as Fixed-Term Deposits)
Fixed deposit is an investment instrument that matures after a certain set amount of time has elapsed. Investors will open an account with their bank of choice and are only able to cash out after the set term period is over. Certainly, fixed deposit that gives interest is not halal for Muslims to consume. All mention of Fixed Deposit here refers to shariah-compliant fixed deposit offered by Islamic Banking providers.
These accounts give a source of funds for the bank while investors are able to realise the returns for locking up their funds over the agreed period. This term ranges from as brief as a month to a few years. Unfortunately, Fixed Deposits are perhaps among the most misunderstood amongst the multitude of financial products offered by financial institutions.
Myth #1: Low rate of returns
It is true that many investment products in the market offer a higher margin of returns than Fixed Deposits. However, the Fixed Deposits rates are still higher than what is offered by most savings accounts. It also means that it is mathematically wiser to have your money in a Fixed Deposit account than in a savings account.
Myth #2: Will I lose all my money due to market fluctuations?
This is probably one of the least risky investments you can get in the market. It is virtually risk-free and is a good option to diversify your investment portfolio. This is because the rates are locked regardless of market fluctuations and protection is guaranteed by government agencies. For instance, in the region we have Perbadanan Insurans Deposit Malaysia (PIDM) in Malaysia and Singapore Deposit Insurance Corporation (SDIC) in Singapore.
Myth #3: You have to wait until the term ends to get back the money
Many investors are concerned about not being able to withdraw the money in the events of exigencies. Fact – investors are able to withdraw the money in whole or partially upon a predetermined notice of withdrawal given to the bank subject to fees entailed should such an action occur. Investors who exercise this may however end up not making the expected returns, or even lose some money due to early withdrawal charges.
Crowdfunding
The history of crowdfunding dates back 300 years. Alexander Pope kick-started a project translating Homer's Iliad from ancient Greek into English. This task took him five arduous years and six volumes of writing. He did this by crowdsourcing to fund the project – He successfully pitched his project to a total of 750 subscribers pledging gold to support his efforts in exchange for a mention. This is the basis of crowdfunding!
What is crowdfunding really, from an investor's perspective?
Just like the Pope's project, crowdfunding involves the sourcing and pooling of a large number of individuals to invest small amounts of capital to raise funds for projects or campaigns, from public, organisations or institutions that are attractive to them. With the Internet, investors and entrepreneurs are able to increase the crowdfunding accessibility to a wide range of potential investors through online platforms.
Crowdfunding ranges from Investment, Rewards (non-cash incentives for the crowd) and to Charity. Crowdfunding investment includes peer-to-peer financing (P2P) and Equity Crowdfunding1.
However, doubts may arise when investing in an online crowdfunding site; the Internet is after all cloaked in layers of virtual anonymity.
Myth #1: Crowdfunding is for donation-based projects that individuals promote on social media. How is this an investment?
There are various applications of crowdfunding, including platforms that provide investment opportunities to investors.
Here are the different nature of crowdfunding investments:
Reward-based Crowdfunding – Financial contributions will be rewarded with products, non-monetary gifts or appreciation.
Ethis Islamic Crowdfunding Report Volume 1 Click here to request this report.
P2P Crowdfunding – This is similar to a loan or project financing. Investors will put in funds toward the target amount with the promise of a return earned from it over a set period of time.
Equity-based Crowdfunding – This type of crowdfunding gives investors the opportunity to own shares and assume the role of a shareholder in featured companies. Investors will be able to earn dividends when the business makes profits or from selling his shares at a higher price.
Myth #2: What if the campaign fails? Will I lose all my money?
There are many crowdfunding platforms available online with different criteria in place to filter and select campaigns. Some crowdfunding platforms manage the quantity of the campaigns/projects hosted to ensure its quality and to lower the risk of default. Investors will typically be notified of the risks and potential profit before they then decide to invest in the campaigns/projects.
Myth #3: Crowdfunding is illegal
Crowdfunding is still new in most regions, and many countries have yet to regulate it. More mature crowdfunding markets may have specific licenses or guidelines for platforms. A number of countries allow crowdfunding to take place within a regulatory 'sandbox' or testing phase.
Always make sure you are using a platform that is credible, and make sure to read the project details properly before deciding.
Conclusion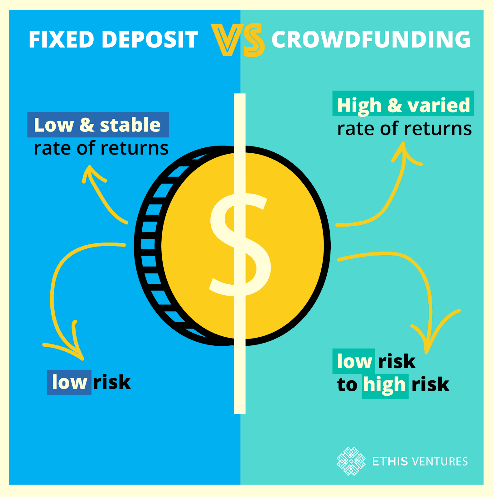 There are several differences in the nature of investment between Fixed Deposits and investing in crowdfunded ventures as illustrated above. Crowdfunding investments offer returns that are varied and generally higher than Fixed Deposits while Fixed Deposits offer a low and stable rate of returns.
Crowdfunding also tend to innately have more risks as compared to Fixed Deposits investment. For those keen to explore ethical or impact investing, we have crowdfunding investment platforms such as Ethis that offer social investment campaigns in real estate.
Good platforms conduct the necessary due diligence and carefully select projects with low risks and high returns. However, investors are always advised to do their own due diligence prior to making any investments.