Crowdfunding is a new avenue that is revolutionising how money is raised for businesses by providing easier access for investors. The basic idea behind crowdfunding is to collectively raise the needed amount of investment from the general public, allowing both small and large investors to participate. It utilises online platforms to reach a wide and diverse range of potential investors.
Crowdfunding is the 21st century's answer to some of the biggest problems in real estate investment for individuals. It removes the hassle that comes along with owning an investment property directly.
How Real Estate Crowdfunding Works?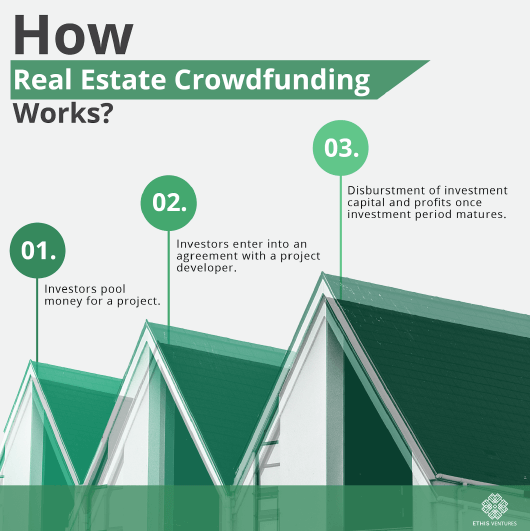 There are various models and structures that can be implemented in real estate crowdfunding. One common mechanism for real estate crowdfunding is very simple: Firstly, investors pool their money by pledging investments for the campaign and transferring to the projects. Secondly, a partnership agreement between the investors and the project developer is drafted and signed, usually with the developer as the general partner and the investors as the limited partners. Once the investment period has matured, realised profits will be disbursed to the investors along with their capitals.
If you're new to crowdfunding, you need to first seek the campaign that matches your investment goals.
Real estate crowdfunding generally offers solid returns backed by physical assets as collaterals. Note that every investment opportunity its returns and its risks are unique, which is why due diligence is very important before investing in a project.
Some crowdfunding platforms such as Ethis operate using risk sharing and trade-based contracts for their projects. Risk sharing is the division of common risk between two or more parties. The risk may be in terms of potential losses or profits in a project. The percentage of the profit and loss distribution is agreed upon in the investment agreement.
Who Is It For?
Real estate crowdfunding is designed for passive investors who want to invest in real estate but do not have the capacity or access at an individual level.
Real estate crowdfunding is perfect for investors who:
   Do not have enough capital to invest in a property
   Are looking for an alternative invest outside of banks or the stock market
   Want profits without owning or having to deal with managing a property
   Want to invest in an emerging country or distant geography, but lacks experiences
As real estate crowdfunding is typically a form of passive investment with appointed representative as your agent, it is NOT suitable for investors who are looking to own an asset entirely or investors who want to be actively involved in a discretionary investment.
Ethis and Real Estate Crowdfunding
Previously, investments in real estate development were available mostly through real estate investment trusts (REITs) and were not feasible as a direct investment for most individuals. The nature of real estate development ventures as a finite project and the restrictions imposed on real estate developers' marketing tools and projects' soliciting made it challenging for the public to invest. There is also the large capital required to embark on such ventures. This strong barrier to entry is the reason why in most countries you will see top real estate developers as the largest or most valuable companies.
Real estate investment is made easier and accessible to more people by tapping into the online investment opportunity. Crowdfunding investors can now passively invest by deciding what and where they want to invest with a single click.
Ethis provides their investors with various campaigns to choose from all on one platform. Investors will be exposed to investment opportunities in commercial and residential real estate investments, with a special focus on social housing projects.
Crowdfunding with Ethis gives small and medium developers opportunities to scale up and expand. It removes the hassle of securing bank financing where typically, it would be impossible for these developers to enter into the market without the support of banks.
Most importantly, the investment returns with Ethis is also a lucrative prospect for investors. The general investment returns are higher compared to most other investments, with 12-15% average returns per annum. One great aspect is that the housing projects Ethis invests in brings strong social impact to low-income families striving for a better life. To date, Ethis has invested in projects to build more than 8,300 houses, providing homes and shelter for more than 26,000 people.
Advantages and Drawbacks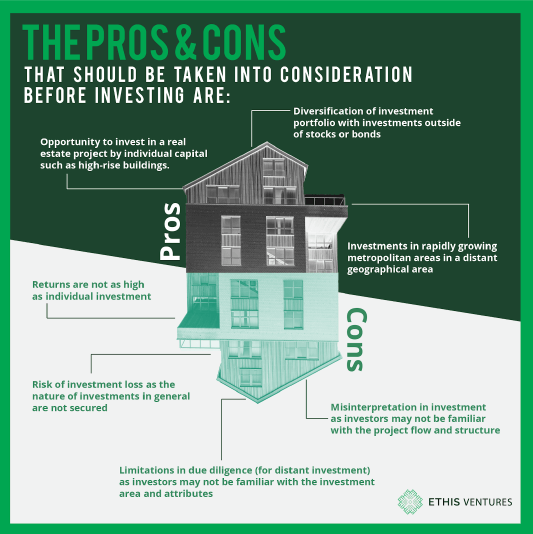 Real estate crowdfunding can provide an opportunity for investors to diversify their investments and reduce risk while earning good returns on their investment. However, it also comes with a set of risks. Among the pros and cons that should be taken into consideration before investing are;
Pros:
  Opportunity to make Impact investments directly into real estate projects
   Diversification of investment portfolio with alternative investments
   Asset-backing reduces risks significantly
Cons:
   Returns may not be as high as individual private investment
   Risk of delays and possible capital loss if the project faces serious problems
   Limitations in due diligence, as investors may not be familiar with the country or sector
   Misinterpretation in investment as investors may not be familiar with the project flow and structure.
Check out the Ethis platform here and understand better how crowdfunding campaigns actually work. For more information on the campaigns or to know more on crowdfunding investments, contact maryam@ethis.co.