Equity crowdfunding is an alternative to financing businesses compared to the traditional route via banks and venture capitalists.
Though banks are traditionally the main source of financing for small and medium-sized enterprises (SMEs), on average, many SMEs face great difficulties in obtaining loans and other forms of financial assistance due to an extensive list of prerequisites. This is why they may resort to alternative forms of financing such as equity crowdfunding instead. In this article, we take a look at the pros and cons of equity crowdfunding for your business.
The definition of an SME ranges from someone who sells from a shopping cart to someone with a small store, with each country offering different definitions of the terms. In Malaysia, the largest small and medium-sized companies are in the manufacturing sector and have more than 150 employees, while in the agriculture and services sectors, SMEs only have 50 employees, for instance.
Related: Malaysia's Equity Crowdfunding: The 4 Players
Should you consider crowdfunding for your business?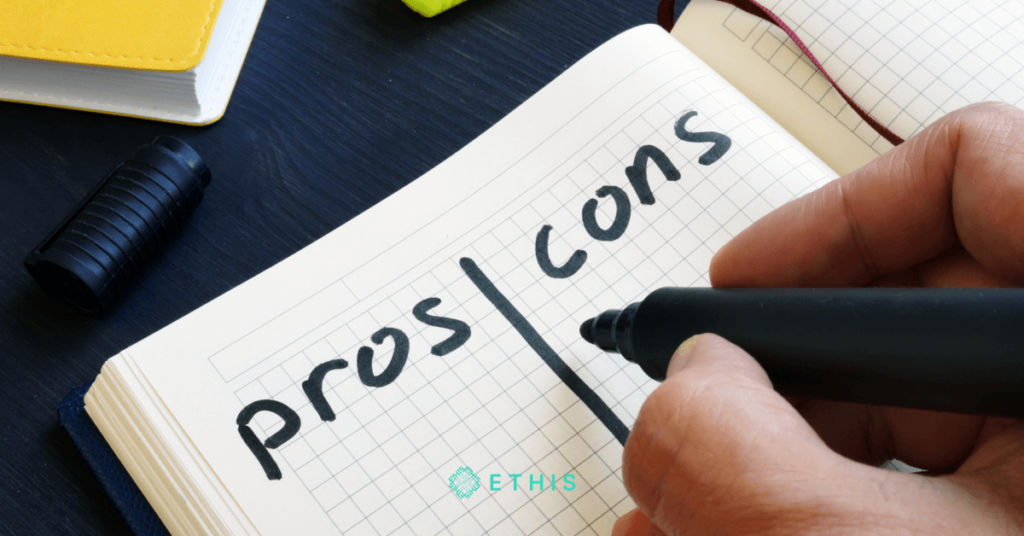 Before you decide, here is a list of the pros and cons of equity crowdfunding for SME financing.
Pros of equity crowdfunding:
1) Alternative to traditional financing
When you need to raise funds in a short period of time, equity crowdfunding is an effective option.
The user-friendly process makes creating and publishing campaigns happen in no time. Equity crowdfunding is also a great option because it is easy to customise your homepage and you can easily share your activities or campaigns.
2) Advertising a project or business through an online platform can be a valuable form of marketing
a) Social Media
Social media is a popular organic and free way to share your crowdfunding campaign, and for a good reason – you can, through the right and proper strategies, find new friends and supporters on social media.
Below are several of the best practices to extend your reach:
Use hashtags, particularly branded hashtags, to increase the reach of your campaign.
Keep your message short and sweet.
Add photos, videos, or other images to grab your readers' attention. Always link to the campaign.
b) Email marketing
Email is a great way to connect with your existing database, a.k.a., the people you already know.
Through a simple email, you can share your latest promotions, campaign offerings or even provide educational content that may be helpful to the investors.
Email marketing is a great way to stay connected with users and update them with your latest business updates. (i.e. announcing your campaign by sharing a teaser a few days before the campaign starts).
The key to a good email is to be specific and to the point – since most people are on the go nowadays, not everyone has the luxury of time to read through a long email.
c) Local or global media
If you want to increase the visibility of your business, it is also good to contact your local newspaper or other global media outlets to pitch stories about your business or your fundraiser.
The benefit of sending out a press release is the possibility of reaching a larger and wider market. Though it's obvious to them why your business is fundraising, the most important aspect of this is to tell it in a way that is compelling.
All in all, you should connect with your investors through online channels and traditional platforms. Find the best way to be creative and involve as many people as possible in your campaign.
3) You get to gauge interest in your business, get expert feedback and suggestions for improvement
Believe it or not but equity crowdfunding is surprisingly a good way to test the audience's reaction or attraction to your business product/idea.
If people are willing to invest in it, then that's a good sign that your idea might work well in the market.
Equity crowdfunding allows you to quickly and inexpensively verify ideas in the market and provide the information you need to justify investments in the research, planning, and analysis phase. This is required to bring those ideas to market.
Feedback on market demand, product demand and improvements are needed and play an important role in any business. However, you must be able to define what quality feedback is to your business.
4) Investors can track progress of your campaign – this can help you promote your brand online.
Equity crowdfunding platforms, like the one on the Ethis.co website, provide fundraising statistics to help you monitor the progress of your investments.
These platforms will be equipped with the right infrastructure for you to easily identify your investor and information about their background.
Understanding why your campaign was successful (or not) will play a major role in creating returning investors to upcoming campaigns.
5) Investors can often be the most loyal customers in the fundraising process.
The most impressive feat about investment crowdfunding is when a company is able to convert its most loyal customers into their investors.
Investor retention could be argued, is about paying attention to existing investors and looking for creative and compelling solutions and ways to make them loyal investors.
Investor loyalty is considered to be two components: attitude and behaviour. Attitude reflects an individual's intent to reinvest and encourage others to invest, and behaviour determines the retention pattern. To increase investor confidence in re-investing, short-term advertising and marketing activities such as loyalty programs are encouraged.
A loyal investor also demonstrates a high degree of psychological commitment and identity to a campaign, which can contribute to campaign modification and implementation. Loyal investors are more likely to continue investing in your business if their psychological needs are met. The interaction between investors leads to psychological identification and investor commitment to current and future campaigns.
Keeping stock in a company is the most effective brand loyalty program. Companies that value long-term relationships with their investors want to establish long-term relationships. By turning your investors into loyal investors, you can strengthen your business relationship with them.
Related: Diversify Your Investment Portfolio with Equity Crowdfunding
Cons of equity crowdfunding are:
1) Not all projects or businesses are eligible for equity crowdfunding
Most equity crowdfunding activities are successful in the B2C (Business-to-consumer) market. You don't usually see the same success in B2B (Business to Business) startups.
The differences between B2B and B2C companies play a major role, particularly when it comes to investments in crowdfunding. Business direction affects investment opportunities hence focusing on corporate and client projects is a promising way to understand crowdfunding behaviour.
However, B2B has been gaining more attraction over time. Therefore, investors may view B2B products as a more promising opportunity. In this case, the product nature of a technically complex B2B business is related to the direction of the B2B marketplace and the overall B2B experience.
This largely depends on the investment community. If you look at a product that has a clear and specific impact on the end consumers, you will quickly recognise why it's usually more successful for B2C outfits than B2B companies. Their goal is clear, and their investment is more active. End consumers may find it harder to relate to other forms of non-customer businesses, and hence their value is uncertain.
2) Choosing the right crowdfunding platform will take up your time and resources
Many entrepreneurs do not appreciate the time, energy, and planning needed to complete a crowdfunding exercise.
Regular communication with investors, detailed financial reports, forecasts, POA (Plan of action) for investment funds, etc. These are Standard Operating Methods (SOPs) and are required before the crowdfunding activity begins.
Learning about crowdfunding brands and services are important in determining the right crowdfunding platform. Product quality and reputation are important factors and should be a priority. A valid certificate can increase the reliability of your products. For example, you can get a trademark registration certificate.
These measures need to be undertaken, otherwise, entrepreneurs will run the risk of being deemed unprofessional.
3) Your business idea could be stolen if you don't patent or copyright your business idea.
Perhaps the biggest problem with crowdfunding is idea theft. Due to crowdfunding being conducted in the public forum, entrepreneurs may be vulnerable to fraudulent attacks, with their ideas stolen and passed on to other investors and businesses.
Crowdfunding platforms that exist today are largely regulated under various intellectual property laws that protect their content. However, measures must be taken to protect crowdfunding platforms by applying for a patent and copyright trademark automatically after the publication of the content.
The main reason behind this could be the lack of awareness regarding the protection of intellectual property rights and the protection of resources within that ecosystem or country for authority to effectively enforce intellectual property rights. In conclusion, there have always been disputes over copyright and trademarks.
With all things considered, deciding which source of financing for your business requires extensive consideration of all sources of financing—whether traditional or alternative such as equity crowdfunding.
Small and medium enterprises are important to the Malaysian economy, which comprises 99.2% of the total business establishments, where SMEs contributed 32% of the Malaysian Gross Domestic Product (GDP).
Many SMEs struggle to grow, but at some point, they realize that the financial gap is too big to be filled. A common problem with SMEs' financial problems is the need to improve their financing channels.
Equity crowdfunding is seen as a possible solution or alternative to the problem that SMEs face when it comes to budget constraints that hinder further growth. Crowdfunding enables SMEs to establish open contacts with the public through qualified investors.
The equity crowdfunding structure allows different types of investors to purchase SME shares online within the investment range determined by the board of directors. Founders can also use their personal connections to raise awareness of crowdfunding activities.
As the global crowdfunding industry has grown dramatically over the past several years, regulators have also begun to take the potential of the industry seriously. Regulation of the industry will grant investors, issuers and platform operators more confidence in the market and thus encourage greater participation.
Visit Ethis.co if you are curious to learn more about equity crowdfunding as a way to raise funds for your business.
Read more about Equity Crowdfunding or check out what other experts have to say about crowdfunding for your business.