The COVID 19 epidemic has wreaked havoc. The number of cases has surged past 150,000, with deaths at 6,000. We've seen panic-buying, airline bankruptcies, thousands of workers laid-off or on no-pay leave and a huge strain on health systems in affected countries.
Stay Calm and Wash Your Hands.
Some may feel uneasy thinking about investing and profits when the world is faced with such a threat to human life. There is also uncertainty on how economies and markets will be affected should the situation prolong.
Yet life moves on and this crisis, like every previous crisis, will one day subside. I believe there will be multiple silver linings, in the end, thus we need to keep strong and bear the pain while we strive to think and act rationally.
Invest in what's Real
What the world needs is for more investments to go to the real economy, to help businesses grow and generate benefit for society, to counter the economic slowdown.
1. Investing through uncertainty
Today's world is full of uncertainty. Change is the only constant. Opportunities and challenges come fast and sudden. It is important to be alert while maintaining composure. While we should be more cautious, uncertain times should not lead to fewer investments – in fact, it can be a good time to invest more.
2. Residential property is resilient
Property is broad, and economic slowdowns can have different impacts on different segments of property. Hotels and retail landlords have been badly hit. However as central banks reduce interest rates, mortgages become cheaper which increases the demand for residential property. More home-buyers may enter the market, alongside investors who are taking their capital out of the stock markets. In times of crises, many investors choose property as their 'safe haven' since there are assets protecting their capital.
3. Life has to go on.. with technology!
More of our daily lives and activities including investing will move online. With stay-home notices, remote working and travel bans, physical meetings will be cut for some time. Zoom, a leading video-conferencing app has seen its stock price go up by 67% this year.
Where and how do you invest? Online, of course! P2P financing, Equity Crowdfunding, Robo-advisory, trading platforms and other online investment services are expected to increase in popularity as more people look for investment services online.
4. Indonesia's economy looks steady
At a recent press conference, Asian Development Bank president Masatsugu Asakawa said, "Indonesia isn't deeply integrated into the global supply chain, so it is still considerably fortunate compared to other countries, " (source)
He added that the Indonesian economy, which is driven by domestic activity, is at an advantage. Indonesia has also implemented economic and fiscal policies to boost the local economy and has room to do more if needed.
For the past 18 years, Indonesia has achieved incredibly consistent and strong economic growth, of between 4.5% to 6.35% (World Bank) every year, even during the 2008-2009 global economic crisis. It has cut poverty by half since 1999, and has a large and young emerging lower-middle class that drives its local economy, and brings confidence for the future.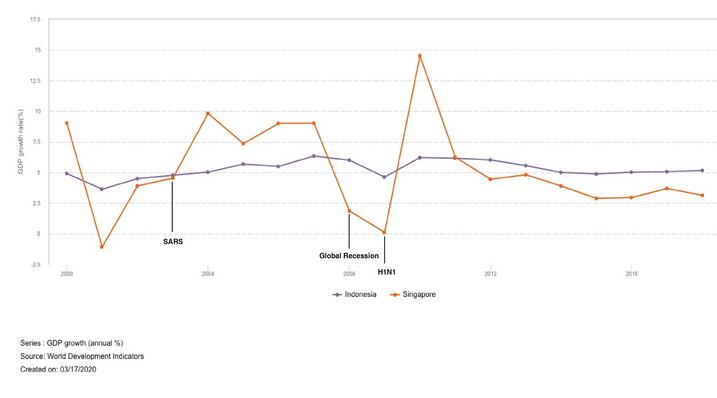 5. How does COVID 19 affect Ethis Indonesia and the Social Housing Sector?
While it is safe to agree that everyone is impacted by the threat of the COVID 19 virus, the majority of homebuyers in the projects we fund are largely sheltered from the impact of global economic crises. Houses are a basic need that is a top priority for low-income families, and Indonesia needs more than 10mn of them!
While the social housing sector looks set to remain robust and resilient, economic uncertainty can cause completion and payout delays.
Let's push ahead together.
Ethis recently strengthened our property team in Indonesia with more experienced talents. Our team works closely with developers to provide progress reports to investors. We believe that better oversight will provide good value for investors so that you have a good sense of how your investment is performing.
We believe that our strategy focused on social housing in Indonesia is a sound one. As long as investors are able to accept the risk of delays, there are good profits to be earned, and most importantly solid assets backing your investment. We have focused on Indonesian social housing developments for 5 years, funding and tracking more than 30 projects. At the time of writing, the majority of our campaigns are ongoing, with 20% paid out in 2018 and 2019.
What happens when there is a default? In 2017, we had one social housing project that got in trouble when the developer faced a shortage of cash flow, forcing him to stop operations. At the point of default, the project was almost complete, with many units sold and some residents already moved in. In this case, Ethis worked closely with stakeholders including the local government and Islamic banks to exercise the rights to seize project assets. Today, the project is fully taken over and looks set to start selling again in quarter 3 this year. The main test for investors in such cases is the potentially lengthy process.
Last but not least, we believe that building homes for low-income families to buy and own has a huge and lasting impact, potentially leading to the next generation having a better life than what they can afford today.
In these times of worry, it is very easy to be crippled by fear and demotivation. Yet, as humans, we must stand together and constantly remind ourselves that everything will pass. There is so much positivity to look at, the recovery rate of COVID19 is close to 90% and how we come out of this is highly determined by our attitudes and actions. So let's keep that spirit up, take the necessary precautions and lead healthier lives.
Ready to take part?
Read more about Equity Crowdfunding