KUALA LUMPUR, 26 APRIL 2022 – Islamic fintech startup Ethis Malaysia, part of Ethis Group, which operates investment platforms across Malaysia, Indonesia, and Oman, introduced their Shariah advisory services, Adl Advisory, and shared its rollout plan for the rest of the year at a recent engagement event at WORQ, TTDI.
The Memorandum of Understanding (MoU) was signed between Ethis Malaysia CEO, Wan Dazriq and Adl Advisory Founder and CEO, Mufti Yousuf Sultan. This partnership underlines the aspirations of both companies to #CirculateGood and drives the Islamic Digital Economy in Malaysia.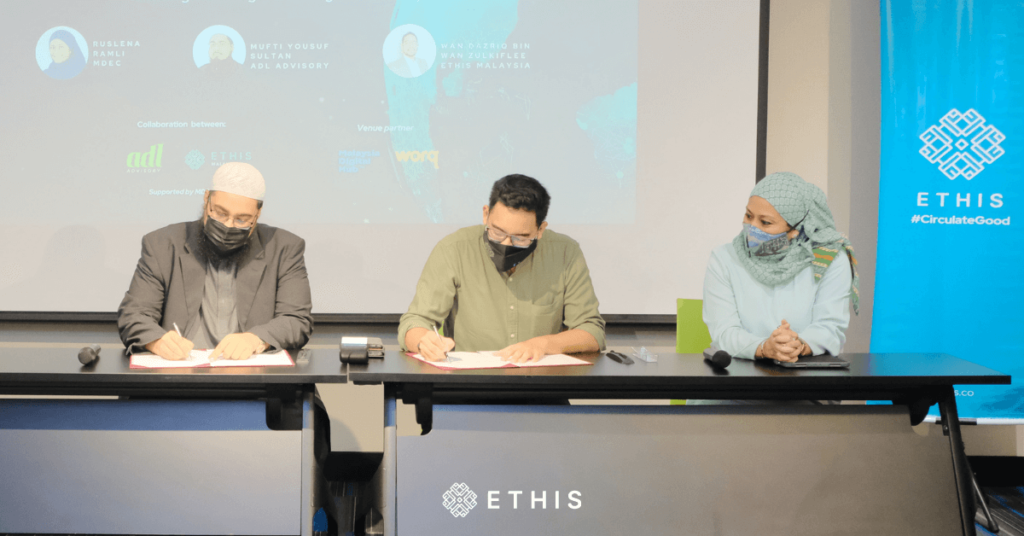 Ruslena Ramli, the Director of Fintech and Islamic Digital Economy of the Malaysian Digital Economy Corporation (MDEC), who, attended the event, elaborated on MDEC's role in the Islamic Digital Economy ecosystem. "We are able to connect the people either through social finance, financial inclusion, in many ways. What MDEC is currently doing is to see how we could showcase the success stories from all our IDE companies and solutions, which some have already exported across various Islamic finance inclusion initiatives that we support."
Wan Dazriq gave a 30-minute long presentation at the event, covering all aspects related to the current position of islamic fintech as well as Ethis Malaysia's plan for the next quarter of the year. "When we talk about being an ecosystem partner be it existing or new ones, we are actually looking through the ways of helping our partners growth as well, on how we could collectively play our role as the circulate good community with the access to capital through Islamic fintech" he says.
Mufti Yusuf Sultan, Founder and CEO of Adl said that Islamic economics is interrelated with Islamic financing and social impact, as he elaborated on the future of Islamic economy during the session. "From the inception of Islamic finance and establishment of Islamic banking about half a century ago, and fast forward to today, it has been an amazing effort from all the players in the industry to strengthen its inclusion", he added.
About Ethis Group
Ethis Malaysia, a Recognized Market Operator (RMO) approved under Securities Commission Malaysia, is a part of Ethis Group which operates investment platforms approved by regulators in Indonesia, Malaysia and Oman, together with charity platform GlobalSadaqah.
The platforms serve ordinary people, high-net-worth individuals, corporate, and government entities. Ethis built its initial track record from 2016 to 2020 in social housing in Indonesia where their global community of investors come from more than 50 countries funded development projects to build close to 10,000 homes.
Since the onset of COVID-19, Ethis has launched popular new investment products, including short-term, high-yield supply-chain financing projects in Indonesia and equity investment in 'future tech' startups in Malaysia. Its social finance marketplace, GlobalSadaqah plays a vital role in matching donors and Islamic economy players to better distribute social finance and zakat to NGOs and social enterprises.
Ethis' shariah advisory, Adl Advisory, is a Malaysia-based global Shariah advisory entity that provides shariah advisory, review and auditing services in Halal & Islamic finance domains. Islamic financial institutions, Islamic fintech, Islamic crowdfunding, shariah robo-advisory, takaful-tech, Sukuk, funds, start-up investments are some of the many areas that are covered.Adl Advisory has a team of young experts in shariah and Islamic finance, including certified Muftis and AAOIFI Certified Shariah Advisor & Auditors (CSAA). Adl is led by Mufti Yousuf Sultan (Founder & CEO), who is a registered Shariah Adviser with the Securities Commission Malaysia. Mufti Yousuf is also an AAOIFI Master Trainer, an AAOIFI Consultant and sits in several working groups of AAOIFI.
Ethis exist to #CirculateGood. Their deep desire to create a more ethical form of finance to uplift humanity has attracted significant finance and community leaders to support its vision and mission.
For more information about Ethis Malaysia, please visit https://ethis.co/my