Robo-advisors (R.A.) has been creating a lot of buzz in recent years, but what are they?
They are basically digital platforms that provide computerized financial planning services, driven by algorithms. To operate, these platforms need to pull together data concerning the financial condition and future goals of clients, who must respond to a few online questions. Robo-advisors use the data entered to then "advice."
In addition, these robots will automatically adjust the client's portfolio depending on when and how the market moves. Therefore, much less human interaction is needed. Shariah-compliant robo-advisory services that adhere to Shariah rules and principles are referred to as "Shariah-compliant R.A.", "Halal R.A.", or "Islamic R.A."
As stated by Paul Stratford from Ernst and Young, "The analogy for robo-advice is a bit like the use of dating sites. So, on a dating site, it will ask you a number of questions; you answer them, and it then makes some selections and identifies some matches for you. So I think it's slightly analogous to Robo-Advice, in that you will be answering questions online about your financial arrangements. It's going to work out what is important for you and then make the appropriate selection as far as portfolio and investments are concerned."
Robo-advisory services that comply with shariah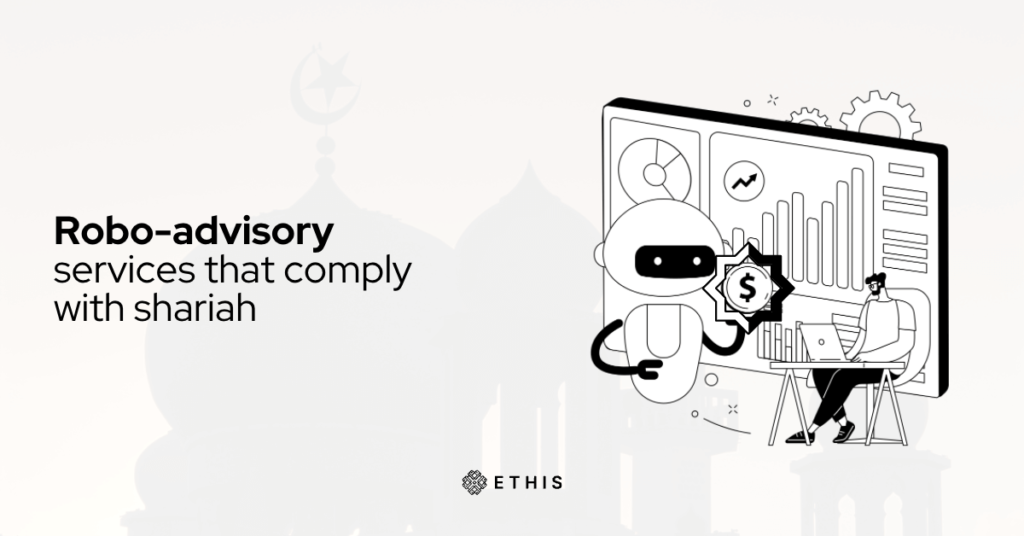 Shariah-compliant R.A. has the potential to offer an immense opportunity to many different markets including traditional financial advisories, high-net-worth (HNW) clients, and Islamic banks globally as well as those individuals/banks keen to carry out ethical investment alternatives.
Over the last few years, robo-advisors have soared in popularity as a wealth advisory service. New investors, who are mainly millennials, are enticed by the small minimum investment amounts required, fewer charges, and the possibility of good returns.
Because Muslims are prohibited from using conventional investment methods, aka investments that create forbidden products e.g. firearms, tobacco, and alcohol, their investment options are comparatively limited compared to the mass market.
Digital advisory models and their clients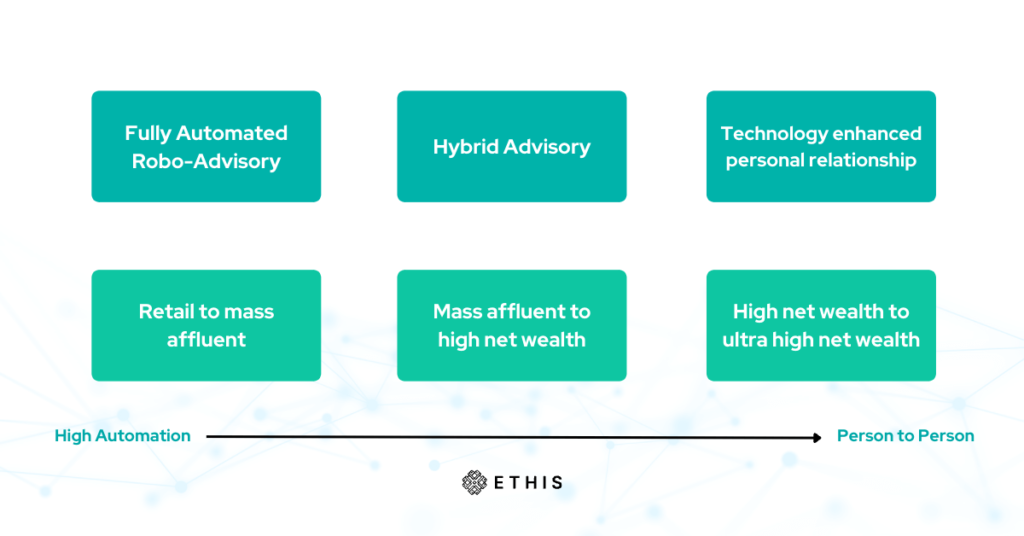 The models are described below:
Fully Automated R.A. models are mostly used by millennials and digital-savvy clients who prefer a fully automated solution. Conversely, Technology-Enhanced Personal Relationship Models are mostly used by traditional clients who value consistent support from human financial advisors. Lastly, the new digital advisory trend i.e. Hybrid Advisory models (human + robot) are preferred by sophisticated digital clients who prefer occasional conversations with human financial advisors.
A fully delegated model involves individual firms that use algorithms to suggest stocks and manage portfolios, aimed at new retail customers who are not habitual investors. This approach is the same as the Fully Automated model as described above. This type of highly automated model caters mainly to the retail and mass affluent market segments.
The benefits of using robo-advisors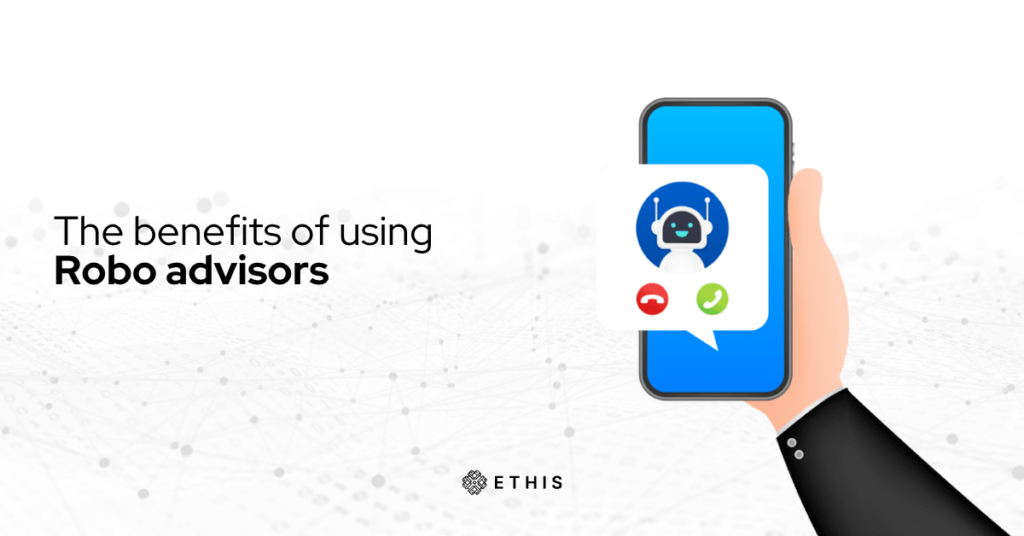 The key benefit of robo-advisors is that they are low-cost options to traditional advisors. Since it removes the need for an intermediary, R.A can be appealing to the inexperienced investor, bringing the services straight to the client. Thus, by removing human labor, online platforms are able to provide similar services at a fraction of the price.
Also, relying on an investment decision (i.e. R.A.) that is based on algorithms is possibly more rational than investors making the decision by themselves. This is because it is possible for investors to be swayed by eagerness and competitiveness, resulting in a lack of level-headedness and/or inability to make effective decisions.
Robo-advisors are also more easily reached. If the user has an internet connection, they are accessible 24/7. In addition, it takes substantially less capital to start. On the other hand, human advisors would need a high minimum amount of investable funds since human advisors tend to choose clients who are high-net-worth individuals (HNWI) and have enough money to pay for their range of wealth management services.
Another important benefit of digital advisory platforms is efficiency. For example, prior to robo-advisors, if clients needed to carry out a trade, they would have to physically meet or call a financial advisor, describe their needs, complete some paperwork, and wait. Nowadays, this can all be done in the comfort of one's home by clicking a few buttons.
According to Cocoa Invest, a faith-based ethical investing app, online robo-advisors present information in a clear and accurate format that can be checked anytime by means of a smartphone. This will help investors to be aware of their current funds until finally reach their financial goals.
Read more on Shariah-Compliant Investments: The Challenges to Peer-to-Peer (P2P) Lending Solutions