Smartadeco 2
Projected Return

4.5%

Projected Timeline

4 months

Fundraising Goal

SGD $190,000.00

Raised

SGD $190,000.00

Time Remaining

16 day(s) to go
KEY HIGHLIGHT OF THE PROJECT
The Retrofit /Upgrade Control System Portal UBS 1 & UBS 2 contract involves the upgrading of machineries in Pupuk Kaltim plants. The upgrading work is to be completed by December 2020. The scope of work from Pupuk Kaltim specifically covers: Engineering works, Material procurement, Factory Acceptance Test (FAT) and Training, Commissioning works and Documentation works.
The first financing from Ethis' Investors to Smartadeco has helped them reach 79.18% completion of the project. This is shown in the progress report; please see "Progress Bobot" which means "Overall Weighted Progress". "Bobot" means weightage and the "Overall Weighted Progress" is computed by multiplying "bobot "with "progress" in the individual task under overall scope of work.
While the overall project is on track, Smartadeco is seeking additional funds to accelerate the completion of the remainder of the project.
OVERVIEW OF THE COMPANIES

Established since 2010, PT Smartadeco Indonesia has provided services to global vendors such as Holcim, Vale, Chevron and Schneider Electric and a number of local major companies such as Pertamina, Sewatama and Semen Indonesia.
PT Smartadeco Indonesia is a specialist contractor company that has expertise in:
Industrial Automation and SCADA System Solutions

Water and Energy Management Solutions

Operations and Asset Management Solutions

PT Pupuk Kalimantan Timur ('Pupuk Kaltim'), a subsidiary of state-owned enterprise PT Pupuk Indonesia. It is the biggest Urea fertilizer manufacturer in Indonesia. The company's main business is to produce Ammonia, Urea and NPK Fertilizer, and sells these products to local and international markets. Currently Pupuk Kaltim is carrying out upgrading work on their plants and has issued a work contract for the Retrofit/Upgrade Control System Portal UBS 1 & UBS 2.
PT Smartadeco Indonesia ('Smartadeco') and PT Manna Jaya has formed an unincorporated Joint Venture (JV) agreement, and won the above work contract issued by Pupuk Kaltim. In Indonesia, the term for unincorporated JV is Kerja Sama Operasi (KSO). In this JV between Smartadeco and PT Manna Jaya,  Smartadeco is the lead and each party is responsible for different scope of work.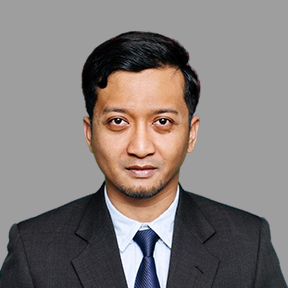 Mohammad Rasyid Risdha , ST
President Director Of PT Smartadeco Indonesia
Born in Bandung, completed his education at the Bandung Institute of Technology, majoring in Engineering Physics in 2008.


Experience working as:
System Engineer at PT Cinovasi Rekaprima (2010)

President Director of PT Smartadeco Indonesia
A personal guarantee from Director/Shareholder and Commissioner of PT Smartadeco Indonesia.
Work order letter from PT Pupuk Kalimantan Timur.
Joint Bank Account between Ethis and PT Smartadeco Indonesia for  PT Pupuk Kalimantan Timur payment.
KEY RISKS AND MITIGATION MEASURES
FX RISK
This campaign is denominated in Indonesia Rupiah (IDR), and therefore impacts non-Indonesian Investors who have to bear FX risk should there be a depreciation in the IDR.
Mitigation Measure: There will be no exchange rate guarantee given or currency hedging done for investors. Instead, a higher projected ROI has been negotiated with the project company to account for exchange rate risks. The given projected ROI is the final returns investors should take into their consideration.
SUPPLY RISK
The material needed is something that is not common in the market.
Mitigation Measure: PT Smartadeco Indonesia has issued an order to their usual supplier. PT Smartadeco has other large suppliers to mitigate the risk of non-delivery from their usual supplier.
PAYMENT RISK
PT Pupuk Kalimantan Timur has a good payment record, however, we have added a buffer to the payout tenure in case there is delay. 
Mitigation Measure: Ethis does a ground inspection and a thorough due diligence to mitigate payment risks. PT Pupuk Kalimantan Timur will send the payment to joint Bank Account between Ethis and PT Smartadeco Indonesia.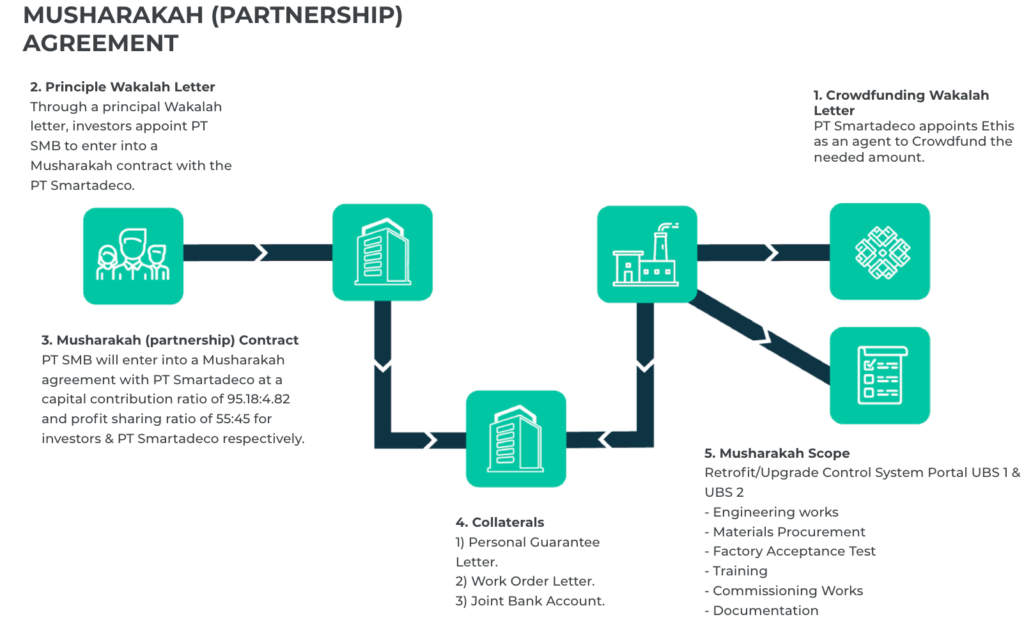 Investors will appoint PT SMB to enter into a Musharakah partnership with PT Smartadeco Indonesia. The purpose of this Musharakah partnership is to allow PT Smartadeco to receive funding necessary for the accomplishment of the contract from Pupuk Kaltim.

PT Smartadeco Indonesia will issue invoices to Pupuk Kaltim after the work is completed. Pupuk Kaltim will make payments to the Ethis – PT Smartadeco Indonesia's Joint Bank Account, which is already registered. Upon receiving the payments, PT Smartadeco will pay the investors their capital and profit (if any) and the Musharakah partnership will be dissolved.
This campaign facts and the content herein do not constitute as any financial advice, or solicitation for the purposes of making financial investments in Indonesia or other territories. Ethis.co is a platform specialising in the match-making of opportunities to those who register themselves as members on the Ethis platform. With regards to these opportunities, the need and onus to do due diligence lies squarely with our members as we do not profess to advise on the same. All dealings and transactions are directly with the businesses, project owners or authorised agents we refer to our members.
Commit USD 100,000 or more in 3-5 projects and get access to exclusive deals and exciting discounts
Retail Investors
Become a retail investor by investing between SGD 3,000 and SGD 20,000
Silver Investor
Earn a 1% higher projected returns by investing between SGD 20,000 and SGD 100,000
Gold Investors
Earn higher returns on your investment by investing between SGD 100,000 and SGD 350,000
Platinum Investors
Get exclusive returns on your investment by investing amounts greater than SGD 350,000
Login / Register to see the content

Risk Statement

The campaign duration is projected by the project owners, and based on information we receive from them. The actual completion of projects is subject to real world conditions, which may cause an extension of duration by 2 to 12 months. Any extensions will be informed to investors in projects updates. In the event of project or business failure in property projects in particular, a recovery process may be initiated to recover some or all of the capital invested.