Projected Return

12.71%

Projected Timeline

6 Months

SGD $407,768.00

Fundraising Goal

SGD $404,714.49

Raised

0

Days to go
KEY HIGHLIGHT OF THE PROJECT
PLN (Indonesia State Owned Electricity Company) has specific entities responsible for power plant operations in different regions across Indonesia.

PT. Komipo Pembankit Jawa Bali ("KPJB") is the company responsible for power plant operations in Java, Bali and the surrounding region. KPJB issued a work order to UPS to supply and install spare parts needed for maintenance and renewal of machineries.

The scope of the project is the procurement of 102 power supply spare parts, engineering design and installation.
OVERVIEW OF THE COMPANIES

As the Operation and Maintenance Company, KPJB is responsible for power plant operation and maintenance, coal handling, jetty and port management for Tanjung Jati B Unit 3&4 (2×660 MW) Coal Fired Power Plant (CFPP) under the O&M (Operations and Maintenance) Agreement with PLN (Indonesia State Owned Electricity Company) Pembangkitan Tanjung Jati B.
In carrying out the O&M Services, KPJB applies World Class Management Standard, supported by experienced and competent employees and trusted holding companies engaged in the power plant business.

PT Unggul Pawenang Sentosa ("UPS"), was established in 2004 with the main business in the field of electro-mechanical services which is inclusive of:
Assessment services and performance measurement for motors, generators, transformers, cubicles and electricity transmission and distribution.

Overhaul and repair of electric motor, submersible pump, and generator.

Transformer oil purification and regeneration, including minor repairs to transformers.

Machining jobs, Computer Numerical Control and dynamic balancing.
UPS have experts who are certified professionals in providing electric power support services to businesses and handling several big clients such as:
PT. Vale Indonesia: TT21 6.6KV Transformer Repair

PT. Chevron Pacific Indonesia: 450kW / 1750kW, 6000V Replay

PT. Pindonelli: 160KW DC Motor Stator & Rotor Rewinding

PT. Rhino NGL: 13200V Reconditioned Stator Coil

PT. Freeport Indonesia: 4400 KW KATO Generator Overhaul

PT. IKPP Perawang: 1000 KW AC Motor Shaft Replacement

PLTU Tarahan Lampung: 125 MVA Transformer overhaul

PT. PLN – Main Unit Transmission of West Java: Procurement of Transformer Oil, Cable Oil and SF6 Gas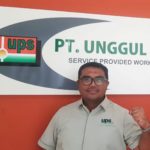 Waspodo Bayuaji,  ST.MT.
President Director of PT. Unggul Pawenang Sentosa
The former chairman of IME SMFTUI (Electrical Engineering Student Association in University of Indonesia) has been an entrepreneur since he was in college. 
He has been the President Director of PT. Unggul Pawenang Sentosa since 2004.
A personal guarantee from President Director of PT. Unggul Pawenang Sentosa.
KEY RISKS AND MITIGATION MEASURES
FX Risk
This campaign is denominated in Indonesia Rupiah (IDR), and therefore impacts non-Indonesian Investors who have to bear FX risk should there be a depreciation in the IDR.
Mitigation Measure: There will be no exchange rate guarantee given or currency hedging done for investors. Instead, a higher projected ROI has been negotiated with the project owner to account for exchange rate risks. The given projected ROI is the final returns investors should take into their consideration.
Supply Risk
The 102 power supply spare parts are not commonly sold in the market.

Mitigation Measure: UPS has ordered all the spare parts needed on a down payment from their regular suppliers.
Payment Risk
KPJB will transfer the payment to UPS's bank account within 30 days after receiving the invoices with the delivery completion report attached. There is a risk of delivery being delayed which may affect the invoicing process.
Mitigation Measure: UPS has paid down payment to their suppliers to send the spare parts and Ethis has added one month buffer in case the delivery gets delayed.
UPS will issue the invoice to KPJB after the work order is completed. KPJB will make payments to UPS's bank account in which Ethis will be given access with a standing instruction.
Upon receiving the payment, UPS will pay the investors their capital and profit (if any) and the Musharakah partnership will be dissolved.
This investment opportunity is based on a first come first serve basis. Your investment is secured only after your transfer-proof has been received. A pledge is merely an interest to invest and does not guarantee you a slot in this investment.
This campaign facts and the content herein do not constitute as any financial advice, or solicitation for the purposes of making financial investments in Indonesia or other territories. Ethis.co is a platform specialising in the match-making of opportunities to those who register themselves as members on the Ethis platform. With regards to these opportunities, the need and onus to do due diligence lies squarely with our members as we do not profess to advise on the same. All dealings and transactions are directly with the businesses, project owners or authorised agents we refer to our members.
Commit USD 100,000 or more in 3-5 projects and get access to exclusive deals and exciting discounts