The United Team of Art (TUTA)
Projected Return

5%

Projected Timeline

2 Months

Fundraising Goal

SGD $64,733.00

Raised

SGD $64,549.00

Time Remaining

0 day(s) to go
KEY HIGHLIGHT OF THE PROJECT
PT Tuta Kreatif Indonesia  ("TKI") received a work order from BMW Indonesia to produce an advertisement required to launch the new BMW series 3.

 

The scope of the project is to produce 60 seconds advertisement video for BMW Series 3.



TKI needs financing to cover the production cost of the advertisement.

 
In line with Ethis' efforts to be a fully Shari'ah compliant platform, Ethis' shariah team  screens the projects that are hosted on all Ethis platforms.

 

Ethis In-house shariah team has reviewed and approved this campaign. Due to the sensitivity of media in general, the team has furnished a resolution for this specific campaign.

 

You may read the full

Shariah Resolution Here

.
OVERVIEW OF THE COMPANIES

PT Tuta Kreatif ("TKI") Indonesia has the brand name called Brightlight Tuta. Their production network is spread throughout the world whether to shoot in Indonesia, regional Asia, Australia, Africa, or even Europe or North/South America.

TKI was established in 2008, since then TKI has partnered with 43 well-known clients such as Samsung, McDonald's, Nivea, etc. TKI has produced 68 projects and received 17 awards from there.
BMW Indonesia has a long-lasting relationship with TKI. Back in 2012, BMW did their branding and promotion in TKI's successful movie 'Boy's diary (Catatan si Boy)' as the primary sponsor.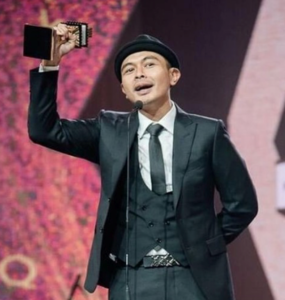 Mr. Pratama Tuta
Director of PT. Tuta Kreatif Indonesia
Mr. Pratama Tuta, people usually call him Tuta. He is known as one of the best and most innovative young movie directors in Indonesia.
With more than 12 years of experience in the movie and ads production, last year, his movie 'Everyday is a Lullaby' was representing Indonesia at Busan Film Festival, one of the most notable event in Movie industry.
A personal guarantee from Director of  PT Tuta Kreatif Indonesia.
KEY RISKS AND MITIGATION MEASURES
FX Risk
This campaign is denominated in Indonesia Rupiah (IDR), and therefore impacts non-Indonesian Investors who have to bear FX risk should there be a depreciation in the IDR.
Mitigation Measure: There will be no exchange rate guarantee given or currency hedging done for investors. Instead, a higher projected ROI has been negotiated with the project company to account for exchange rate risks. The given projected ROI is the final returns investors should take into their consideration.
Weather Risk
The video shooting will be held outdoors, therefore, the weather will greatly affect the shooting process. Their target to finish the video shooting is in 4 days, this will likely be delayed in case there is rain/storm. The target to finish the total production is between 30-45 days in total.
Mitigation Measure: Ethis added 1 month buffer in case the shooting process gets delayed due to the weather.
TKI will issue the invoice to BMW Indonesia after the order is completed. BMW Indonesia will make payments to TKI's bank account in which Ethis will be given access with a standing instruction. 
Upon receiving the payment, TKI will pay the investors their capital and profit (if any) and the Musharakah partnership will be dissolved.
This investment opportunity is based on a first come first serve basis. Your investment is secured only after your transfer-proof has been received. A pledge is merely an interest to invest and does not guarantee you a slot in this investment.
This campaign facts and the content herein do not constitute as any financial advice, or solicitation for the purposes of making financial investments in Indonesia or other territories. Ethis.co is a platform specialising in the match-making of opportunities to those who register themselves as members on the Ethis platform. With regards to these opportunities, the need and onus to do due diligence lies squarely with our members as we do not profess to advise on the same. All dealings and transactions are directly with the businesses, project owners or authorised agents we refer to our members.
Commit USD 100,000 or more in 3-5 projects and get access to exclusive deals and exciting discounts
Retail Investors
Become a retail investor by investing between SGD 3,000 and SGD 20,000
Silver Investor
Earn a 1% higher projected returns by investing between SGD 20,000 and SGD 100,000
Gold Investors
Earn higher returns on your investment by investing between SGD 100,000 and SGD 350,000
Platinum Investors
Get exclusive returns on your investment by investing amounts greater than SGD 350,000
Login / Register to see the content

Risk Statement

The campaign duration is projected by the project owners, and based on information we receive from them. The actual completion of projects is subject to real world conditions, which may cause an extension of duration by 2 to 12 months. Any extensions will be informed to investors in projects updates. In the event of project or business failure in property projects in particular, a recovery process may be initiated to recover some or all of the capital invested.