Projected Return

8.06%

Projected Timeline

4 Months

SGD $226,760.15

Fundraising Goal

SGD $226,216.07

Raised

0

Days to go
KEY HIGHLIGHT OF THE PROJECT
Based on Working Order from Pertamina Trans Kontinental, PT. Dok Bahari Nusantara ("PT. DBN") has been assigned to build the new Harbour Tug 3200HP with total order value of SGD 4,790,000.

 

The ship construction has been 70% completed. PT. DBN needs to purchase machineries to complete the remaining work.

 

PT. DBN has ordered the Niigata marine diesel engine from Japan with a down payment of SGD 342,695, for that, PT. DBN requires financing of SGD 512,135 to pay off the machine.
OVERVIEW OF THE COMPANIES

Founded in 2012, the key focus point for PT. DBN's business is ship-building and repair. PT. DBN has been initiated by its founders with scientific capacity and field experience in the shipping industry.
The shipyard operational center is located in Cirebon, West Java, Cirebon Harbor.
PT. DBN has good facilities that support ship building and repair process, with a land area of 13,000 m2. PT. DBN has been able to work on various types of vessels with a maximum capacity of 4000 DWT.

Pertamina Trans Kontinental ("PTK") is a State owned Enterprise with Core Business to provide ships as operational fleet that is used to fulfill the needs of hirer to support offshore and land activities such as PT Pertamina (GLC), the KKK'S – which are the parties that have cooperation contracts with the Indonesian government to carry out exploration, extraction of oil and gas.
The types of facilities comprises of:
LPG Carrier

Anchor Handling and Tug Supply

Multi Purpose Vessel

SPOB (Self Propelled Oil Barge)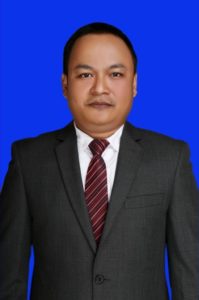 SOPHAN SOPHIAN
President Director Of PT. DBN
Born in Nabire, Papua. Mr. Sophan has more than 20 years of experience in the maritime industry as:
Manager project of PT Dayar Radar Utama

Director of PT Marine Navalindo

President Director of PT Dok Bahari Nusantara
A personal guarantee from Director/Shareholder and Commissioner of PT. DBN.
KEY RISKS AND MITIGATION MEASURES
FX Risk
This campaign is denominated in Indonesia Rupiah (IDR), and therefore impacts non-Indonesian Investors who have to bear FX risk should there be a depreciation in the IDR. 
Mitigation Measure: There will be no exchange rate guarantee given or currency hedging done for investors. Instead, a higher projected ROI has been negotiated with the project company to account for exchange rate risks. The given projected ROI is the final returns investors should take into their consideration.
Supply Risk
The required machine is something that is not common in the market and will need to be ordered from overseas.
Mitigation Measure: PT. DBN has ordered the Niigata marine diesel engine from Japan with down payment of SGD 342,695.
Payment Risk
PTK has a good payment record, however, we have added a buffer to the payout tenure in case there is a delay. PTK will transfer directly to PT. DBN' bank account, there is a risk the final repayment not being transferred to Ethis' bank account.

Mitigation Measure: Ethis does a ground inspection and a thorough due diligence to mitigate payment risks. Ethis has access and will be monitoring PT. DBN's bank account.
PT. DBN issued Standing Instruction in their bank account to automatically send the payment to Ethis once the repayment from PTK is received. 

Musharakah (Partnership) Agreement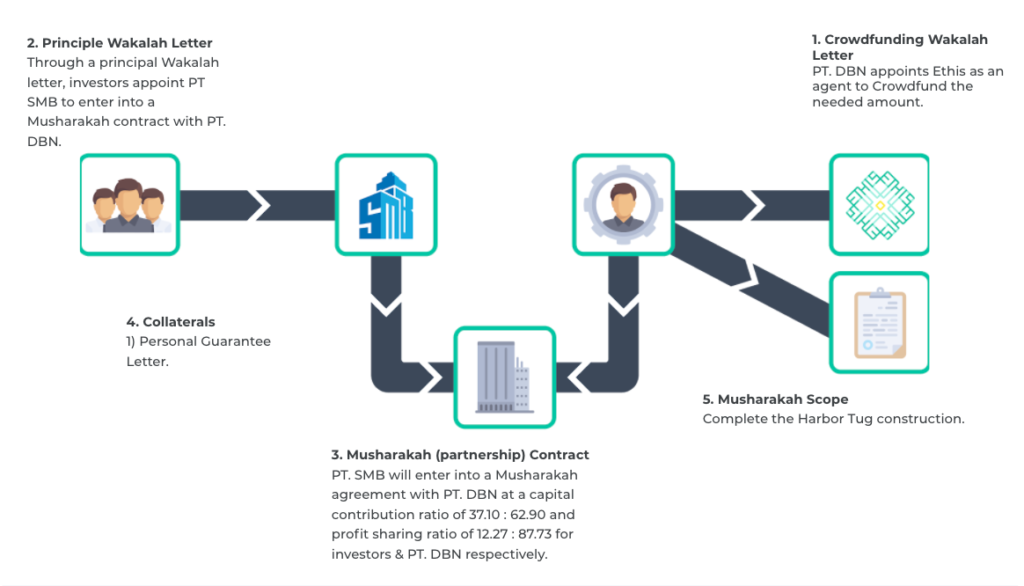 Investors will appoint PT SMB to enter into a Musharakah partnership with PT. DBN. The purpose of this Musharakah partnership is to allow PT. DBN to receive funding necessary for the accomplishment of Harbour Tug 3200HP purchase order from Pertamina Trans Kontinental.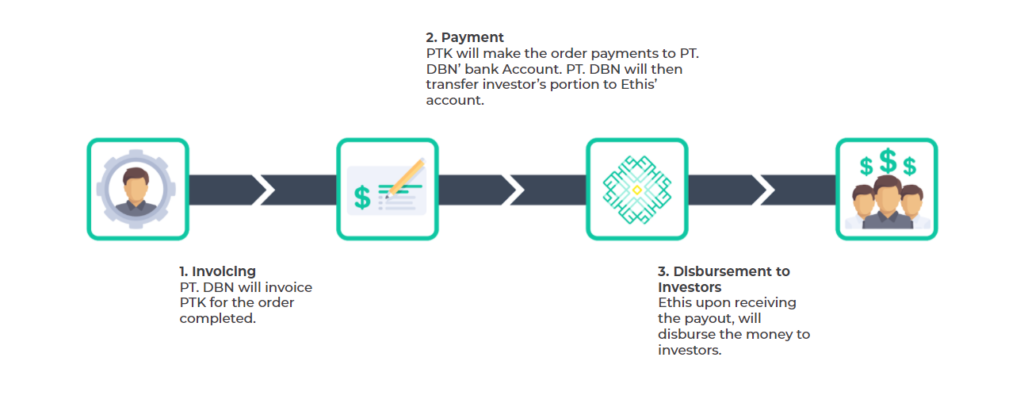 PT. DBN will issue invoices to PTK after the order is completed. PTK will make payments to PT. DBN' bank account. Upon receiving the payments, PT. DBN will pay the investors their capital and profit (if any) based on PT. DBN Standing Instruction and the Musharakah partnership will be dissolved.
This investment opportunity is based on a first come first serve basis. Your investment is secured only after your transfer-proof has been received. A pledge is merely an interest to invest and does not guarantee you a slot in this investment. 
This investment is time-sensitive, please send in your transfer-proof as soon as you pledge to secure your slot.
This campaign facts and the content herein do not constitute as any financial advice, or solicitation for the purposes of making financial investments in Indonesia or other territories. Ethis.co is a platform specialising in the match-making of opportunities to those who register themselves as members on the Ethis platform. With regards to these opportunities, the need and onus to do due diligence lies squarely with our members as we do not profess to advise on the same. All dealings and transactions are directly with the businesses, project owners or authorised agents we refer to our members.
Commit USD 100,000 or more in 3-5 projects and get access to exclusive deals and exciting discounts