CV GEMINI ABADI
Projected Return

8.94%

Projected Timeline

2-3 Months

Fundraising Goal

SGD $237,087.00

Raised

SGD $250,116.00

Time Remaining

0 day(s) to go
KEY HIGHLIGHT OF THE PROJECT
CV Gemini Abadi ("CV Gemini") is an associate vendor for PT Bridgestone Tire Indonesia ("Bridgestone"). Bridgestone has awarded CV Gemini with 3 Working Orders to procure IT system hardware. The scope of the project is to procure IT system hardware and install it at Bridgestone factory in Kawarang, West Java, Indonesia.

 

Bridgestone has paid 25% Down Payment to CV Gemini on December 4th, 2020.

 
The fund will be utilized to pay suppliers in China. Ethis will be transferring the raised funds directly to the supplier to ensure a smooth and timely transfer.
OVERVIEW OF THE COMPANIES

CV Gemini Abadi ('CV Gemini') is an IT Service provider that was established in 2012, serving big corporates such as banks as their main clients.
Besides IT Solution, CV Gemini also provides other services such as Mechanical & Electrical contracting, Banking equipment, Automation Systems, etc.

Bridgestone Corporation is a Japanese multinational auto and truck parts manufacturer founded in 1931 by Shojiro Ishibashi in the city of Kurume, Fukuoka, Japan. The name Bridgestone comes from a calque translation and transposition of ishibashi, meaning "stone bridge" in Japanese.
As of 2017, the company is the largest manufacturer of tires in the world, followed by Michelin (France), Goodyear (United States), Continental (Germany) and Pirelli (Italy).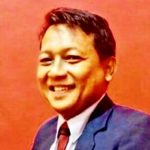 Hendriyanto
Deputy Director of CV Gemini Abadi
Mr. Hengky Wijaya is a serial entrepreneur with more than 35 years of experience in multiple industries such as:

– Private Manganese Ore mining company in Kalimantan
– Electric Vehicle importer and supplier to government institutions
– Health product manufacturer and supplier
A personal guarantee from Director of CV Gemini Abadi.
KEY RISKS AND MITIGATION MEASURES
FX RISK
This campaign is denominated in Indonesia Rupiah (IDR), and therefore impacts non-Indonesian Investors who have to bear FX risk should there be a depreciation in the IDR.
Mitigation Measure: There will be no exchange rate guarantee given or currency hedging done for investors. Instead, a higher projected ROI has been negotiated with the project company to account for exchange rate risks. The given projected ROI is the final returns investors should take into their consideration.
PAYMENT RISK
Bridgestone will transfer the payment to CV Gemini's bank account within 30 days after delivery completion and invoices are issued. There is a risk the delivery will get delayed, therefore, affecting the invoicing process.


Mitigation Measure: Currently CV Gemini has ordered all the items with a down payment. The suppliers will send the items after the payment has been completed and CV Gemini will receive the items within 6 days at the site.

The order and delivery process is made in 1 month and the invoicing process is made in another month. The total time needed is 2 months, however, Ethis has added a buffer of 1 month incase of any delay.
Musharakah (Partnership) Agreement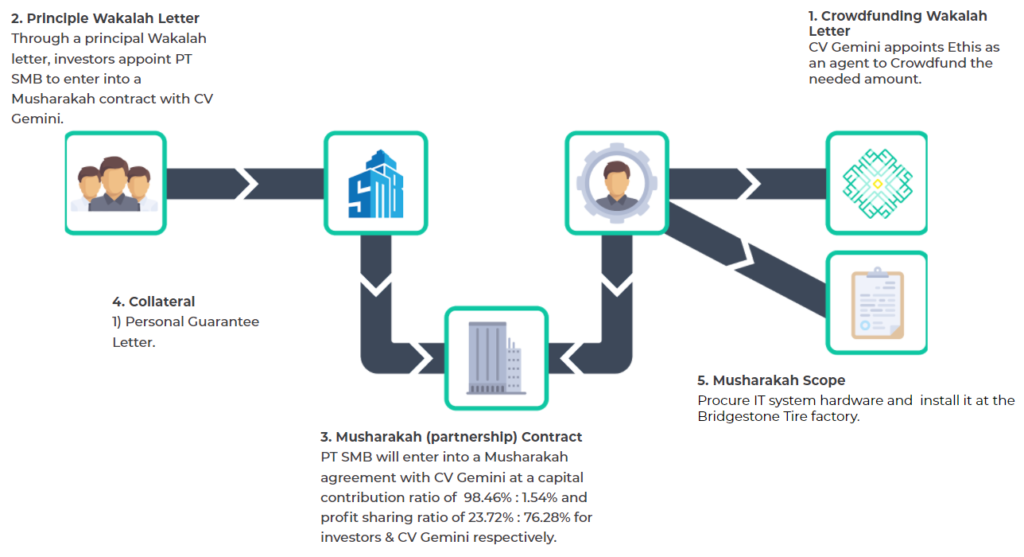 Investors will appoint PT SMB to enter into a Musharakah partnership with CV Gemini. The purpose of this Musharakah partnership is to allow CV Gemini to receive funding necessary for the accomplishment of purchase order from Bridgestone Tire Indonesia.

CV Gemini will issue the invoice to Bridgestone after the order is completed. Bridgestone will make payments to CV Gemini's bank account in which Ethis will be given access with a standing instruction. 
Upon receiving the payment, CV Gemini will pay the investors their capital and profit (if any) and the Musharakah partnership will be dissolved.
This investment opportunity is based on a first come first serve basis. Your investment is secured only after your transfer-proof has been received. A pledge is merely an interest to invest and does not guarantee you a slot in this investment. 
This investment is time-sensitive, please send in your transfer-proof as soon as you pledge to secure your slot.
This campaign facts and the content herein do not constitute as any financial advice, or solicitation for the purposes of making financial investments in Indonesia or other territories. Ethis.co is a platform specialising in the match-making of opportunities to those who register themselves as members on the Ethis platform. With regards to these opportunities, the need and onus to do due diligence lies squarely with our members as we do not profess to advise on the same. All dealings and transactions are directly with the businesses, project owners or authorised agents we refer to our members.
Commit USD 100,000 or more in 3-5 projects and get access to exclusive deals and exciting discounts
Retail Investors
Become a retail investor by investing between SGD 3,000 and SGD 20,000
Silver Investor
Earn a 1% higher projected returns by investing between SGD 20,000 and SGD 100,000
Gold Investors
Earn higher returns on your investment by investing between SGD 100,000 and SGD 350,000
Platinum Investors
Get exclusive returns on your investment by investing amounts greater than SGD 350,000
Login / Register to see the content

Risk Statement

The campaign duration is projected by the project owners, and based on information we receive from them. The actual completion of projects is subject to real world conditions, which may cause an extension of duration by 2 to 12 months. Any extensions will be informed to investors in projects updates. In the event of project or business failure in property projects in particular, a recovery process may be initiated to recover some or all of the capital invested.