Casavera Dramaga
Projected Return

10%

Projected Timeline

10-12 months

Fundraising Goal

SGD $133,145.00

Raised

SGD $133,144.30

Time Remaining

0 day(s) to go
KEY HIGHLIGHT OF THE PROJECT
Many low-income families have been imposed to pay high rent for cramped and stuffy rooms.
Our campaign is part of the One Million Homes program which aims to reduce inadequate housing.
Homes typically increase in value, build equity and provide a nest egg for the future.
This campaign gives a projected return of 10% in 10-12 months whilst at the same time help to provide quality homes for the poor and destitute.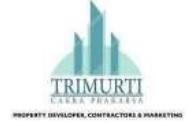 PT. Trimurti Cakra Prakarsa (PT TCP)
Established in April 2014, PT TCP is focused in property construction and development in the Greater Jakarta area. Currently, TCP has 3 ongoing residential projects in Cibubur and Bogor under the brand name of Casavera Property.
PT TCP has an ongoing project with EthisCrowd.com for which the payout has started and the project is due to complete by February 2018.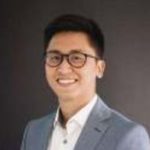 Fristian Kalalembang
CEO/CO-FOUNDER PT TCP
Graduated from University of Indonesia, majoring in Industrial Economics. His previous experience was in nickel mining sector company, a collaboration with one of China's biggest mining company. Fristian also joined several construction projects in Indonesia.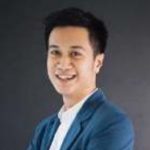 Edlin Prabawa
CFO/CO-FOUNDER PT TCP
Graduated from University of Indonesia, majoring in International Economics.
His previous experience was in the banking industry, mainly in Retail Banking, and Retail Risk Functions.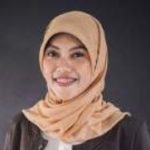 Harizah Mangkunegara
CMO/CO-FOUNDER PT TCP
Graduated from University of Indonesia, majoring in Public Economics. Her previous experience was in Non Profit Organization, handling numerous poverty projects and development planning throughout the nation's islands & provinces.
PPJB – Conditional Sale and Purchase certificate.
Post dated cheque with a total value of the crowdfunded amount.
Personal guarantee from the directors of PT TCP.
KEY RISKS AND MITIGATION MEASURES
FX RISK
Investors may invest in their respective currencies, which will then be converted to Singapore Dollar (SGD). The SGD amount received will be reflected in the investment contract. We have provided the projected ROI
for this project based on our projections for the profits of the project and the current exchange rates. The actual profit you will receive may be slightly higher or lower due to market fluctuations. Ethis together with the project developer will cover fluctuations up to 5% depreciation in the Indonesian Rupiah (IDR) within the duration of the project.
SALE OF UNITS
For the smaller unit type, houses are sold to low-income families at IDR279m (appx. US$26,035). As part of the 1-million homes programme by the Indonesian government, low-income families get subsidised home financing with only IDR 2,000,000 (appx. US$193) booking fee. The monthly instalment is also typically lower
than what these families usually pay for room rentals in a poorer living environment. At this early pre-construction phase, details of the potential buyers have been submitted and been cleared by the Central Bank of Indonesia. Currently they are being screened and processed by Bank BTN Syariah.
TIMEFRAME & DELAY
PT TCP has an excellent track record built up since 2014. For this specific campaign, the permits have already been obtained. This is an added advantage because a few projects in the past encountered delays due to
unexpectedly lengthy permit approvals. Such delays are less likely to occur now that the government's 1 million homes programme drastically reduced the number of permits required, to speed up this process.
The projected duration to complete the housing units in this campaign is 4-5 months. A buffer period of 1 month has been added in case of unforeseen delays such as rainy weather etc. The conservative duration for this crowdfunding campaign is thus 6 months altogether.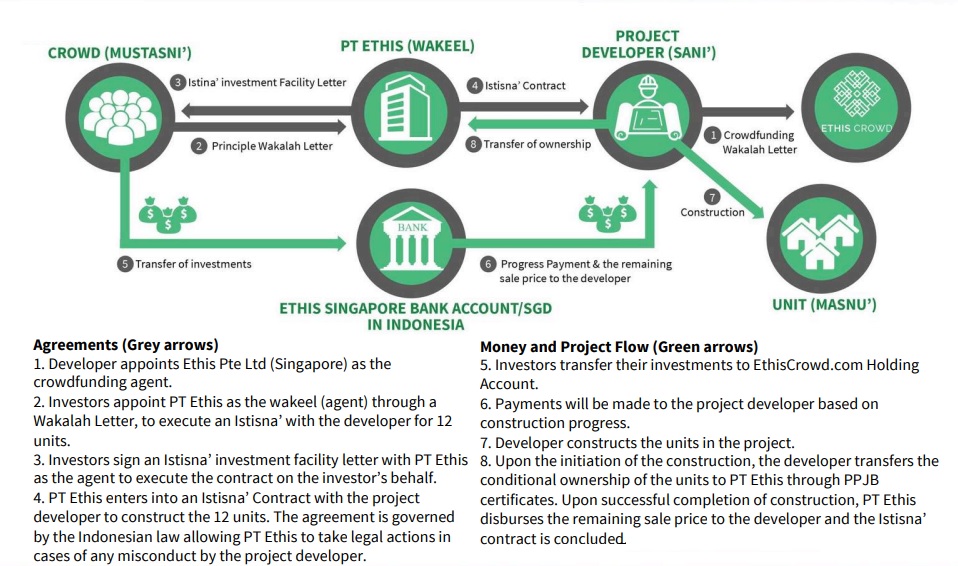 Investors appoint PT Ethis as the wakeel (agent) through a Wakalah Letter, to execute an Istisna' with the developer for 12 units.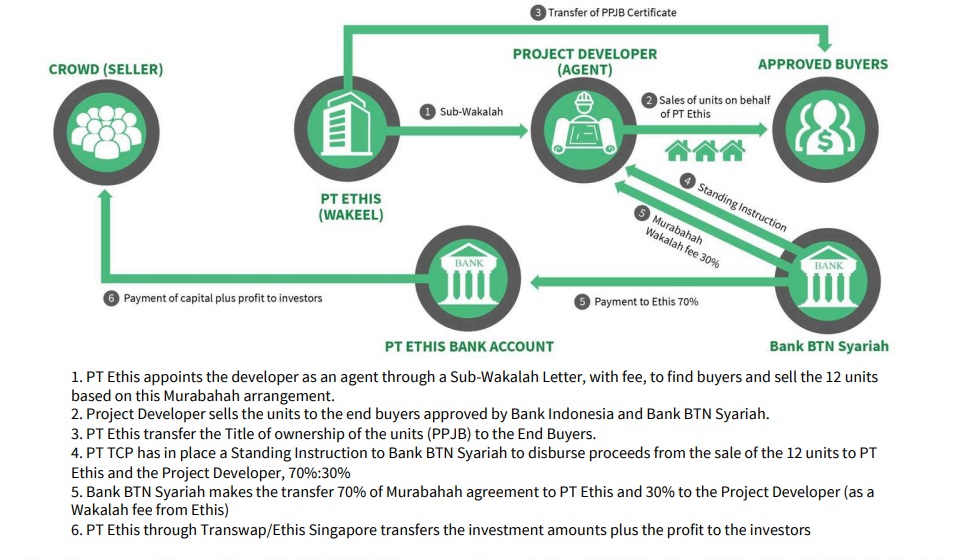 PT Ethis through Transwap/Ethis Singapore transfers the investment amounts plus the profit to the investors.
This campaign facts and the content herein do not constitute as any financial advice, or solicitation for the purposes of making financial investments in Indonesia or other territories. Ethis.co is a platform specialising in the match-making of opportunities to those who register themselves as members on the Ethis platform. With regards to these opportunities, the need and onus to do due diligence lies squarely with our members as we do not profess to advise on the same. All dealings and transactions are directly with the businesses, project owners or authorised agents we refer to our members.
Commit USD 100,000 or more in 3-5 projects and get access to exclusive deals and exciting discounts
Retail Investors
Become a retail investor by investing between SGD 3,000 and SGD 20,000
Silver Investor
Earn a 1% higher projected returns by investing between SGD 20,000 and SGD 100,000
Gold Investors
Earn higher returns on your investment by investing between SGD 100,000 and SGD 350,000
Platinum Investors
Get exclusive returns on your investment by investing amounts greater than SGD 350,000
Login / Register to see the content
Below is a gallery of the most recent pictures from the project site:

Risk Statement

The campaign duration is projected by the project owners, and based on information we receive from them. The actual completion of projects is subject to real world conditions, which may cause an extension of duration by 2 to 12 months. Any extensions will be informed to investors in projects updates. In the event of project or business failure in property projects in particular, a recovery process may be initiated to recover some or all of the capital invested.