ATF Sport
Targeted Dividend Payout

15%

Maximum Goal

RM1,000,000

Minimum Goal

RM500,000

Maximum Equity offered

24.39% or 72,886 shares

Minimum Equity offered

13.89% or 36,443 shares

Raised

RM58,841.39

Time Remaining

34 day(s) to go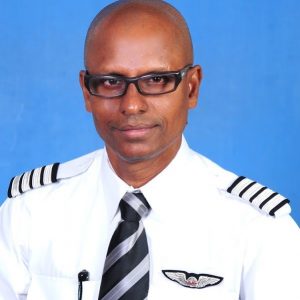 In conversation with Mr. Selvarajah Ramasamy, the Founder & CEO of Octowill
Join us for a conversation on this e-commerce investment opportunity with the team from Baloy and ETHIS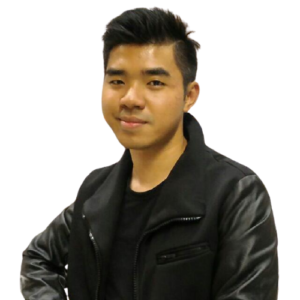 Investment ManagerETHIS Malaysia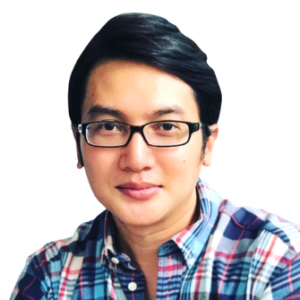 Head of Investment
ETHIS Malaysia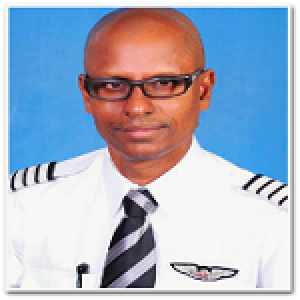 Established in December 2015, ATF Sport sells top-quality, nationally recognised, and affordable sports tape accessible to the masses. ATF Sport Founder and Managing Director Mohd Azmir Zed wanted to create a product that allows both professional athletes and sports enthusiasts to perform on the field with utmost confidence, as well as creating awareness of the importance of injury prevention and enhancement of sporting performance via the usage of high-quality sports tapes.
To date, ATF Sport has grown into a formidable player in the sports medicine industry. The startup made a profit in 2020 before the pandemic started and is trusted by various established sports teams in Malaysia (mostly football and rugby teams) to use their tapes for official matches. Their growth has also attracted overseas demand from the Jakarta and Sri Lankan rugby teams. A former national rugby player himself, Azmir has various connections in the sports industry to leverage for both existing and future partnerships. One notable existing partner is the National Sports Institute of Malaysia; Institut Sukan Negara (ISN); who recognised the quality of ATF's products and became ATF's shareholder in 2021.
ATF Sport is looking to raise up to RM1 million to double up on its marketing initiatives in enhancing brand awareness as well as to promote its newly launched product called ATF Box, a starter kit containing six different tapes in a box sold at an affordable price.
1. High potential market
There are multiple studies on Kinesio Tapes, one such study estimates that the global Kinesio Tape Market was valued at US$200 million in 2019 and is expected to reach US$350 million by 2026 while growing at a compound annual growth rate of 8% from 2020 to 2027.
2. Promising financial growth
Pre-COVID days, the company had demonstrated consistent financial growth, making a profit in 2020 before the pandemic started, and saw its annual revenue increase by at least 30% on a year-on-year basis. Based on ATF's 2021 management accounts, revenue had increased even during the pandemic period though mainly due to a grant. Excluding the grant, revenue was more or less maintained at RM186K compared to RM180K achieved in 2020, which was another pandemic-hit year.
3. Sprawling distribution and partnership network
ATF Sport is trusted by various high-profile organisations and established sports teams (mostly football and rugby teams) in Malaysia, including ISN, such as the Selangor FC and Sarawak United FC football teams, while also attracting overseas demand from the Jakarta and Sri Lankan rugby teams. There is potential for more growth once ATF begins focusing on exporting its products, more specifically to sports teams or individual customers within Indonesia or Sri Lanka.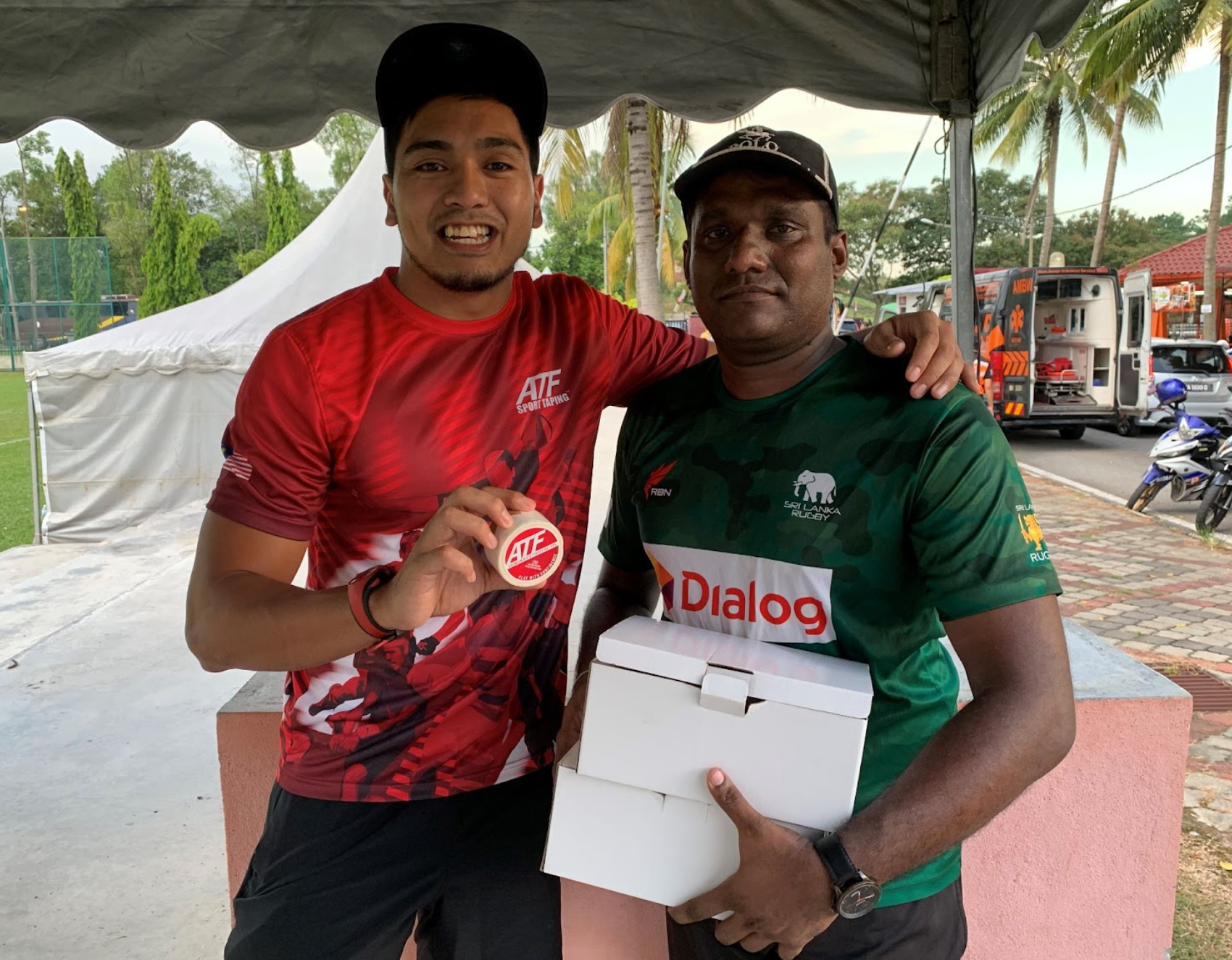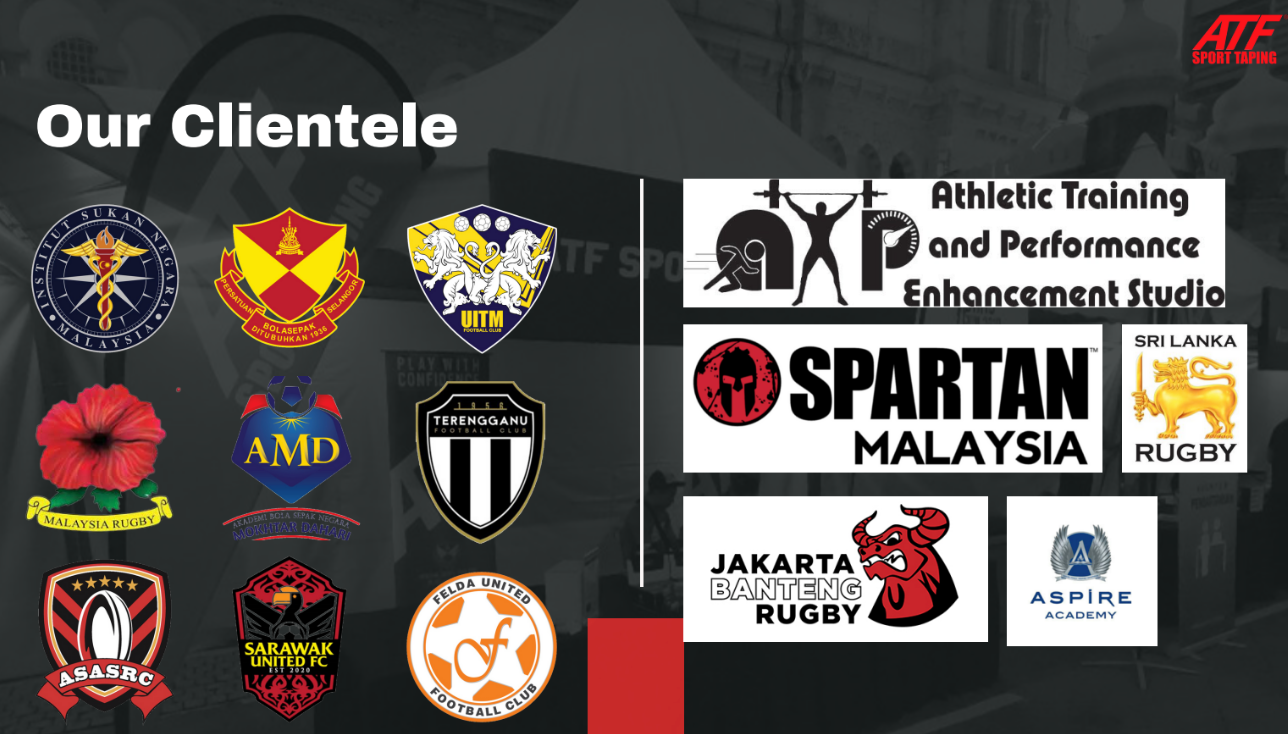 Sri Lanka
Besides the Sri Lankan Rugby Team, ATF is currently supplying tapes to a third-party distributor who distributes other sports brands in Sri Lanka. Key customers include the Sri Lankan Rugby Team and a few other rugby clubs in Sri Lanka.
Indonesia
Besides the Jakarta Banteng Rugby Team, ATF only has one other small order to a potential distributor in Indonesia as a pilot test currently.
Qatar
During the pandemic ATF also managed to secure a contract to supply to Aspire Academy through a third-party distributor who supplies medical supplies around the MENA region.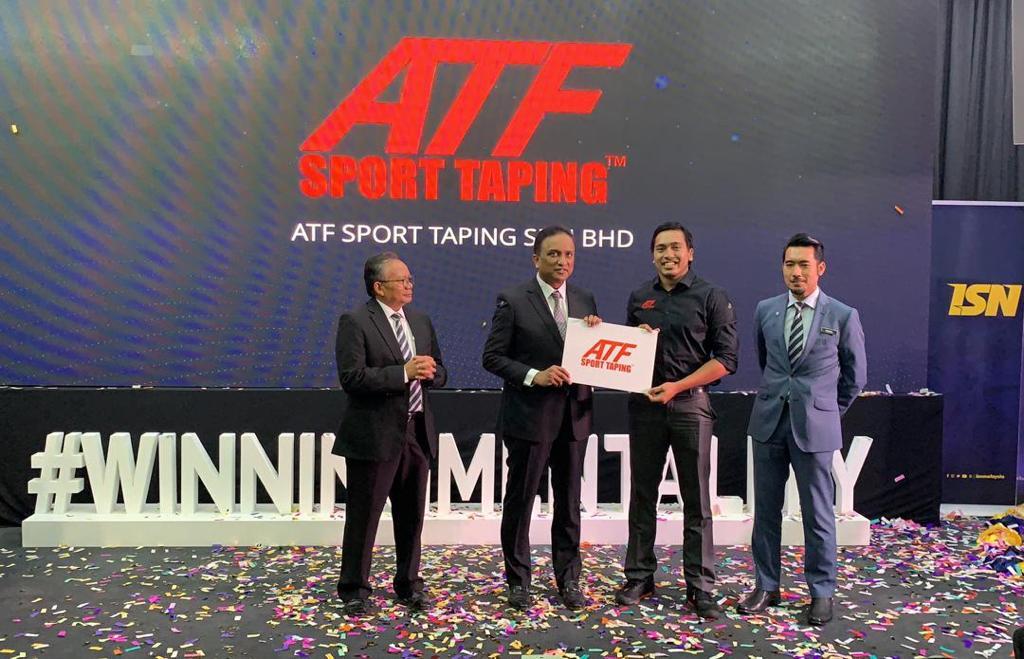 ATF Sport Founder and Managing Director, Mohd Azmir Zed is a former national rugby player and runs several business portfolio amongst others; AZ Fitness Sdn Bhd where he has been the Fitness Director for almost three years. Prior to venturing into business, Azmir was a Senior Engineer at the largest Independent Power Producer (IPP) in Malaysia for over five years, specialising in Business Development for Renewable Energy. He is also a Master Degree Holder in MSc Process Plant Management.
Aside from being a well-connected and passionate founder but also as an active athlete, Azmir has first-hand experience and is well accustomed to the requirements of high-quality sports products. Azmir has also built various connections in the sports industry to leverage for existing and future partnerships. He has represented the Malaysia National Team at the Asian Rugby Championships and SEA Games, and also represented the Negeri Sembilan Rugby Union and NS Wanderers Rugby Club in the past.
4. Dividend Commitment, Share Purchase and Special Privileges
ATF targets to offer dividends of up to 15% per annum out of net profit for the year, to be shared by all shareholders based on investors' equity, depending on whether ATF reaches its projected net profit based on its projected financials for the year.
In the event that ATF is not able to achieve the targeted milestone for the year, it shall still target to offer dividends for the year, but on a reduced proportionate basis instead based on the following:-
Although the global Kinesio Tape Market is massive, valued at US$200 million in 2019, there is still a limited number of affordable, top-quality sports tapes options in Malaysia. ATF is currently the only prominent local sports tape brand selling at this scale in Malaysia. Other notable competitors are mostly brands originating from abroad and are distributed in Malaysia via authorised distributors. ATF Sport's tapes are also more affordable in terms of pricing in comparison to its competitors, while not compromising its quality.
ATF Sport provides top-quality sports tapes at affordable prices and is the first sports tape brand provider in Malaysia that runs on a monthly subscription fee basis. Below is a listing of ATF's prices compared to its competitors.
Rigid Tape

Kinesio Tape

To stay ahead of competitors, ATF Sport's strategy includes emphasising on new and innovative products while offering special privileges to its loyal community of fans. Unsatisfied customers may request for a 1-to-1 exchange or a full refund within 30 days as part of their Money Back Guarantee programme. ATF Sport will continue to expand its strategic brand partners to offer special access to its customers.
1.Convenient
Customers may subscribe and place orders directly from ATF's website or its future mobile app and have the flexibility to cancel anytime they want.
2. On-Time
Through their website, customers can save time and get their products directly on a timely basis (within 3-5 working days around Malaysia).
3. Huge Saving
Customers can enjoy huge savings via a subscription programme of up to 40% and enjoy other exclusive perks.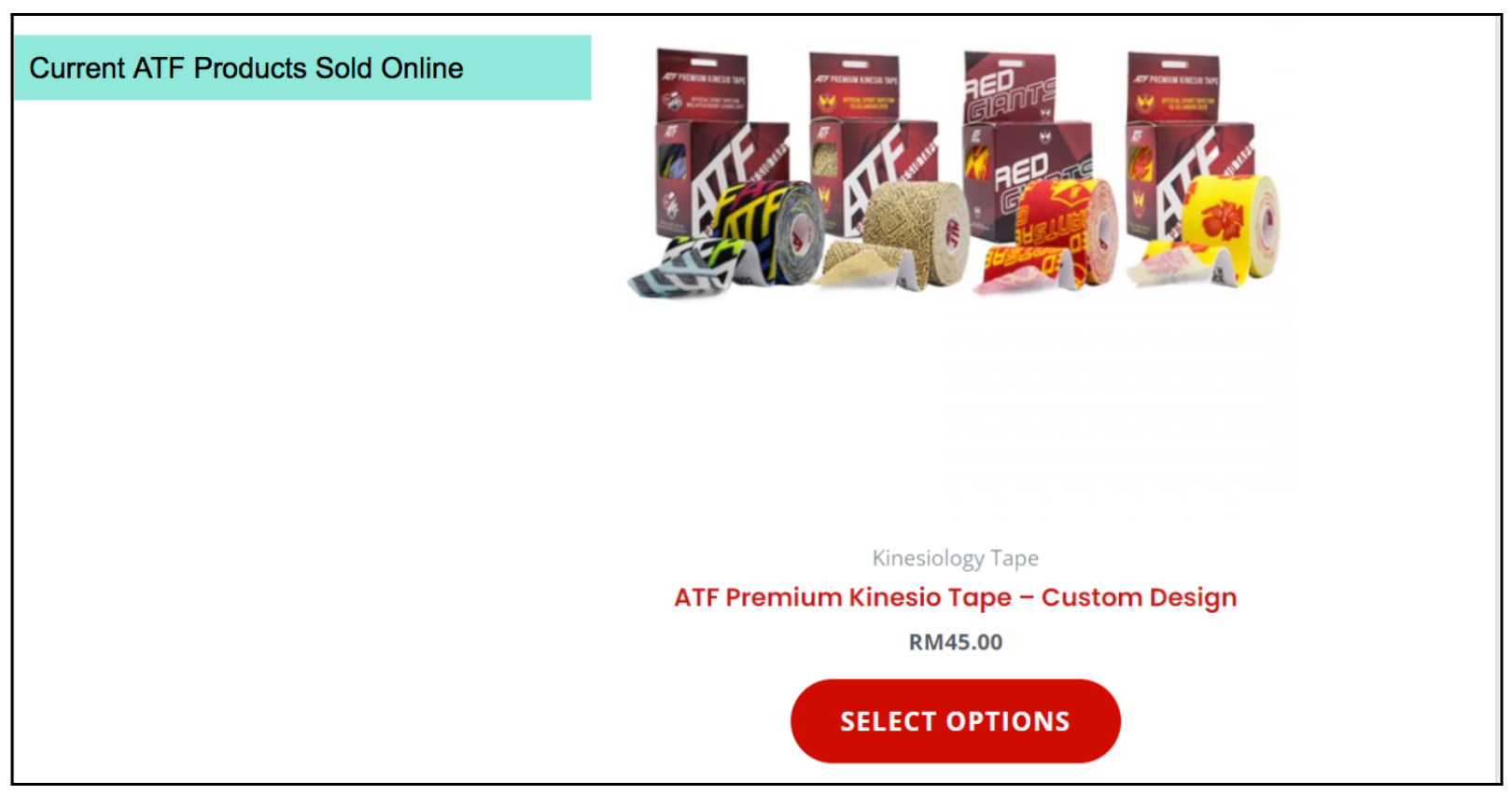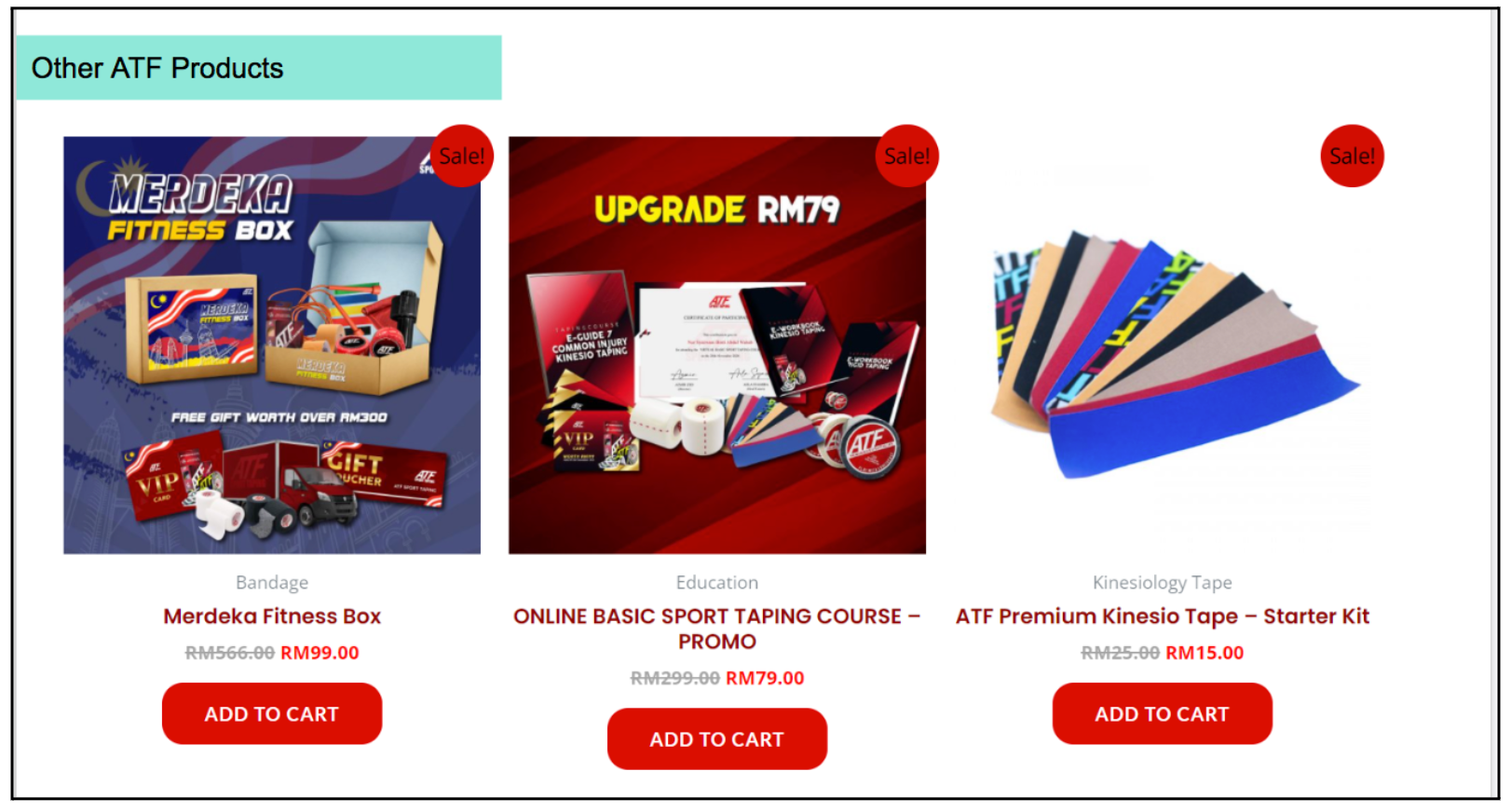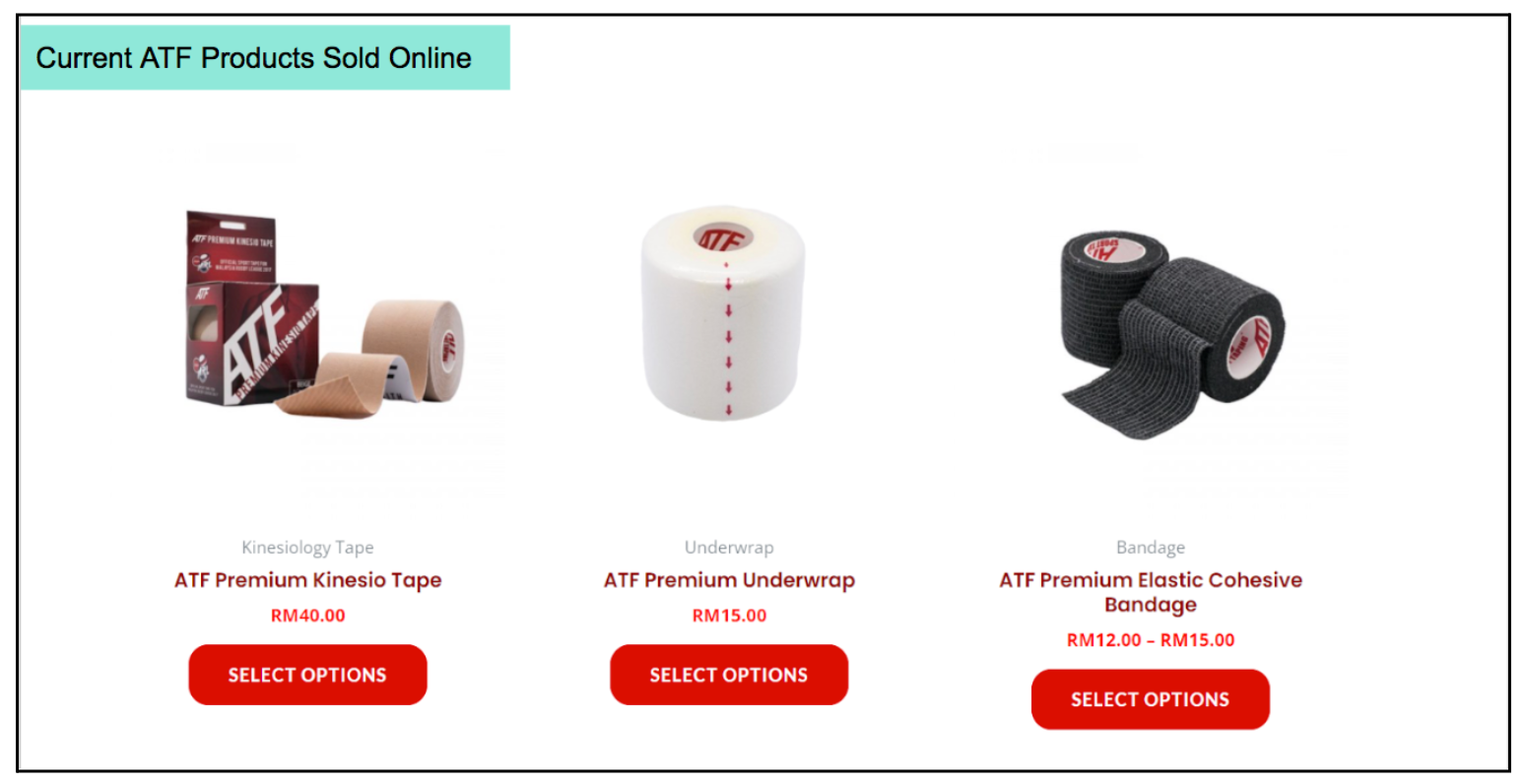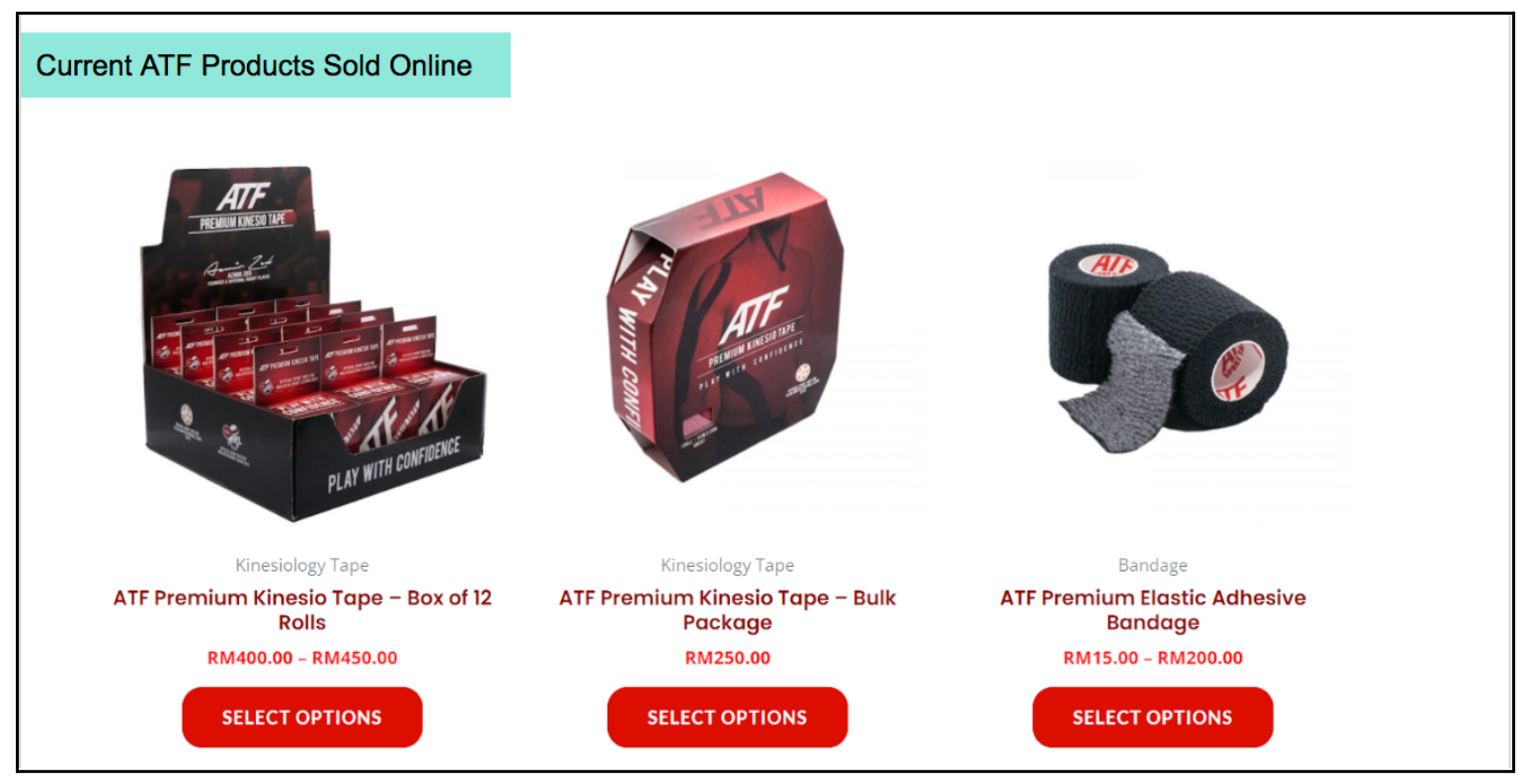 Its latest product, the ATF Box has recently hit the shelves in July 2022. A more flexible option for users, allowing them to choose from three different subscription plans (3, 6 to 12 months) with varying discounts for each tier. Upon subscription, customers can terminate the plans after a certain period or it will be auto-renewed. Customers can choose any product they want with a minimum order value that gives them a discount.

1.Business to Business:
Products are sold to business entities such as sports institutions, physiotherapy centres and sports teams.
2. Business to Consumer:
ATF supplies directly to customers via their website, e-commerce (Shopee) and social media (Instagram, Facebook & Whatsapp) and also via participation in sports events.
3. Combination of B2B and B2C: ATF currently has over 15 re-sellers across Malaysia.
ATF's aggressive marketing plans include focusing on building brand ambassadors, influencers and utilisation of digital marketing to attract more customers in the next two years. They also plan to form strategic partnerships over the subsequent years; four in 2024, seven in 2025, and seven in 2026.
Mohd Azmir, Managing Director
Co-founder of ATF Sports Sdn Bhd. He has over five years of experience in the engineering industry (leading IPP in Malaysia) and three years of experience as a Director at AZ Fitness Sdn Bhd. A national rugby athlete, he has represented Malaysia at the Asia Rugby Championship where Malaysia reached Premier Division for the first time, as well as being a silver medalist at the 2015 SEA Games.
Khairul Azhar Mohamad, Director of Operations
10 years of experience in the professional service, engineering industry, and oil & gas industry. Currently a Senior Well Integrity Technologistat at ExxonMobil Exploration & Production (M) Inc. (EMEPMI).
Aida Munirah, Director of Finance
Over 14 years of experience in auditing and finance industry (finance analyst of a Fortune Global 500 MNC). Inspiration behind #Burpees4Aida, a campaign to raise awareness of rare cancer as well as funds for cancer research.
Myrzela Sabtu
5 years of experience at Bank Negara Malaysia as Director Facility Management and 4 years of experience as a Chief Real Estate Officer at Lembaga Tabung Haji. Currently, a partner of My EDU Prop PLt.
Brad Mika
A professional rugby player for 12 years. Currently residing in Malaysia working at Borneo Eagles Rugby Club as Rugby Coaching Director Technical Advisor Malaysia Rugby National 15s team.
ATF Sport Taping supply sport tape to all FA Selangor players in 2019. " We are very confident ATF Sport Taping will supply the best quality products to our teams & fans".
Source: https://selangorfc.com/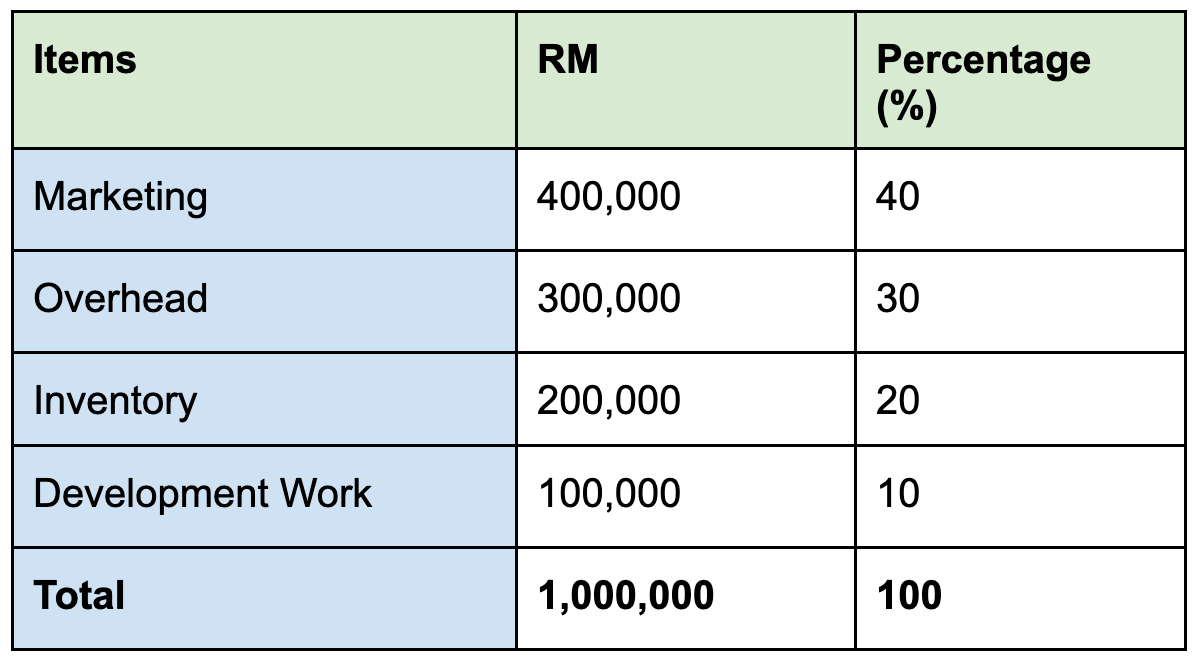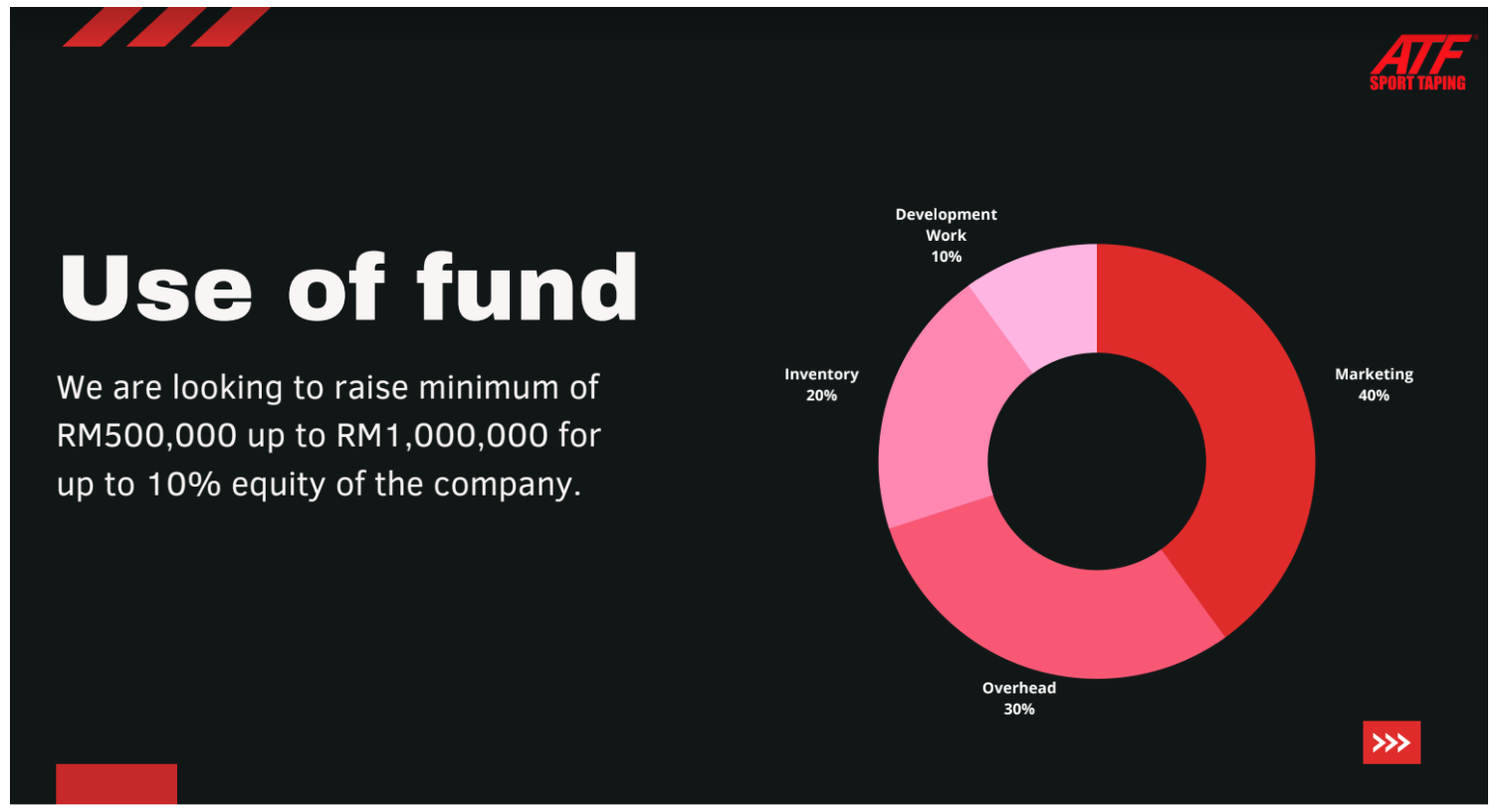 Fund Breakdown Justifications: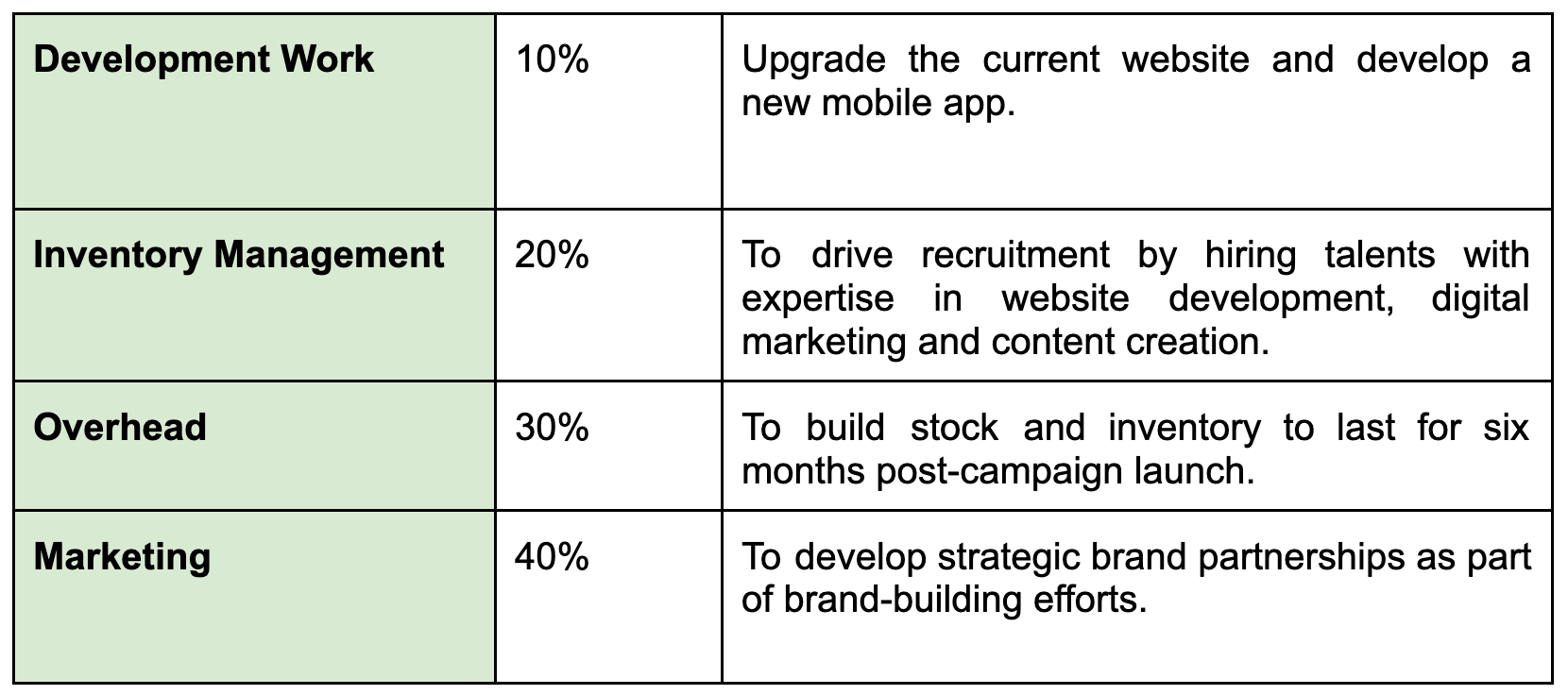 Current Finances

Projected Finances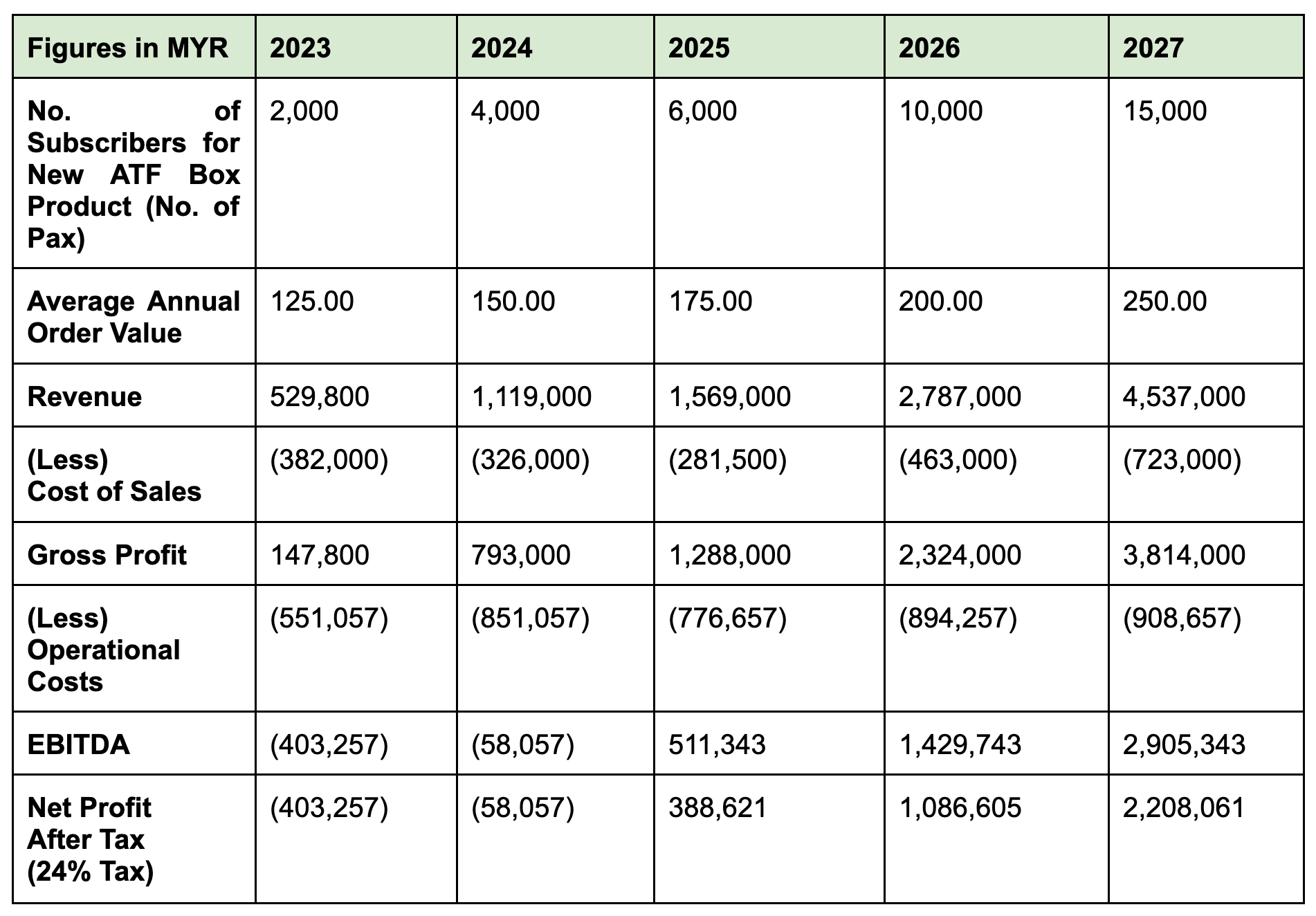 Company Name: ATF Sport Sdn BHd
Date of Incorporation: 22/01/2018
Company Registration Number:1265268-H
Shortage of local livestock and increases in prices due to the shortage.
Ethis Malaysia does not provide any investment advice. All information is provided to help users of our platform make informed decisions. Users must rely on their due diligence before investing in any campaign hosted on our platform or raising capital on our platform. If in doubt, please seek the advice of an independent financial advisor. For further explanation, kindly refer to our risk statement page.
"No shares will be allotted or issued based on this document after six months from the closing of the offer period."
"This issue, offer or invitation for the offering is a proposal not requiring authorisation of the Securities Commission under section 212(8) of the CMSA 2007."
"This document has not been reviewed by the Securities Commission Malaysia. The Securities Commission does not recommend nor assumes responsibility for any information including any statement, opinion or report disclosed in relation to this fundraising exercise and makes no representation as to its accuracy or completeness. The Securities Commission expressly disclaims any liability whatsoever for any loss howsoever arising from or in reliance upon the whole or any part of the information disclosed."
Please Log-in or Register to view the above content.
Retail Investors
Become a retail investor by investing between SGD 3,000 and SGD 20,000
Silver Investor
Earn a 1% higher projected returns by investing between SGD 20,000 and SGD 100,000
Gold Investors
Earn higher returns on your investment by investing between SGD 100,000 and SGD 350,000
Platinum Investors
Get exclusive returns on your investment by investing amounts greater than SGD 350,000