At Ethis, we love to share what we have learnt and experienced over the past few years.
Interested to know more about these topics?
Islamic Finance

Islamic Fintech

Islamic Crowdfunding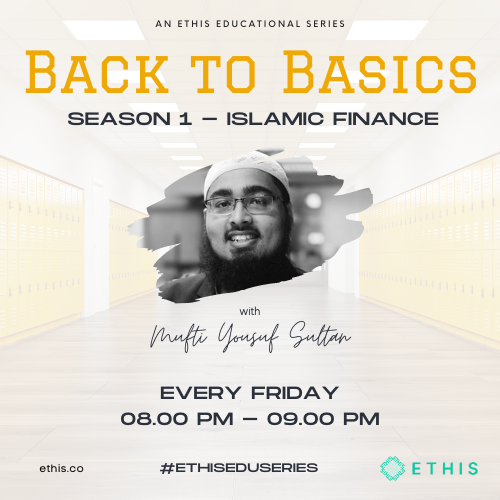 Back to Basics Episode 2
Islamic Finance Contracts: Sales Based & Lease Contracts

Speaker:
Mufti Yousuf Sultan
AAOIFI Certified Shari'ah Advisor and Auditor (CSAA), Registered Shariah Adviser by the Securities Commission of Malaysia and an AAOIFI Master Trainer
Date: March 26, 2021 (Friday)
Time: 8:00pm – 9:00pm (GMT +8)
What is Islamic Banking?
Speaker: Umar Munshi
Cryptocurrency in Islam: Halal or not Halal?
Speaker: Dr Ziyaad from INCEIF and Umar Munshi
Money and Morals: Can an Investment achieve both?
Speaker: Blake Goud, CEO of the Responsible Finance & Investment (RFI) Foundation
The Role of Islamic Finance in Achieving the Sustainable Development Goals (SGDs)
Speaker: Daud Vicary Abdullah, Managing Director of DVA Consulting
Want us to host a webinar for your organisation?
Contact webinar@ethis.co for more info