Pejaten Park Residence
Projected Return

42.5%

Additional Rental Income

3-5% p.a

Projected Timeline

2-3 years

Fundraising Goal

SGD $201,170.00

Raised

SGD $201,368.00

Time Remaining

0 day(s) to go
KEY HIGHLIGHT OF THE PROJECT
Pejaten Park Residence currently has 2 cash installment buyers who applied for cancellation. The developer will retake ownership from these buyers and is willing to sell the units about 30% below the current developer 2020 market price.
The two units consist of 1 bedroom units (41.29sqm). We plan to sell these units again in 2-3 years time with price targets at the developer price of SGD 286,700. Additionally, we are planning to rent out these units during the 2-3 years holding period to gain additional income for investors before selling them.
The projected ROI of 42.5% is based on expected returns from selling the units, while expenses for furnishing and maintaining the units have been considered and accounted for.
THIRD PARTY VALUATION OUTCOME
A third party valuation has been done on the two units which concluded the valuation on the price of the two units as shown below.

The above Ethis Purchase Price does not include furnishing and maintenance cost. Ethis will furnish and maintain these units over the next 2-3 years so that they can be rented out for extra income.

Read the full report on the Valuation Of the 2 units of Pejaten Park.
ETHIS PURCHASE PRICE BREAKDOWN (SGD)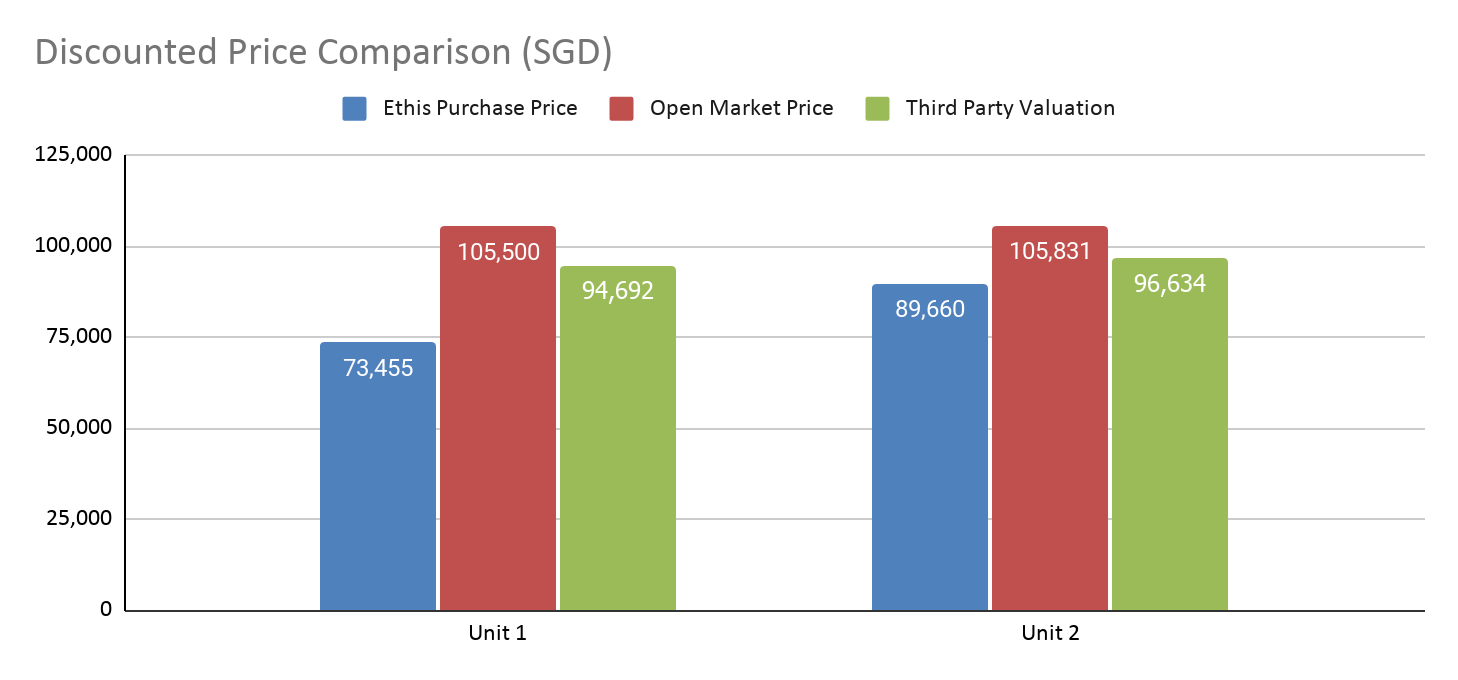 The price of the units above does not include maintenance fee and furnishing and other costs.

OVERVIEW OF THE DEVELOPMENT
Pejaten Park Residence offers a classy modern lifestyle that optimizes the comfort of residents by segregating the basement and services entry to ensure greater privacy for residents. The placement of every tower has been planned and designed in such a manner as to create the feeling one is living in a private house, while also being connected by immediate access to the pool, gym, children's playground, sky terrace and also the club house.
Pejaten Park Residence is located in the busiest area in South Jakarta, 5 minutes to Kemang and Simatupang which is an area preferred by expatriates, within walking distance to Pejaten Village Mall and also near the train ("LRT") station.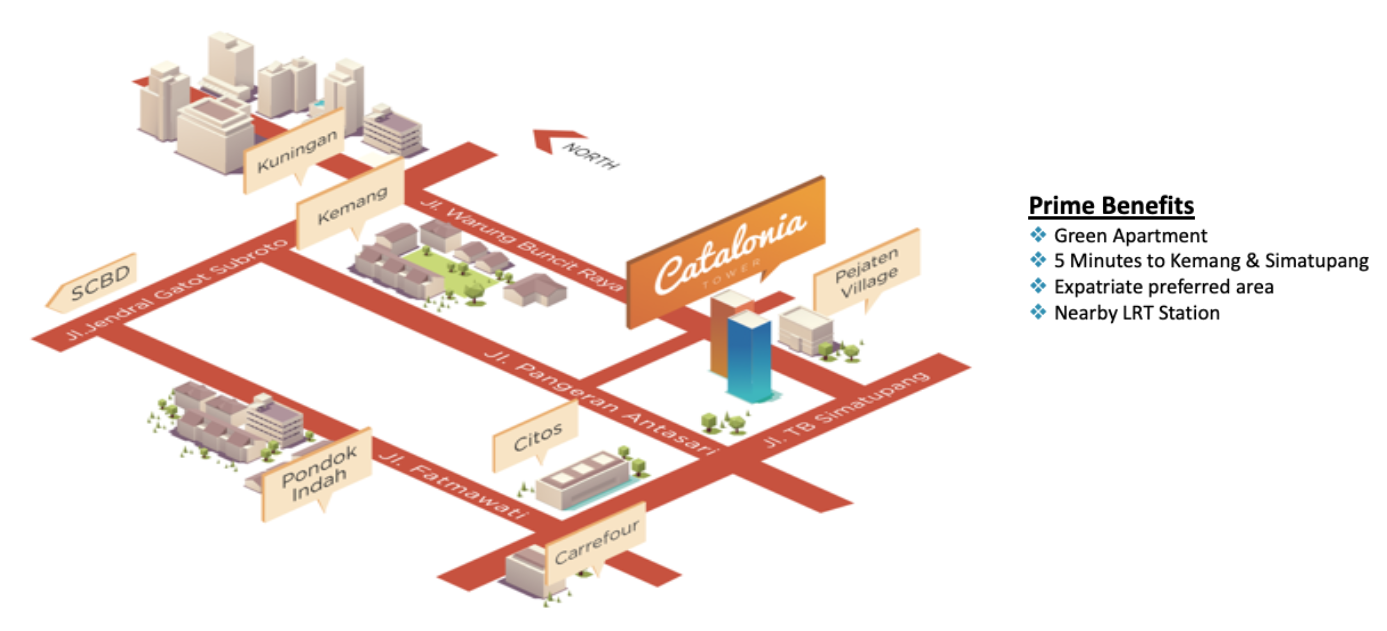 PT Kualajaya Realty
Pejaten Park Residence is developed by Kualajaya Realty, PT ("Kualajaya"),  amongst Indonesia's leading developers that focuses on residential and commercial sectors, with portfolios spread across Jakarta and Bali. The developer is committed to continuing to meet market needs by creating integrated residential areas, as well as aligning various products with ever-improving designs, prices and investment values.
Ownership certificate of the 2 Pejaten Park units.
KEY RISKS AND MITIGATION MEASURES
FX RISK
This campaign is denominated in Indonesia Rupiah (IDR), and therefore impacts non-Indonesian Investors who have to bear FX risk should there be a depreciation in the IDR.
Risk Mitigation: There will be no exchange rate guarantee given or currency hedging done for investors. Instead, a higher projected ROI has been negotiated with the project company to account for exchange rate risks. The given projected ROI is the final returns investors should take into their consideration.
SELLING PROCESS RISK
There is high competition for apartment sales in Jakarta, therefore, there is no certainty whether these units can be sold within 2-3 years at the price we target.
Risk Mitigation: Investors get a purchase price that is about 30% below the current developer 2020 market price Post Covid-19, the selling price for the next 2-3 years will use the current developer's price making the selling price of these units in the next 2-3 years very competitive.
This means that the developer is prepared to sell these units to Ethis investors at 30% below what they are currently selling to other buyers in this year, 2020.

Investors will appoint PT SMB as wakeel to purchase 2 units at Pejaten Park Residence.

PT SMB will receive the payment from new buyers and will pay the investors their capital and profit.

PT SMB will be providing quarterly reports of the rental income that can be withdrawn anytime after the reporting.

Note:
PT SMB is a registered real estate development company in Indonesia, Ethis Indonesia's sister company, managed and operated by Ethis Indonesia.
This campaign facts and the content herein do not constitute as any financial advice, or solicitation for the purposes of making financial investments in Indonesia or other territories. Ethis.co is a platform specialising in the match-making of opportunities to those who register themselves as members on the Ethis platform. With regards to these opportunities, the need and onus to do due diligence lies squarely with our members as we do not profess to advise on the same. All dealings and transactions are directly with the businesses, project owners or authorised agents we refer to our members.
Commit USD 100,000 or more in 3-5 projects and get access to exclusive deals and exciting discounts
Retail Investors
Become a retail investor by investing between SGD 3,000 and SGD 20,000
Silver Investor
Earn a 1% higher projected returns by investing between SGD 20,000 and SGD 100,000
Gold Investors
Earn higher returns on your investment by investing between SGD 100,000 and SGD 350,000
Platinum Investors
Get exclusive returns on your investment by investing amounts greater than SGD 350,000
Login / Register to see the content

Risk Statement

The campaign duration is projected by the project owners, and based on information we receive from them. The actual completion of projects is subject to real world conditions, which may cause an extension of duration by 2 to 12 months. Any extensions will be informed to investors in projects updates. In the event of project or business failure in property projects in particular, a recovery process may be initiated to recover some or all of the capital invested.